QCY T10 Earbuds Xiaomi QCY T10 TWS True Wireless Earbuds
Bluetooth 5.0 IPX5 Waterproof Sports Ultra-Long Standby Dual-Armature in-ear Earphones
for Android Samsung Galaxy IOS iPhone iPad Xiaomi Huawei Honor OPPO VIVO Google Pixel
QCY T10 True Wireless Earphones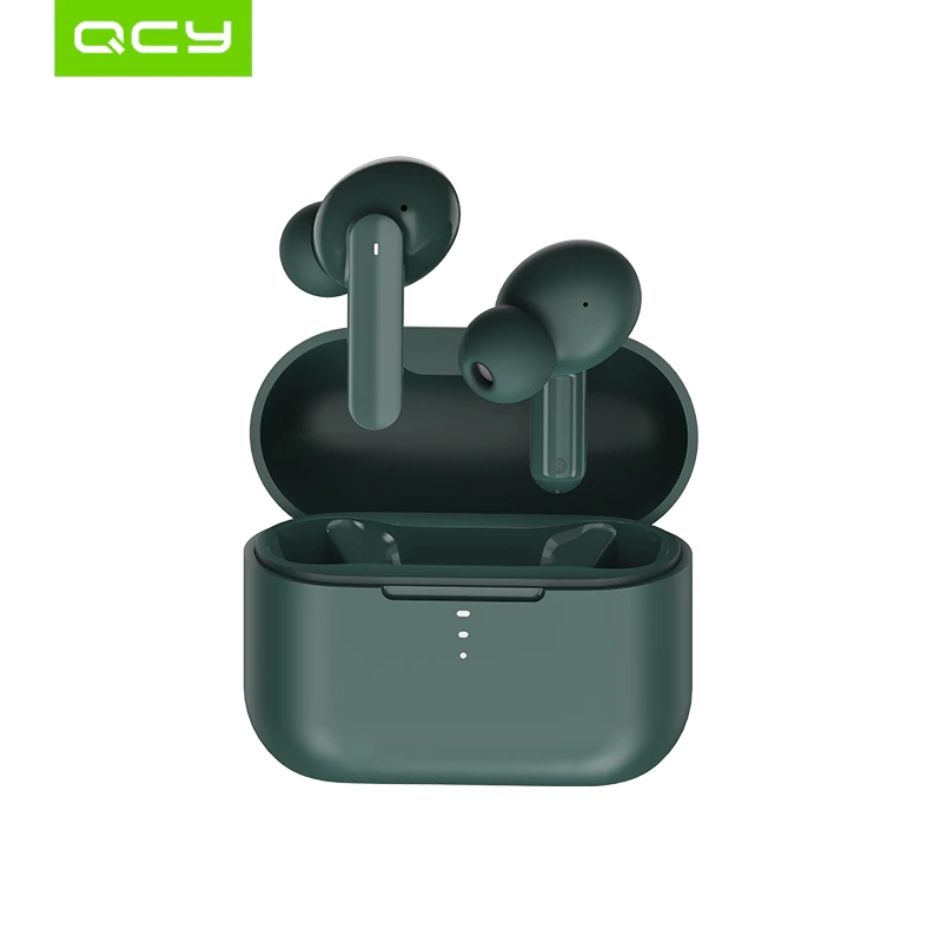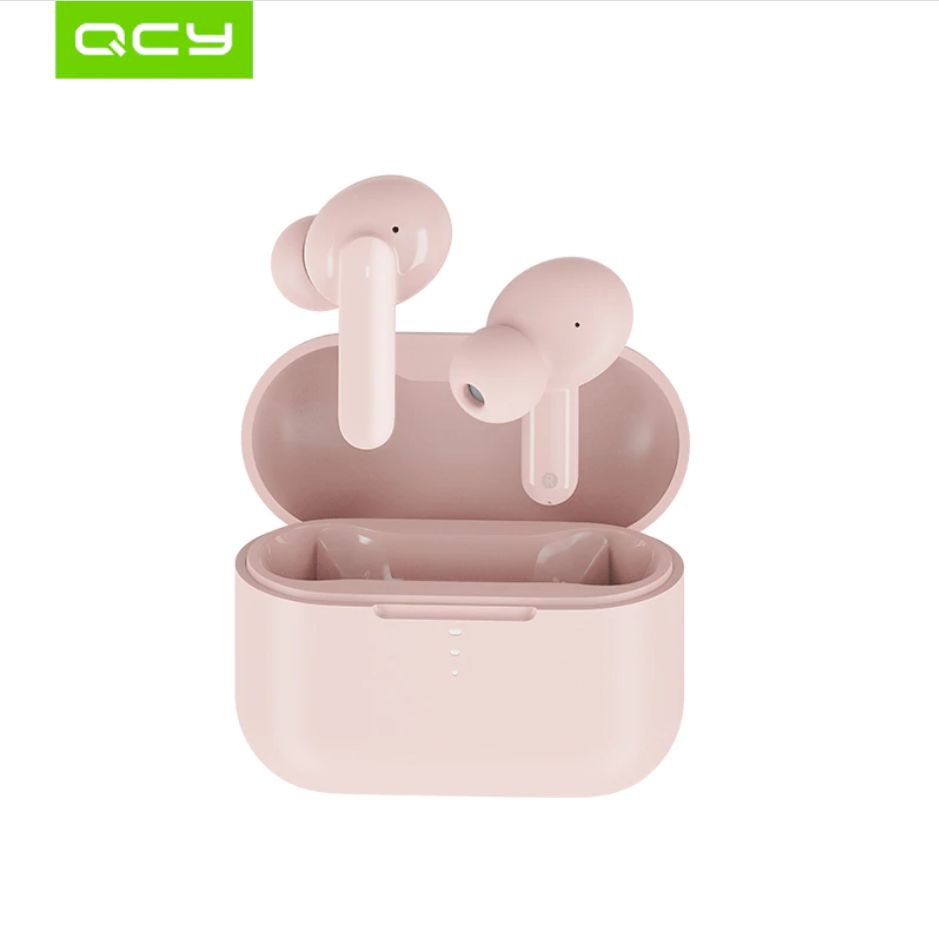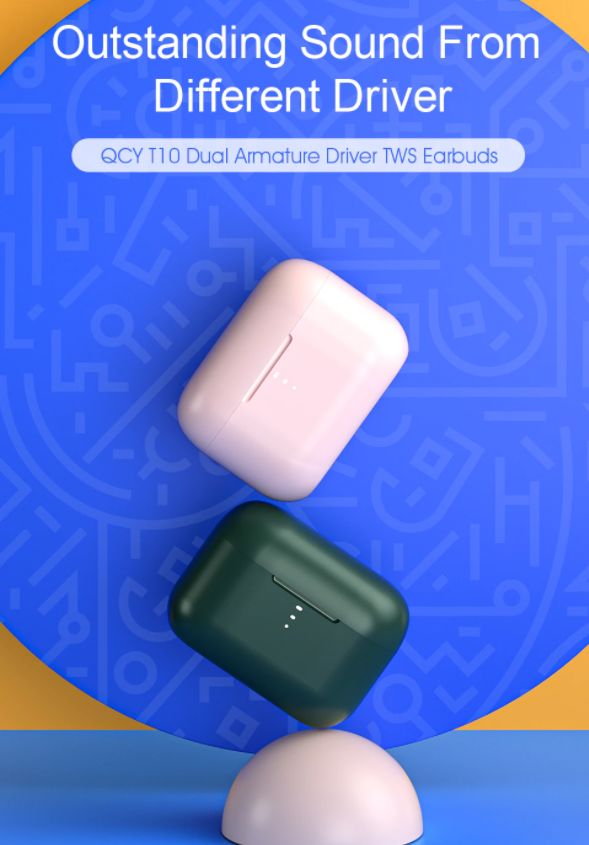 Outstanding Sound From
Different Driver
QCY T10 Earbuds Dual Armature Driver TWS Earbuds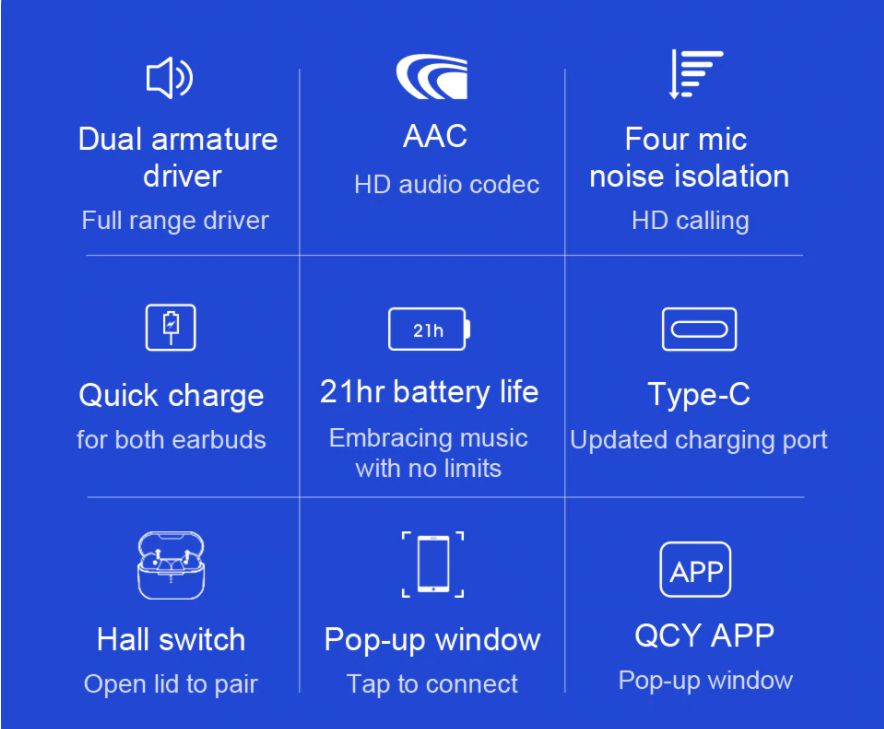 Dual armature driver Full range driver
AAC HD audio codec
Four mic noise isolation HD calling
Quick charge for both earbuds
21hr battery life Embracing music with no limits
Type-C Updated charging port
Hall switch Open lid to pair
Pop-up window Tap to connect
QCY APP Pop-up window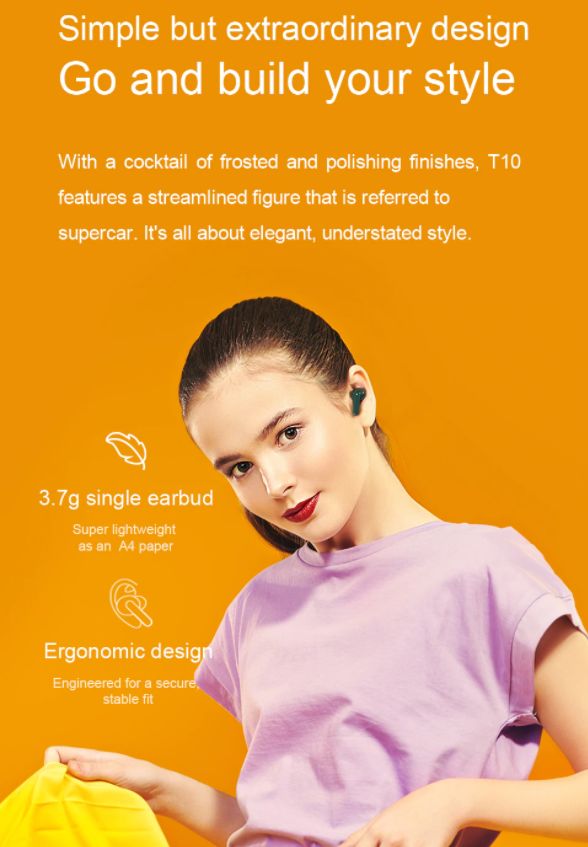 Simple but extraordinary design
Go and build your style
With a cocktail of frosted and polishing finishes, QCY T10 features a streamlined figure that is referred to supercar. It's all about elegant, understated style.
3.7g single earbud Super lightweight as an A4 paper
Ergonomic design Engineered for a secure.
stable fit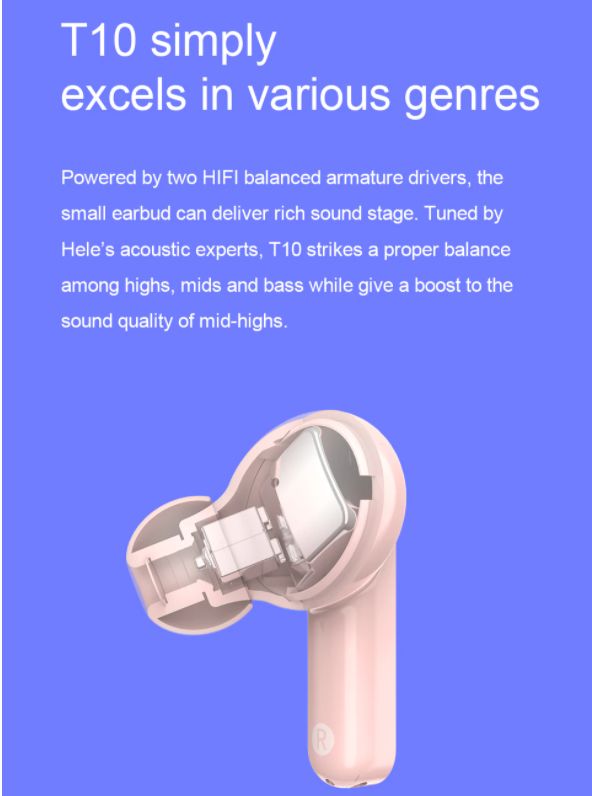 T10 simply
excels in various genres
Powered by two HIFI balanced armature drivers, the small earbud can deliver rich sound stage. Tuned by Hele's acoustic experts. T10 strikes a proper balance among highs, mids and bass while give a boost to the
sound quality of mid-highs.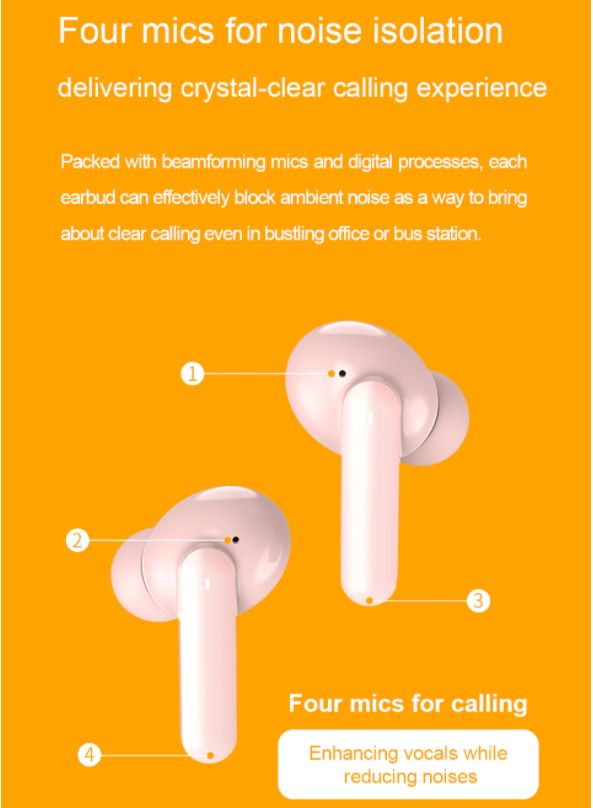 Four mics for noise isolation
delivering crystal-clear calling experience
Packed with beamforming mics and digital processes, each
earbud can effectively block ambient noise as a way to bring
about clear calling even in bustling office or bus station.
Four mics for calling
Enhancing vocals while
reducing noises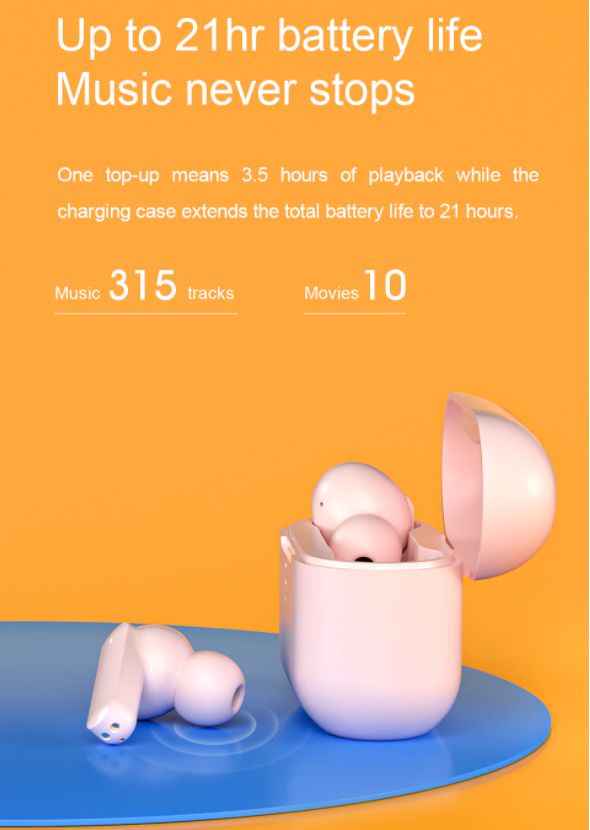 Up to 21hr battery life
Music never stops
One top-up means 3.5 hours of playback while the
charging case extends the total battery life to 21 hours.
Music 315 tracks Movies 10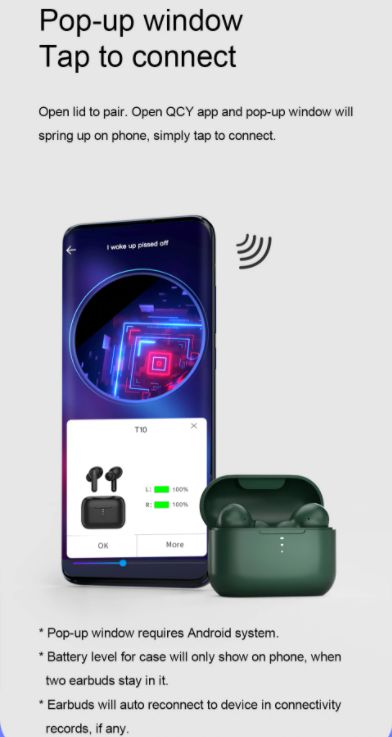 Pop-up window
Tap to connect
Open lid to pair. Open QCY app and pop-up window will
spring up on phone, simply tap to connect.
Pop-up window requires Android system.
Battery level for case will only show on phone, when
two earbuds stay in it
Earbuds will auto reconnect to device in connectivity
records, if any
Download on the App Store
Download for Android
Refer to user manual to download the app.
The app requires system of android 6.0 or above/ 11 or
above.
Find earbuds and location check are only available when
earbuds are connected with phone.
Master-slave switch
as you wish
Both earbuds connect to phone directly so either of
them can serve as master. Switch between stereo and
mono mode as you like.
Dual-ear information sharing
Seamless switch
Control at your fingertip
Just tap to go
T10 features intuitive touch control settings, like pause/resume playing, answer call and summor voice assistant. Move your fingertip and tap to
go.
IPX5 Waterproof
Workout needs to be with music
If you want to go workout in them,they will survive some sweat or some rain if you go running outdoors
Pause / Play
Answer / end call
Skip track backward keep touching left earbud for 1.5s
Ignore call keep touching either earbud for 1.5s
Skip track forward keep touching right earbud for 1.5s
Summon voice assistant Triple touch left earbud
Open App
for various functions
QCY APP enhances your listening experience with a range
of smart features including customizable control, change in
music style and OTA hardware update.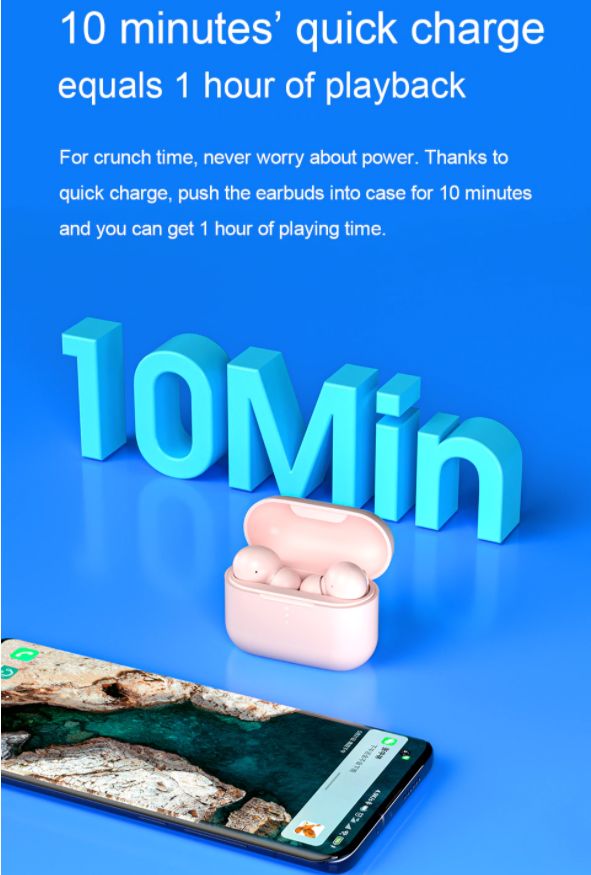 10 minutes' quick charge
equals 1 hour of playback
For crunch time, never worry about power. Thanks to
quick charge, push the earbuds into case for 10 minutes
and you can get hour of playing time.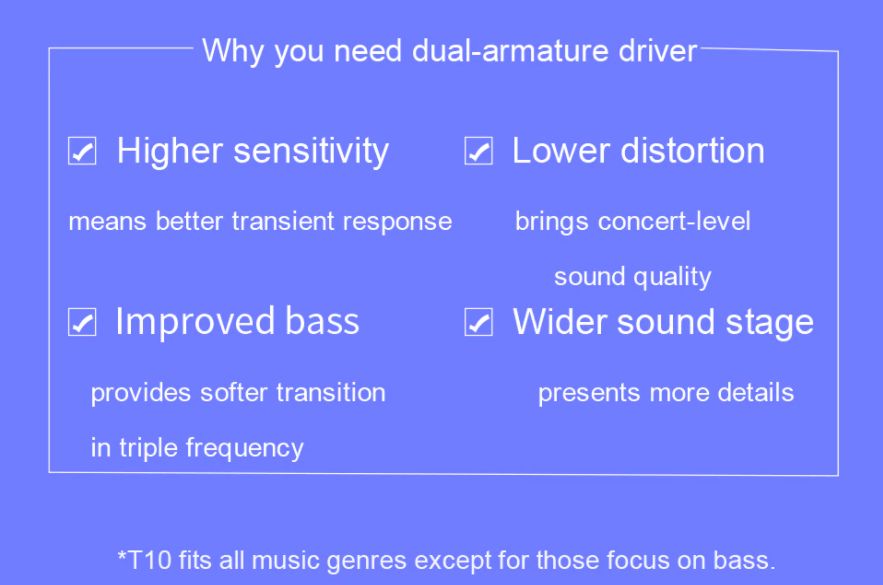 Why you need dual-armature driver
Higher sensitivity means better transient response
Lower distortion brings concert-level sound quality
Improved bass provides softer transition in triple frequency
Wider sound stage presents more details
*T10 fits all music genres except for those focus on bass.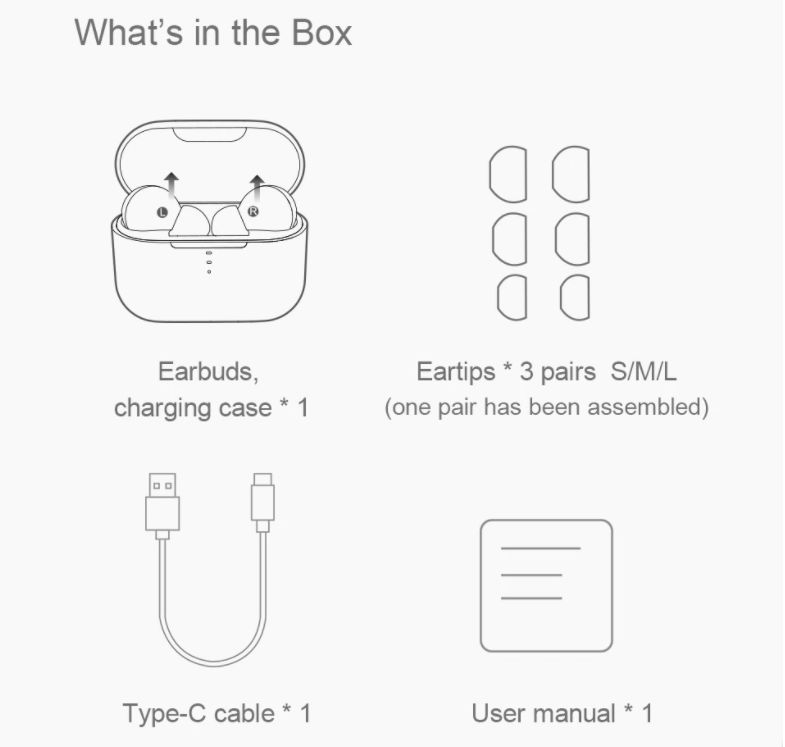 What's in the Box
Earbuds,
Eartips 3 pairs S/M/L
charging case *1 (one pair has been assembled)
Type-C cable 1
User manual 1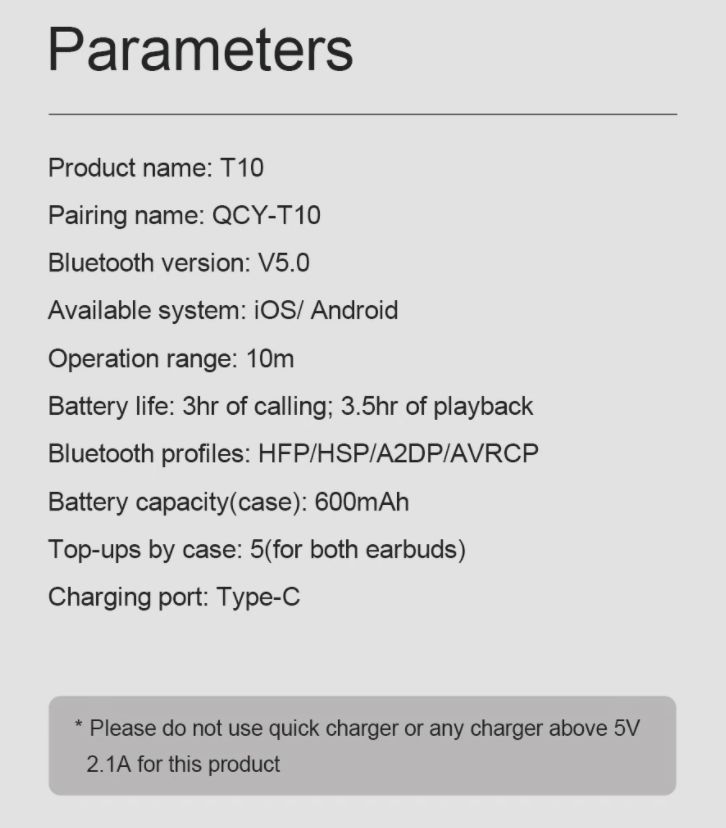 Parameters
Product name: T10
Pairing name: QCY-T10
Bluetooth version: V5.0
Available system: iOS/ Android
Operation range: 10m
Battery life: 3hr of calling; 3.5hr of playback
Bluetooth profiles: HFP/HSP/A2DP/AVRCP
Battery capacity(case): 600mAh
Top-ups by case: 5(for both earbuds)
Charging port: Type-C
Please do not use quick charger or any charger above 5V
2.1A for this product
QCY T10 True Wireless Earbuds
Xiaomi QCY T10 TWS True Wireless Earbuds Features:
QCY T10 simply excels in various genres Powered by two HIFI balanced armature drivers, the small earbud can deliver rich sound stage. Tuned by Hele's acoustic experts, T10 strikes a proper balance among highs, mids and bass while give a boost to the sound quality of mid-highs.
Up to 21 hours of battery life Music never stops. One plus one means 3.5 hours of playing time, while the charging case extends the total battery life to 21 hours.
The Open App QCY APP for various functions enhances your listening experience through a series of smart functions including customizable controls, music style changes and OTA hardware updates.
IPX5 waterproof exercise must go hand in hand with music. If you want to exercise in it, if you run outdoors, they will survive sweat or rain.
You can control the T10 with the touch of your fingertips. It has intuitive touch control settings, such as pause/resume playback, answer calls and call voice assistants. Move your fingertip and tap it.
Dual armature drivers: The compact headset is powered by two high-fidelity balanced armature drivers, which can provide a larger sound field.
Four microphone noise isolation: it can effectively block environmental noise to achieve a clear call effect.
Type C fast charging: Press the earplugs into the box for 10 minutes, and you can play for 1 hour.
21 hours of battery life: Reset means 3.5 hours of play time, and the charging case extends the total battery life to 21 hours.
Corridor/pop-up switch: Open the lid to pair. Open the QCY application, a pop-up window will light up on the phone, just click to connect.
QCY application: Customizable controls, music style changes and OTA hardware updates can enhance your listening experience.
Dual balanced armature drivers ensures high sensitivity, low distortion and wide sound field
Equipped with 4-microphones noise cancellation to realize binaural HD call
Use with the QCY APP unlocking multiple functions to meet your needs
Comes with a long battery life and adopts fast charging technology
Equipped with dual hosts, connect when you pick any headset up
The -up connection and auto-pairing when open the lip,easy to operation
Ergonomic design and feather-light weight are both precisely designed and measured to make your ears fully comfortable
QCY T10 APP Support
QCY T10 APP Setting / QCY T10 APP Control
QCY T10 Specs
QCY T10 Specification
Brand : QCY
Style Type: In-Ear
Vocalism Principle: Balanced Armature
Control Button: Yes
Communication: Wireless
Sensitivity: 108dB
Wireless Type: Bluetooth
Is wireless: Yes
Support APP: Yes
Application: Video Game,Common Headphone,For Mobile Phone,HiFi Headphone,Sport
Package List: Charging case,Charging Cable,Replaceable Pads Set
Impedance Range: up to 32 Ω
Connectors: None
Model Number: QCY-T10
Bluetooth Version: 5.0
Codecs: AAC
Codecs: sbc
Support Memory Card: No
Resistance: 16Ω
Waterproof: Yes
Frequency Response Range: 20 – 2000Hz
With Microphone: Yes
Features: Dual Connection
Charging Method: Charging case
QCY T10 Case Charging Box
Charging Box Capacity: 3.7V 600mAh
Earphone Battery Capacity: 2 * 3.7V 60mAh
Music Time: about 3.5 hours (depends on music volume)
Talk Time: 3 hours
Charging Port: Type-C
Material: ABS
Color: Black, Dark Green (Optional)
Product Size: 12*6*3cm
Product Weight: 150g
Package include:
1 * Pair of Earbuds
1 * Charging Box
2 * Pairs of Earcaps
1 * Charging Cable
1 * User Manual
QCY T10 True Wireless Earphones Reviews Rating
QCY T10 Price: 34.99
QCY T10 Black
QCY T10 Green
QCY T10 White
QCY T10 Review from customer