QCY T7 Earbuds QCY T7 TWS True Wireless Earbud with Microphone Bluetooth 5.0 Headphones
for iPhone Android and Other Leading Smartphones White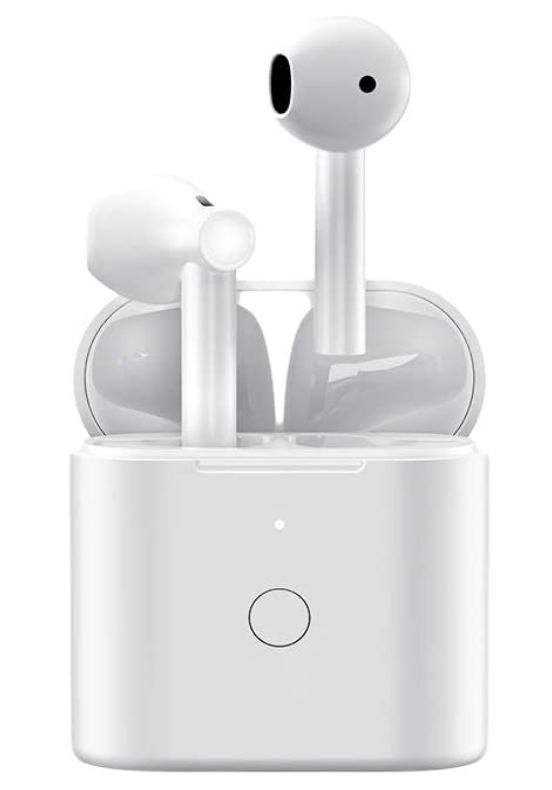 | | |
| --- | --- |
| Brand | QCY TWS |
| Color | White |
| Connections | Bluetooth, Wired |
| Headphones Form Factor | In Ear |
| Control Type | Voice Control |
QCY T7 TWS True Wireless Earbud Feature: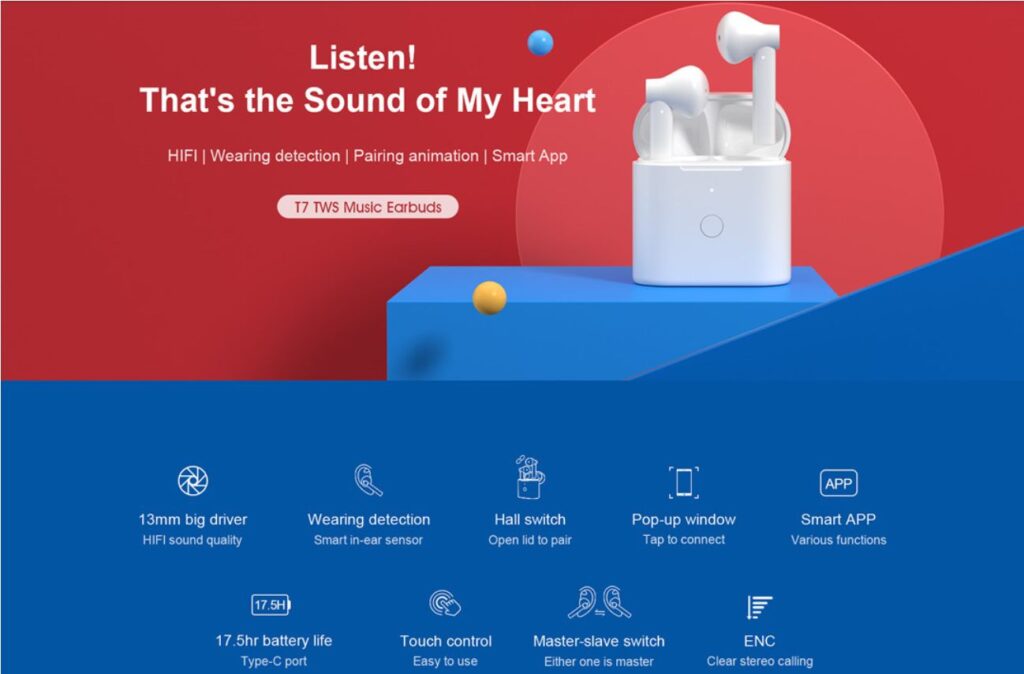 Listen!
That's the Sound of My Heart
HIFI Wearing detection | Pairing animation | Smart App
T7 TWS Music Earbuds
13mm big driver HIFI sound quality
Wearing detection Hall switch Smart in-ear sensor
Pop-up window Tap to connect
Smart APP Various functions
Open lid to pair
17.5hr battery life Type-C port
Touch control Easy to use
Master-slave switch Either one is master
ENC Clear stereo calling
Outstanding Aesthetic
User-friendly Design
The housing has been improved with curved charging case
and textured coating so as to offer matte texture. Semi in-ear
design delivers long-listen comfort.
An HD Stereo sound you'll want to hear. Powered by A tiny 13 mm driver sits inside the headphones to deliver clear sound. Bluetooth 5.0 deliver a faster and more stable wireless connection to your devices.
13mm Big Dynamic Driver
Bringing Impressing Sound Stage
High-end dynamic driver has been embedded in this tiny earbud seeking
to provide large, wide sound space with more audio details. You will be
steeped in its prominent audio performance.
13mm Big Dynamic Driver
Bass Punchy
Mid-highs Rich detailed
Put on to Play, Take off to Pause
They Acting in a Response to You
built-in Infrared Radiation Sensor in each earbud is able to detect whether
you're wearing one or both, and decide to play or not accordingly.
In-ear detection can be switched on/off in QCY App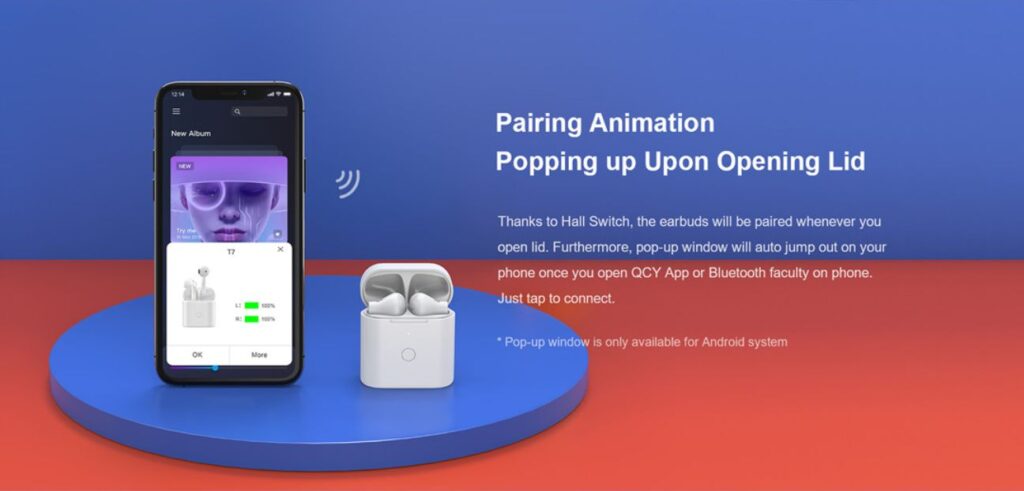 Pairing Animation
Popping up Upon Opening Lio
Thanks to Hall Switch, the earbuds will be paired whenever you
open lid. Furthermore, pop-up window will auto jump out on your
phone once you open QCY App or Bluetooth faculty on phone.
Just tap to connect.
'Pop-up window is only available for Android system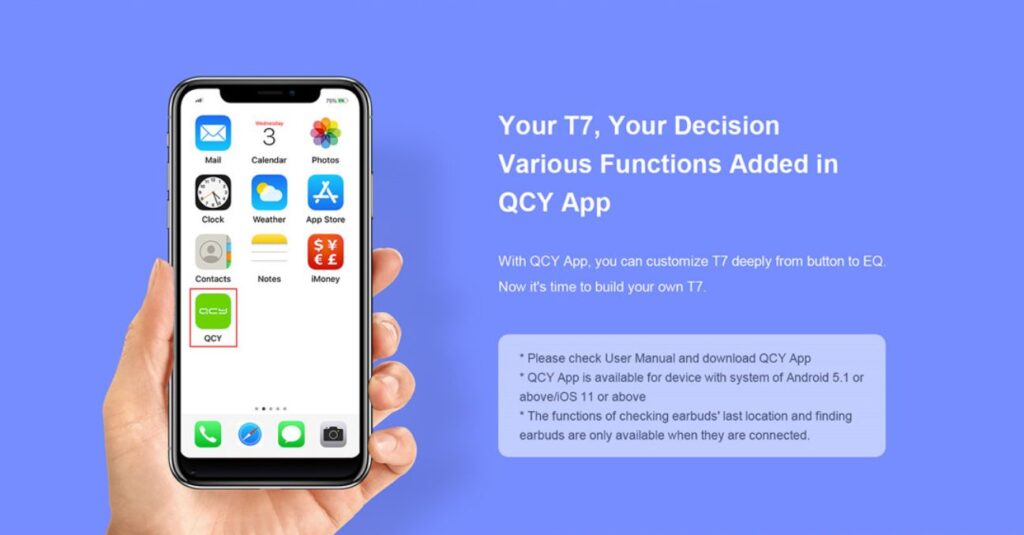 Your T7, Your Decision Various Functions Added in QCY App
Mail Calendar Photos
Clock Weather App Store
With QCY App, you can customize T7 deeply from button to EQ
*Please check User Manual and download QCY App
QCY App is available for device with system of Android 5.1 or
above/os 11 or above
The functions of checking earbuds' last location and finding
earbuds are only available when they are connected.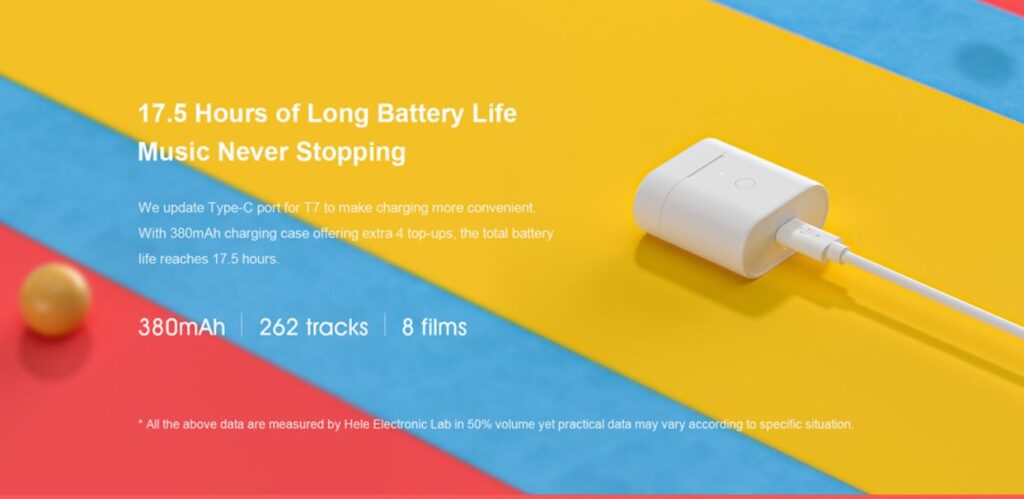 17.5 Hours of Long Battery Life
Music Never Stopping
We update Type-C port for T7 to make charging more convenient.
With 380mAh charging case offering extra 4 top-ups, the total battery
life reaches 17.5 hours.
380mAh 262 tracks |8 films
All the above data are measured by Hele Electronic Lab in 50% volume yet practical data may vary according to specific situation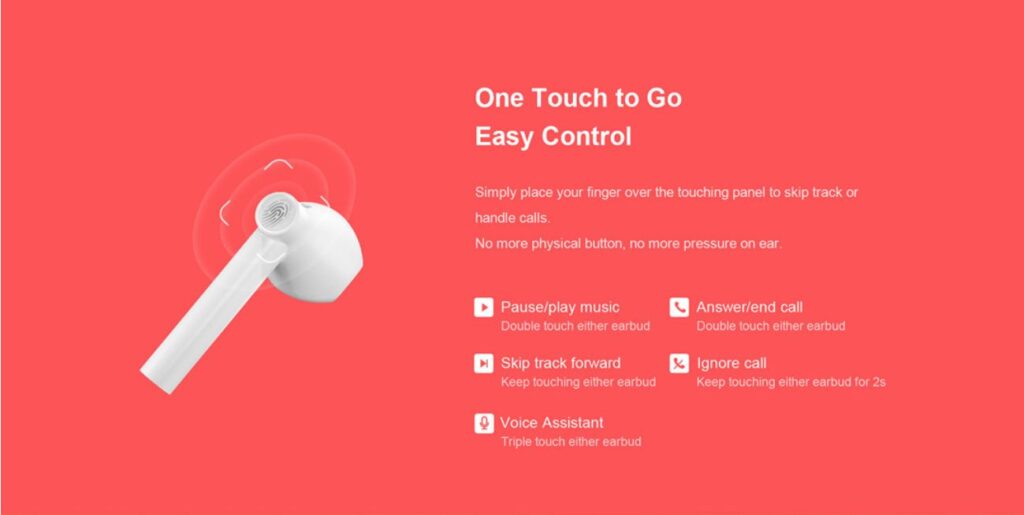 One Touch to Go Easy Control
Simply place your finger over the touching panel to skip track or
handle calls.
No more physical button, no more pressure on ear.
Pause /play music Double touch either earbud
Answer/end call Double touch either earbud
Skip track forward Keep touching either earbud
Ignore call Keep touching either earbud for 2s
Voice Assistant Triple touch either earbud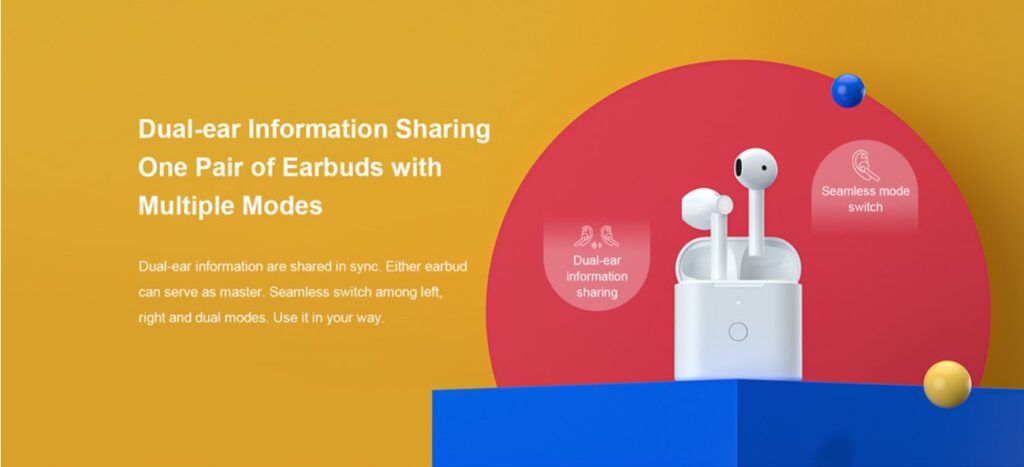 Dual-ear Information Sharing One Pair of Earbuds with Multiple Modes
Seamless mode
Dual-ear information are shared in sync. Either earbud can serve as master. Seamless switch among left right and dual modes. Use it in your way
ENC Audio Technology
Offering Crystal Clear Calling
Packed with advanced audio technology, the new Bluetooth 5.1
chip not only delivers noise-free calling but breathtaking music
Updated Hardcore Chip
Fast and Unbreakable Connection
The new Bluetooth 5.1 chip provides a stable connection for hour
upon hour of high-quality wireless streaming with low latency
Private Assistant at Your Service
Just Give Your Order
Summon your private assistant to manage your day, just triple
touch either earbud.
Enjoy entertainment, contact with friends, get information, listen
to music and set reminders without taking out your phone.
Siri, what's the weather today?
Xiaoai, call Mr. Jordan.
Siri, take me to Heathrow Airport.

Wireless to the truest. After a simple one-tap setup, T7 are automatically on and always connected. Using them is just as easy. The T7 experience is just as amazing whether you're using them with your iPhone or Android.
Smart power, charge as you go Stay powered up wherever you are. The auto on/off stops your battery draining with smart charging in the carry case. No need to worry about battery life, just place your headphones in the carry case to charge on the g
Switch modes and share as you please. Breakaway from the limits of wired earphones. When a phone call comes, simply remove one earphone to automatically switch to single-side talk mode. You can even pass one earphone to a friend to enjoy a song together and bounce along to the beat
Light and comfortable to wear. Each individual earphone weighs just 4.8g and is carefully designed to adjust to your ear. The silicone ear tips help to reduce outside noise while improving comfort and stability for the best wearing experience.
Advanced Bluetooth 5.
The up-to-date Bluetooth 5.1 Technology ensures better sound quality, lower latency in playing game, more stable connection, and at the same time more power saving.
ENC Noise Canceling
QCY T7 is equipped with 4 Directional Mics, able to locate sound source and reduce background noise, so as to bring crystal-clear calling.
Pairing & Connecting Animation
Every time you open the charging case, QCY T7 will automatically connect to your phone with a pop-up animation. You can easily get the power remaining of each earbud and quickly access app to customize them (Require QCY App, animation not supported on iOS).
Wearing Detection
Built-in Infrared Sensors keep monitoring whether you are wearing the earbuds. Put on to play and take off to pause, all automatic.
Customize via APP
Through the QCY App, you can set your personal control settings and tune the equalizer to fit your favorite music. Also, you can customize the touch control settings.
18 hours Battery Life
With 380mAh charging case offering extra 4 top-ups, the total battery life reaches 18 hours. And equipped with Type-C port, making it convenient and efficient when charging.
Ergonomic design
The streamlined design fits more closely with your ears, brings a comfortable wearing experience.
Speacial Feature:
1. Sensitive Touch Control, All hearing control is at your fingertips.
2. Wake up voice assistant, Long press the touch panel to interact with Siri, Google Now, or Cortana voice-controlled smartphone assistants.
3. Power up to power on. Get up to six hours of battery life with an additional seven hours from the case that doubles as a wireless charger
4. Once pair, always connect. After a simple one-tap setup, QCY T7 are automatically on and always connected
5. Waterproof design. The earphones are IPX7 waterproof level, so you can use them while working out without worry
6. Main/Slave Setting, QCY T7 could have both earbuds connecting with the device. When a phone call comes, simply shut one earphone to automatically switch to single-side talk mode. You can even pass one earphone to a friend to enjoy a song together and bounce along to the beat.
7. Built for elite athletes, Adjustable, secure-fit ear-hooks for lightweight comfort and stability.
8. Powered by diameter 13 mm moving coil driver, QCY T7 boast powerful, balanced audio thanks to an entirely redesigned acoustic package that delivers pure sound reproduction, enhanced clarity, and improved dynamic range.
9. Exclusive APP, QCY T7 have settings that you can customize to suit your needs. Rename them, change how you control music, and more.
10. Pop-up windows, A pop-up should appear that shows how much battery you have left on each earbud and the charging case.
11. Automatic Ear Detection. By default, QCY T7 sense when they're in your ear and receive the audio from your device. QCY T7 also pause and resume playback when you remove one of your QCY T7, or stop playback
QCY T7 Specification
| | |
| --- | --- |
| Package Dimensions | 4.29 x 3.58 x 1.38 inches |
| Item Weight | 5.3 ounces |
QCY T7 spec
Bluetooth 5.0
4 hours listening on a full charge
Charging case can charge earpieces fully 4 times
Comes with USB-C cable
Bluetooth range 10 meters
Control Buttons on the earplugs itself
Connection Automatic on pickup
Microphone Yes, built-in
Noise Cancelling Yes, ENC Noise Reduction
Android/iOS Suitable for both Android and iOS
App support Yes
Mono Model Yes, possible
Waterproof Yes, IPX4 (splash proof)
Battery life earphones 3.5 hours
Total battery life Charge 4 times, so 17.5 hours in total
Charging time earphones 1.5 hours
Charging time charging box 2 hours
Standby time 120 hours
Weight Unknown
Accessories 1x Earplugs, 1x Charge Box, 1x User Manual and 1x USB-C Cable
Sound channel Two-channel (stereo)
Language English
Main Materials Plastic,Abs
Application Scope Sport
Connectivity Wireless
Features Surround Sound
Colors: White
Driver Unit: 13mm dynamic driver
Music Time: 2h-3.5h
Talk Time: 3 Hours
Bluetooth Code: HFP / A2DP / HSP / AVRCP
Speaker: Diameter 13 mm Moving
QCY T7 Case Charging Box
QCY T7 Wireless Earbuds Review rating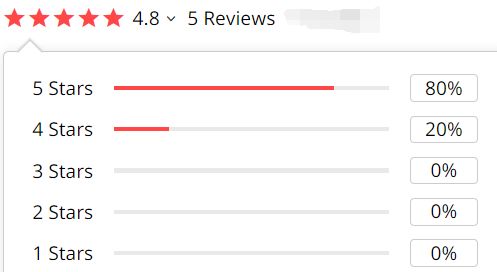 QCY T7 Price
QCY T7 Earbuds Reviews from customer