QCY T8 advanced design sales worldwide, a lot of customer got their new QCY T8 earbuds! As QCY T8 package including user manual instructions, however, many customer connect our customer service for QCY T8 Manual English, QCY T8 Earbuds Manual, QCY T8 Instructions, QCY T8 Reset, QCY T8 Pairing, QCY T8 user manual etc. They can't checking the details at that time, there maybe some reason their manual losing.
QCY edit the manual online for our customer checking detail anytime anywhere. No need open QCY T8 Manual English PDF, just reading as following: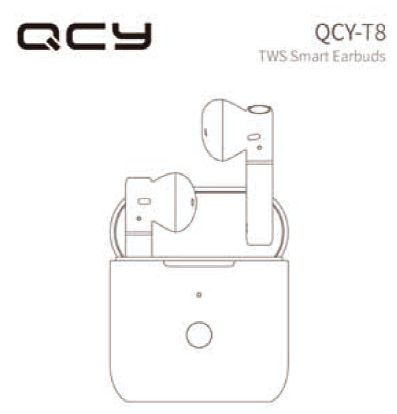 QCY-T8 TWS Smart Earbuds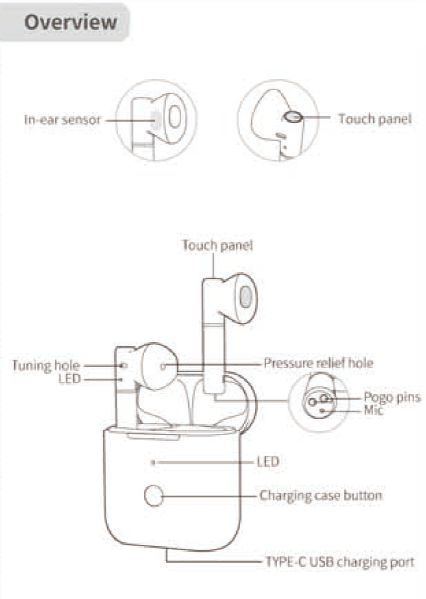 In-ear Sensor | Touch Panel
Touch Panel UP / Turning hole LED / Pressure relief hole / Pogo Pins / Mic
LED / Charging case button / Type-c USB Charging port
How to pairing QCY T8
Open the case and the QCY T8 earbuds will auto power-on, the two QCY T8 will auto pair with each other and turn connectable.
On phone, turn on Bluetooth function and search for QCY-T8 and tap to connect both earbuds to phone.
If connecting successful with no any problem, QCY T8 Pairing complete!
One Press to enter pairing Mode
1 Earbuds have been connected with phone.
2 Pop earbuds into case. Open lid and hold charging case button for 3s or until LED on case blinks green 3 times. Earbuds will then disconnect to phone and enter pairing mode.
Switch connected device:
1 Turn off Phone A's Bluetooth faculty and earbuds will auto disconnect and turn connectable.
2 On Phone B Search for QCY-T8 and tap to connect. Multi-point connection is not a available and earbuds will auto reconnect to phone B upon powering up again.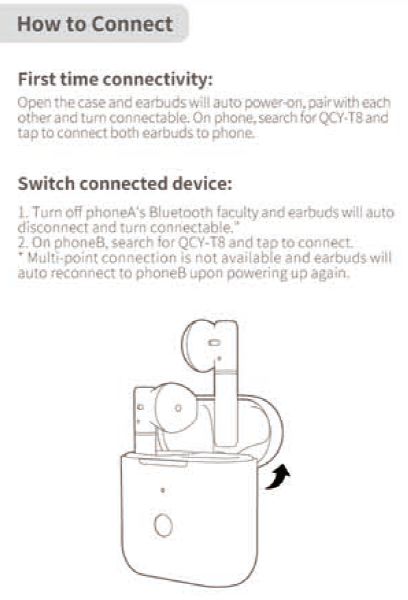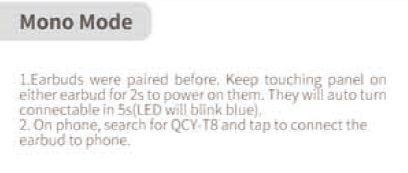 QCY T8 Mono mode
Earbuds were paired before. keep touching panel on either earbud for 2s to power on them. They will auto turn connectable in 5s (LED will blink blue)
On Phone search for QCY-T8 and tap to connect the earbud to phone
How do I pair my T8 QCY?
Factory setting (Please refer the following methods to fix connectivity error)
Method 1 : Delete connectivity QCY-T8 record on phone. if any.
Power off the earbuds before reset QCY T8 earbuds, Take out both QCY T8 earbuds from case and keep touching both of the panels for 5s until LED glows red for 2s to power off them.
Once again keep touching both of the panels for 10s or until LED blinks red and blue 3 times to reset them to factory.
If all steps success, QCY T8 Reset complete!
Earbuds will then auto power on and re-pair with each other.* refer how to connect to build connection after factory setting.
Method 2 : Open the lid and hold charging case button for 10s or until LED of the case blinks red and blue 3 times. Close the lid to reset earbuds to factory.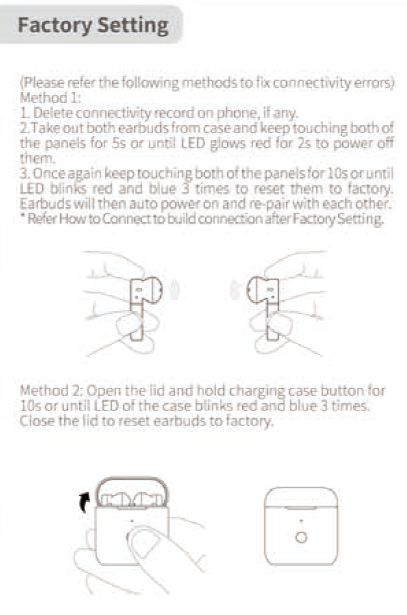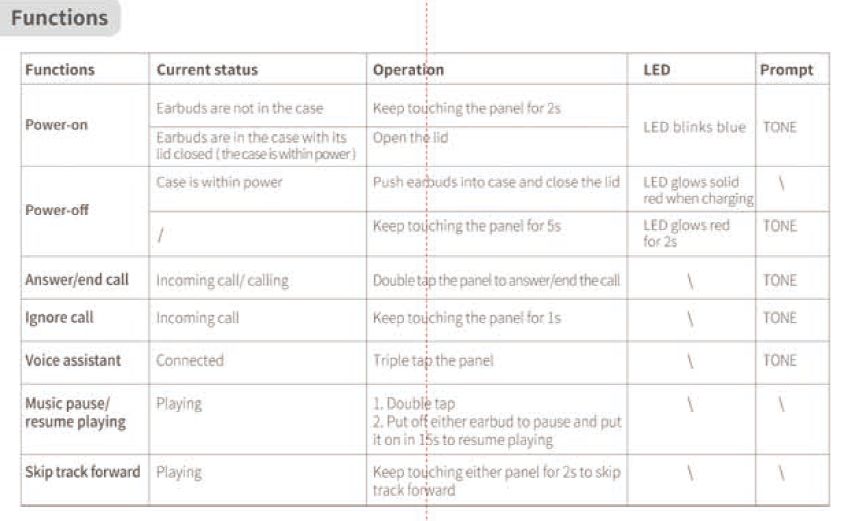 QCY T8 Touch Control
Power on
out of charging case: keep touching the panel for 2s
in charging case: open the charging case
Power off
out of charging case: keep touching the panel for 5s
In charging case: Closed the charging case
Answer / end call : Double tap the panel to answer / end the call
Ignore call : Keep touching the panel for 1S
Voice assistant : Triple tap the panel
Music Pause / Playing : Double tap
Skip Track Forward : Keep touch the panel for 2s to skip
QCY T8 Volume Control
QCY T8 Volume Control not support, you can adjust Volume on your phone or device.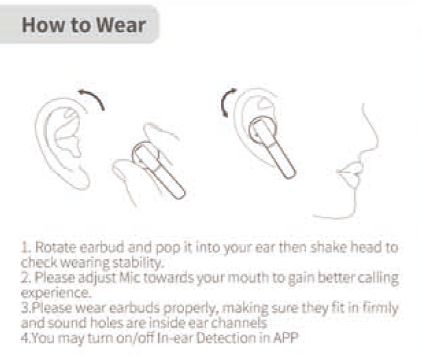 QCY T8 How to wear
Rotate earbud and pop it into your ear then shake head to check wearing stability.
Please adjust mic towards your mouth to gain better calling experience
Please wear earbuds properly, making sure they fit in firmly and sound holes are inside ear channels
You may turn on / off in-ear detection in APP

QCY T8 Charging the Earbuds
How do I charge my QCY T8 battery?
Push Earbuds into the case and close the lid, earbuds will auto turn off and to be charged.

QCY T8 Charging the case
LED of the case will glow solid red when charging and turn green once topped up.
QCY T8 Case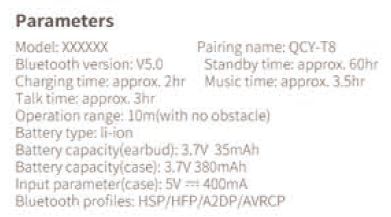 QCY T8 Parameters
Mode: QCY-T8
Bluetooth version: V5.0
Standby time : up to 60hour
Charging time : up to 2hour
Music time: up to 3.5hour
Talk time : up to 3hour
Battery based: li-ion
Battery capacity (Earbuds) : 3.7V 35mAh
Battery capacity (charging case) : 3.7V 380mAh
Input (Charging case) : 5V 400mAh
Bluetooth Profiles: AVRCP / A2DP / HSP / HFP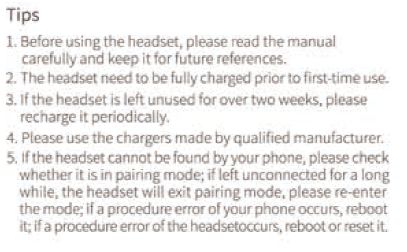 QCY T8 Tips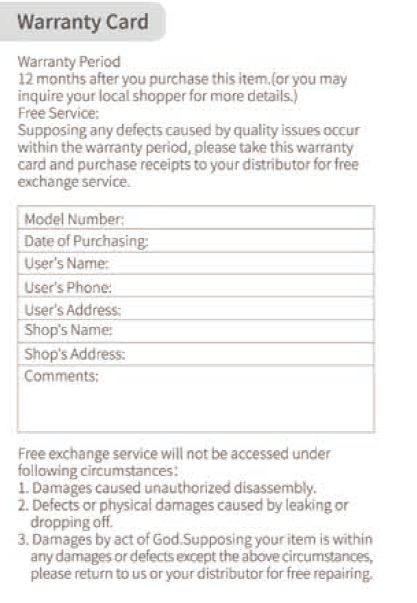 QCY T8 Warranty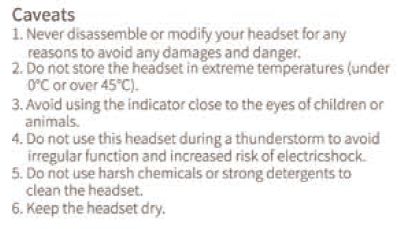 QCY T8 Cavetes
QCY T8 FCC Statement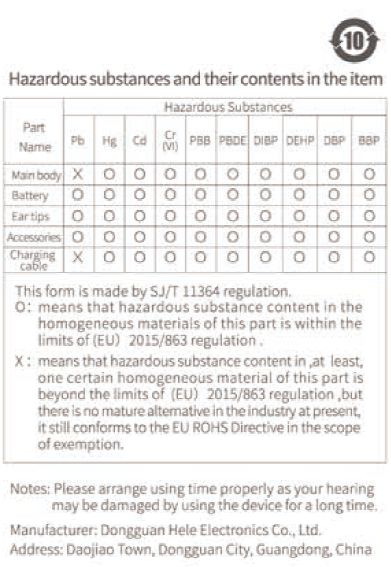 QCY T8 Hazardous
QCY T8 Troubleshooting