QCY T5S Earbuds QCY T5S Earbuds TWS True Wireless Earbuds
Bluetooth 5.0 IPX5 Waterproof Sport APP Control Gaming Mode with Charging Case Box
Earphone for iPhone iPad Samsung Galaxy Android Xiaomi Huawei OPPO Vivo Honor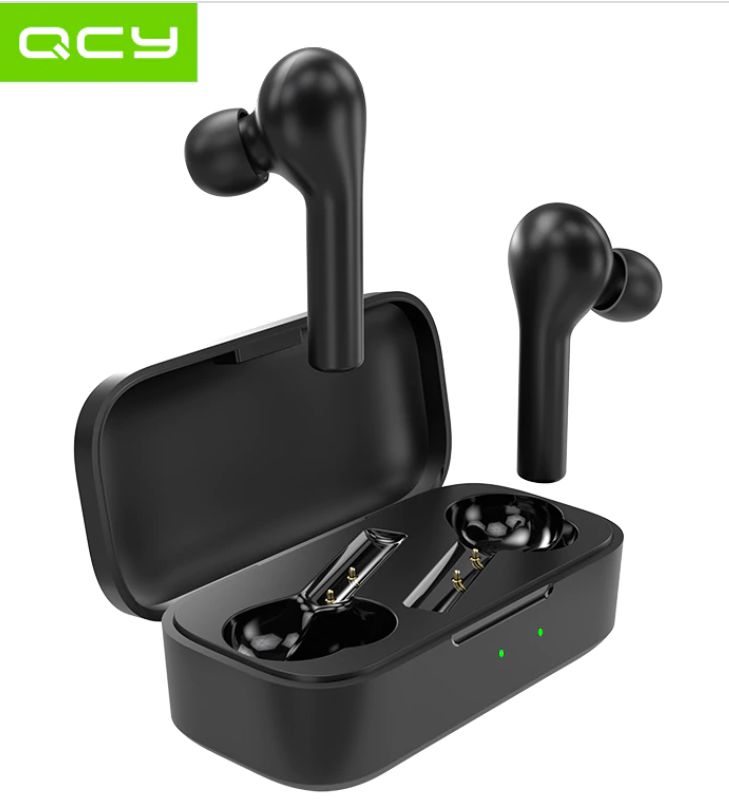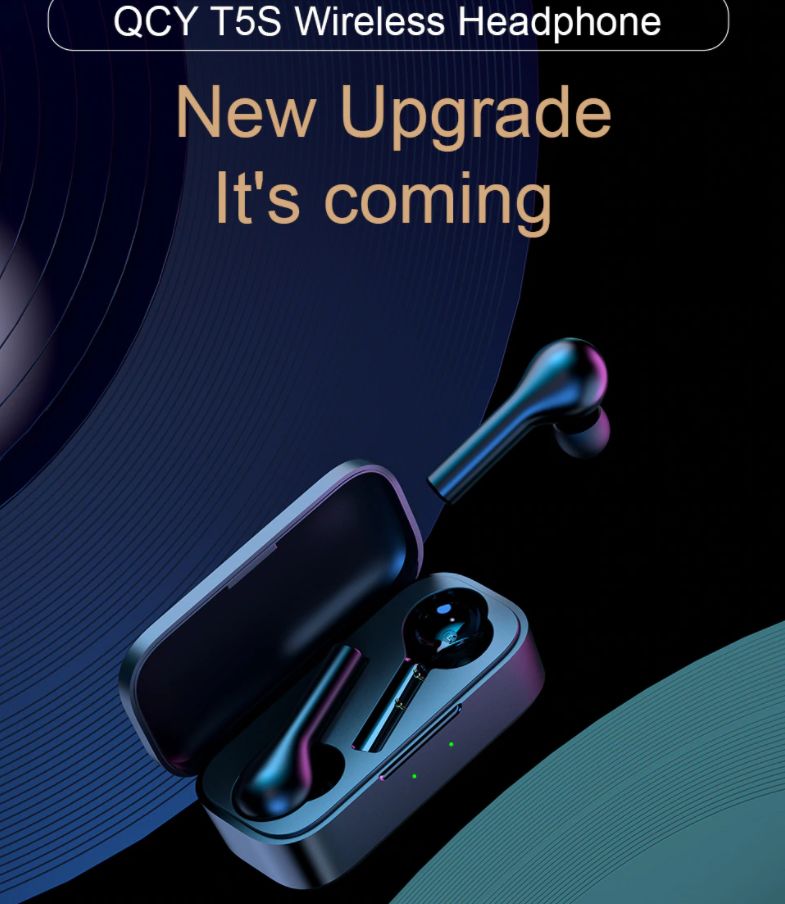 QCY T5S wireless headphone
New Upgrade – It's coming
Bluetooth V5.0 – NEW
APP Customization – NEW
Popup Pairing – NEW
In-ear Recognition – NEW
Game Mode
HiFi Sound Quality
600mAh Battery Life NEW
Master-slave Switch
One-Key Control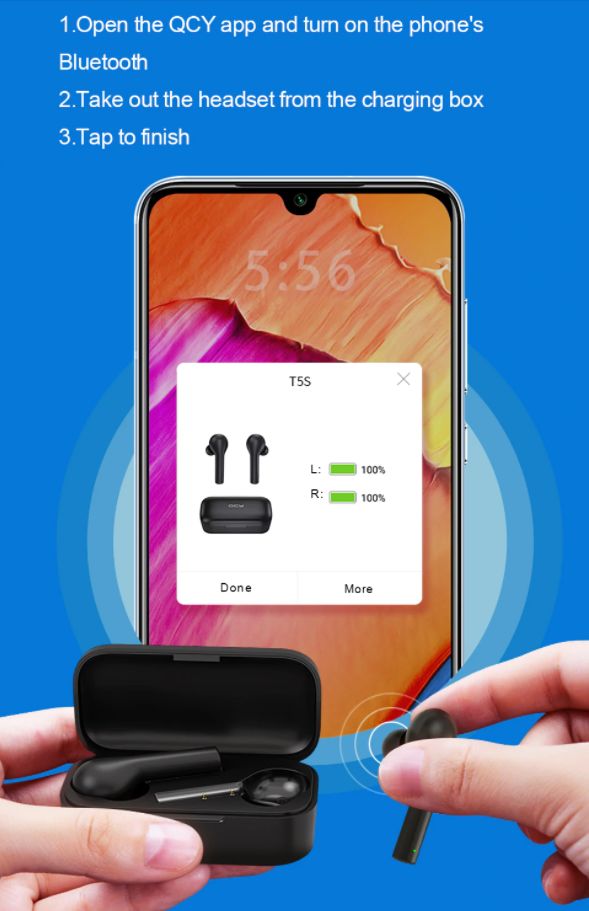 1.Open the QCY app and tum on the phone's Bluetooth
2.Take out the headset from the charging box
3.Tap to finish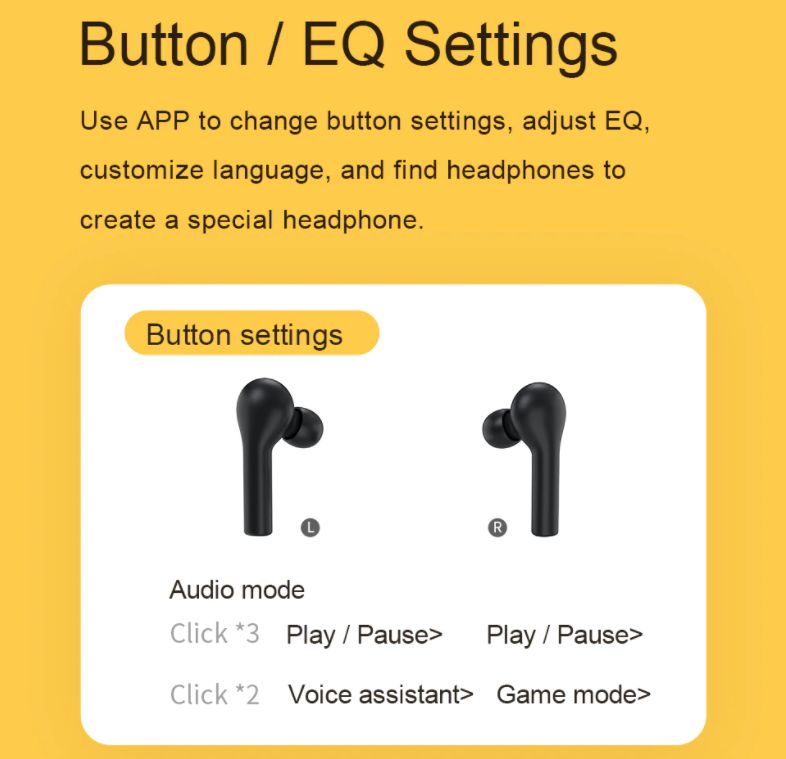 Button /EQ Settings
Use APP to change button settings, adjust EQ, customize lanquage, and find headphones to create a special headphone.
Button settings
Audio mode
Click*3play/ Pause>play/ Pause>
Click *2 Voice assistant> Game mode>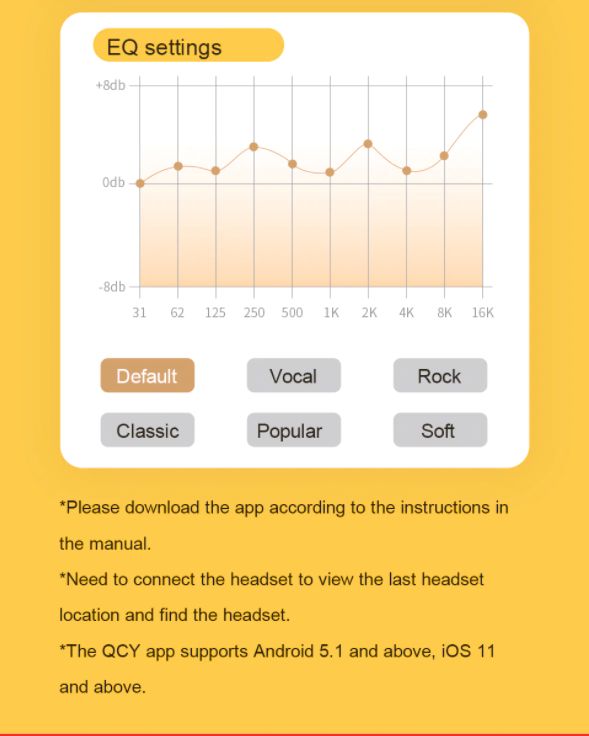 EQ settings
Default / Vocal / Rock / Classic / Popular / Soft
*Please download the app according to the instructions in the manual.
*Need to connect the headset to view the last headset location and find the headset.
*The QCY app supports Android 5.1 and above, iOs 11 and above.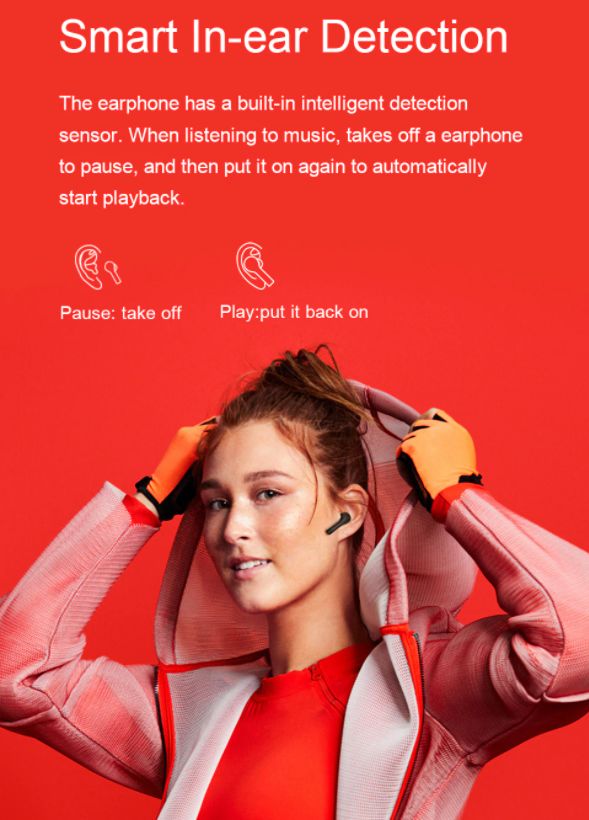 Smart In-ear Detection
The earphone has a built-in intelligent detection sensor. When listening to music, takes off a earphone to pause, and then put it on again to automatically start playback.
Pause: take off Play: put it back on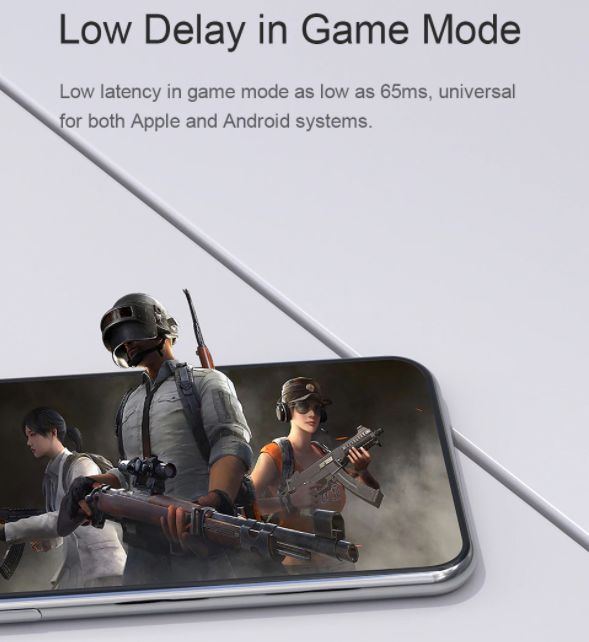 Low Delay in Game Mode
Low latency in game mode as low as 65ms, universal
for both Apple and Android systems.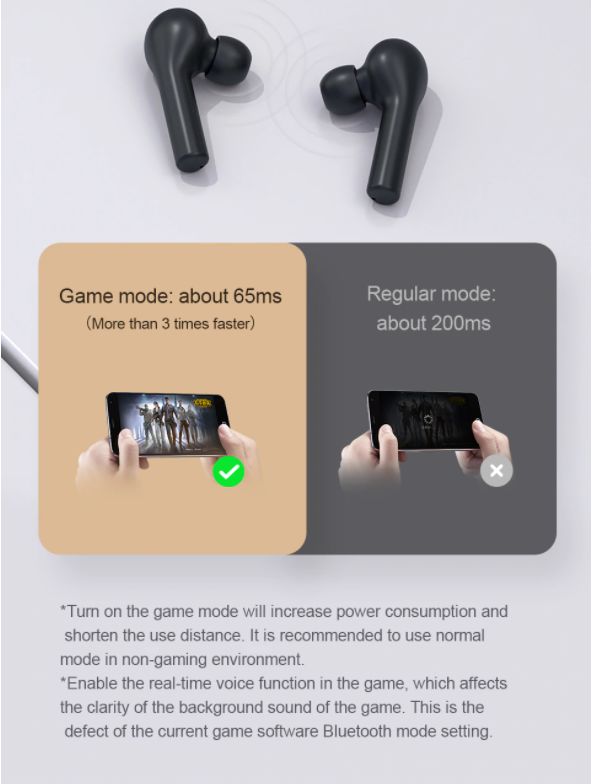 Game mode: about 65ms (More than 3 times faster)
Regular mode: about 200ms
*Turn on the game mode will increase power consumption and
shorten the use distance. It is recommend to use normal
mode in non-gaming environment.
*Enable the real-time voice function in the game, which affects
the clarity of the background sound of the game. This is the
defect of the current game software Bluetooth mode setting.
Small Body Excellent Chip
New PAU Bluetooth 5.0. lower power consumption, more stable, almost no delay in the game. Master-slave switching technology, which allows us to use it at any time.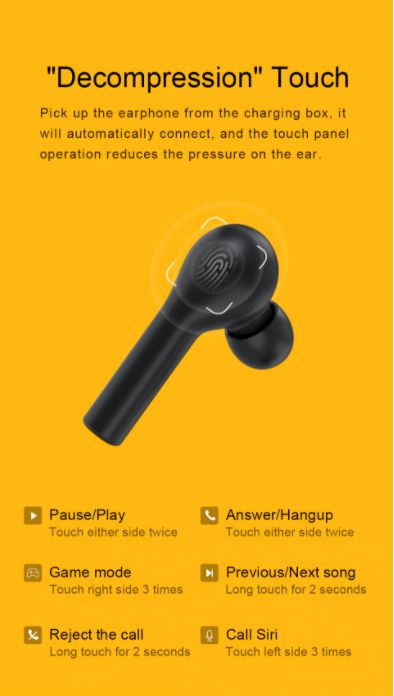 "Decompression" Touch
Pick up the earphone from the charging box, it will automatically connect, and the touch panel operation reduces the pressure on the ear.
Pause/Play Touch either side twice
Answer/Hangup Touch either side twice
Game mode Touch right side 3 times
Previous/Next song Long touch for 2 seconds
Reject the call Long touch for 2 seconds
Call Siri Touch left side 3 times
QCY T5 S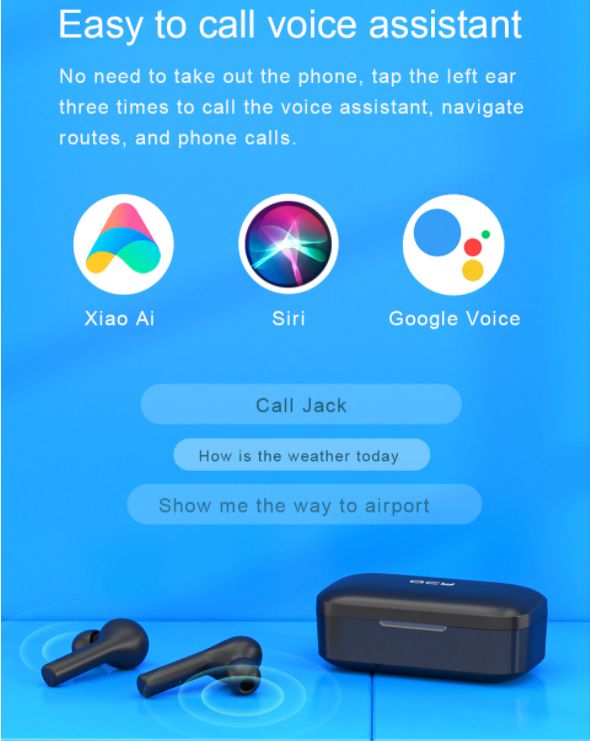 Easy to call voice assistant
No need to take out the phone, tap the left ear three times to call the voice assistant, navigate routes, and phone calls.
Xiao Ai / Siri /Google Voice / Call Jack
How is the weather today
Show me the way to airport
QCY T5S TWS
Master-Slave Switch
L and R are the main headphones
Both earphones have built-in custom chips, they do not distinguish between the main and the auxiliary, they can be taken and used at any time, which solves the cumbersome switching problem that exists generally.
Xiaomi QCY T5S TWS earbuds Features:
The Android system supports pop-up animations to easily check the connection status and remaining power.
Bluetooth 5.0, PAU160X mobile game chip, support open game mode, reduce sound delay.
Change the button settings, adjust the EQ, customize the language through the APP, or even look for headphones.
4.3g small body, comfortable and light to the ear as light as nothing, touch operation to reduce pressure.
High-definition binaural calls, accurately identify and effectively suppress external noise, and then enhance the sound effect through DSP, so that communication becomes clearer and better.
COMPACT DESIGN
QCY T5S Wireless Earbuds are small and comfortable to wear, they are designed for the better gaming experience. Ergonomically designed, the 4.3g lightweight earbud exactly fit the contours of the ears.
CVC 6.0 & DSP NOISE REDUCTION TECHNOLOGY
QCY T5S adopts CVC 6.0 and DSP noise reduction technology, plus high sensitivity silicone mic, improving the recognition of the speech, make sure you can listen and be heard without any effort even in noisy environments
GAME MODE
QCY T5S has a game mode, and the non-inductive delay is as low as 65ms after opening, and 200ms in the normal mode. The delay effect is more obvious, the game mode will increase the efficiency and shorten the time of use.
HIFI STEREO SOLID AUDIO QUALITY
Coupled with AAC, the built-in 6mm dynamic driver offers fast Bluetooth transmission. Through tuning by professionals, T5S Presents exceptional sound.
POP-UP WINDOWS
QCY T5S supports pop-up pairing, now it only supports pop-ups on Android phones, Apple phones need to wait.
BLUETOOTH 5.0
Yuan Rui Bluetooth 5.0 is on the QCY T5S Earphones, provide more stable connection, lower game latency.
600MAH CHARGING DOCK
QCY T5S Wireless Earphones come with a 600mAh charging dock that delivers 35 hours battery life, lets you listen to music and play games without worry.
Other wireless headsets Transfer from L to R
distinguish the main and the auxiliary
QCY T5S headsets Directly connect headsets regardless the main and the auxiliary
HD HIFI Sound Quality
The small body T5S adopts a 6mm moving coil unit, built-in ACC advanced audio decoding, and professional tri-frequency tuning, so the sound is rich
and full.
AAC
Advanced audio decoding
6mm
Dynamic unit
Breathable hole
front cavity breathable hole
*Some Android phones 9.0 have a whitelist system restrictions, and the default startup is SBC encoding.
The known solution is to add a bluetooth address to the list after changing the list to ROOT, but ROOT should be cautious because of risks.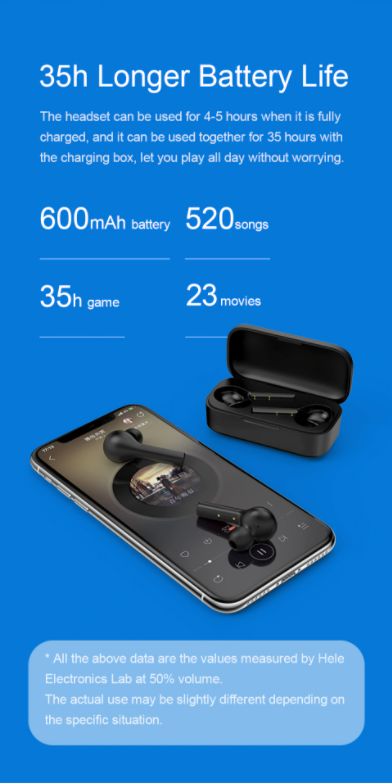 35h Longer Battery Life
The headset can be used for 4-5 hours when it is fully charged, and it can be used together for 35 hours with the charging box, let you play all day without worrying
600mAh battery / 520 songs / 35h game / 23 movies
'All the above data are the values measured by Hele Electronics Lab at 50% volume
The actual use may be slightly different depending on the specific situation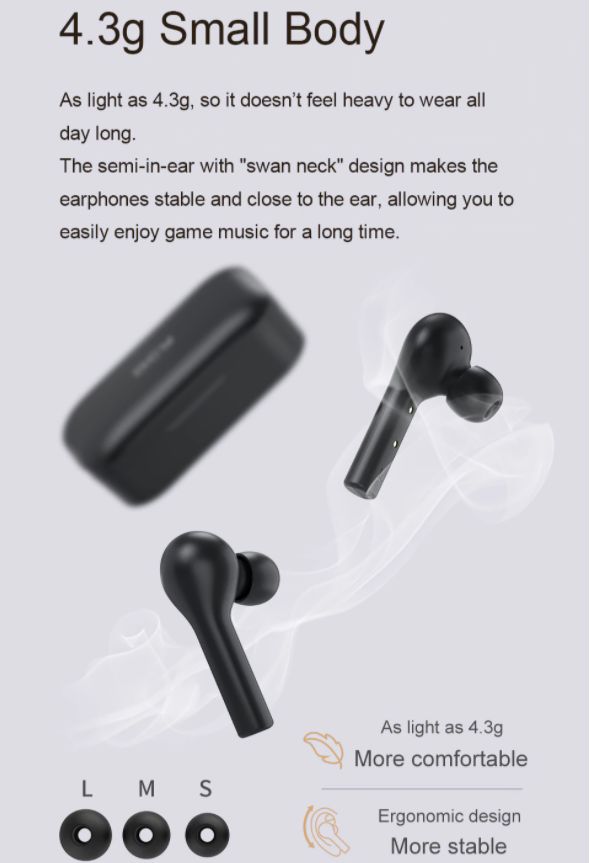 4.3g Small Body
As light as 4.3g, so it doesn't feel heavy to wear all day long.
The semi–ear-in- with"swan neck"design makes the earphones stable and close to the ear, allowing you to easily enjoy game music for a long time.
As light as 4.3g – More comfortable
Ergonomic design – More stable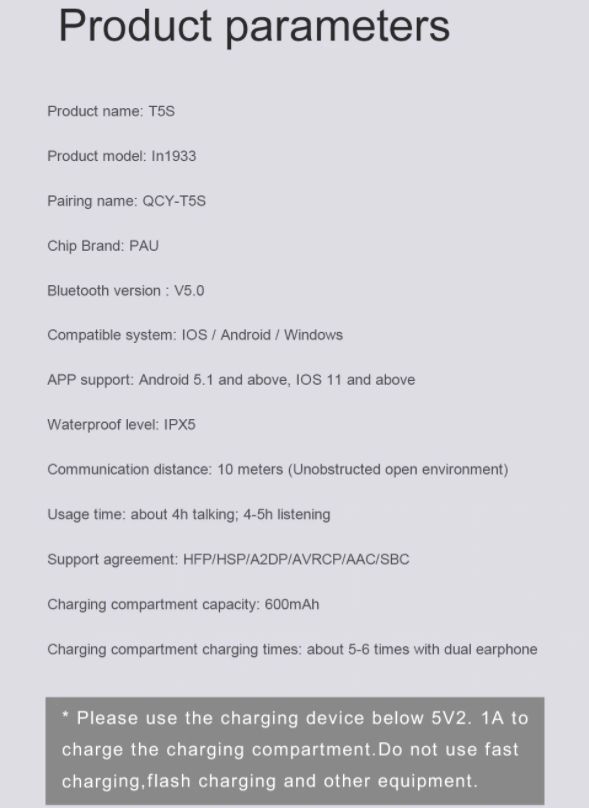 Product parameters
Product name: T5S
Product model: In1933
Pairing name: QCY-T5S
Chip Brand: PAU
Bluetooth version: V5.0
Compatible system: ios/ Android/Windows
APP support: Android 5.1 and above, ios 11 and above
Waterproof level: IPX5
Communication distance: 10 meters(Unobstructed open environment)
Usage time: about 4h talking; 4-5h listening
Support agreement: HFP/HSP/A2DP/AVRCP/AAC/SBC
Charging compartment capacity: 600mAh
Charging compartment charging times: about 5-6 times with dual earphone
Please use the charging device below 5V2. 1A to
charge the charging compartment. Do not use fast
charging, flash charging and other equipment.
Binaural HD Call – Support DSP noise reduction
The byit-in cardioid directional microphone enables high-definition calls between two ears, which can/ accurately identify and suppress external noise, and enhance the sound effect through DSP, so that the other party can hear you even in noisy environment.
P" DSP
Accurate recognition
Left and right calling
DSP noise reduction
Comfortable to Wear & 35 Hours Working TimeThe QCY T5S are very comfortable and are easy to wear for a few hours at a time and they stay put even if you're running at the gym. It recharges via micro-USB and charges the headphones three times before you need to charge the case. When fully charged, the headphones last for 4 hours at moderate listening volumes (50-60%), with the 600mAh charging case, they will work for a combined total of 35 hours.
Easy To ControlControl the QCY T5S headphones by tapping and sliding on them. Slide over the entire stems to change the volume and it works solidly in the basics. With two touches, you can can play or pause the music. Tap the right bud for a long second, and you'll advance to the next track. Tap the left one for a long second to return a song. By tapping the left side three times, you will activate the voice assistant on your smartphone.
Popup PairingTake out 2 headphones from the charging case, a window will popup, click to connect, they will be connected automatically. The window displays earphones' power. The QCY T5S wireless earbuds are made to be paired within 3 seconds through its Instant Pairing Technology.
QCY T5S Green
QCY T5S Specification
QCY T5S Spec:
Brand Name: QCY
QCY Model: QCY T5
Style: Ear Hook
Vocalism Principle: Dynamic
Origin: CN(Origin)
Control Button: Yes
Active Noise-Cancellation: No
Communication: Wireless
Volume Control: No
Sensitivity: 108dB
Is wireless: Yes
Line Length: 0m
Support APP: Yes
Number Of Drivers: 2
Plug Type: None
Package List: User Manual
Package List: Charging case
Package List: Charging Cable
Package List: Replaceable Pads Set
Impedance Range: up to 32 Ω
Connectors: None
Model Number: QCY T5S
Bluetooth Version: 5.0
Codecs: sbc
Support Memory Card: No
Resistance: 16Ω
Frequency Response Range: 20 – 2000Hz
With Microphone: Yes
Charging Method: Charging case
Water resistant: IPX5
Battery capacity: 600 mAh
QCY T5S Charging time of the box: 4 hours
Audio supported: HFP / HSP / A2DP / AVRCP / AAC / SBC
Support: Android, IOS, Windows
Package List: 1*User Manual 1*Charging case 1*Charging Cable 1*Replaceable Pads Set
Product type: Wireless Earphones
QCY T5S APP Supporting
QCY T5S APP Setting / QCY T5S APP Control
Xiaomi QCY T5S TWS true wireless earbuds reviews rating: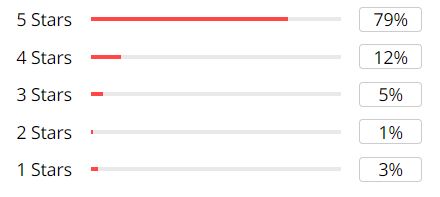 QCY T5S Aliexpress
QCY T5S Price: $35.99
Xiaomi QCY T5S Earbuds Reviews fro customer