QCY T4 Earbuds Xiaomi QCY T4 TWS True Wireless Earbuds
Bluetooth 5.0 IPX4 Waterproof Sport
APP Control with Charging Case Headphone Earphone
for Samsung Galaxy Android iPhone iPad IOS Xiaomi Huawei Vivo OPPO Honor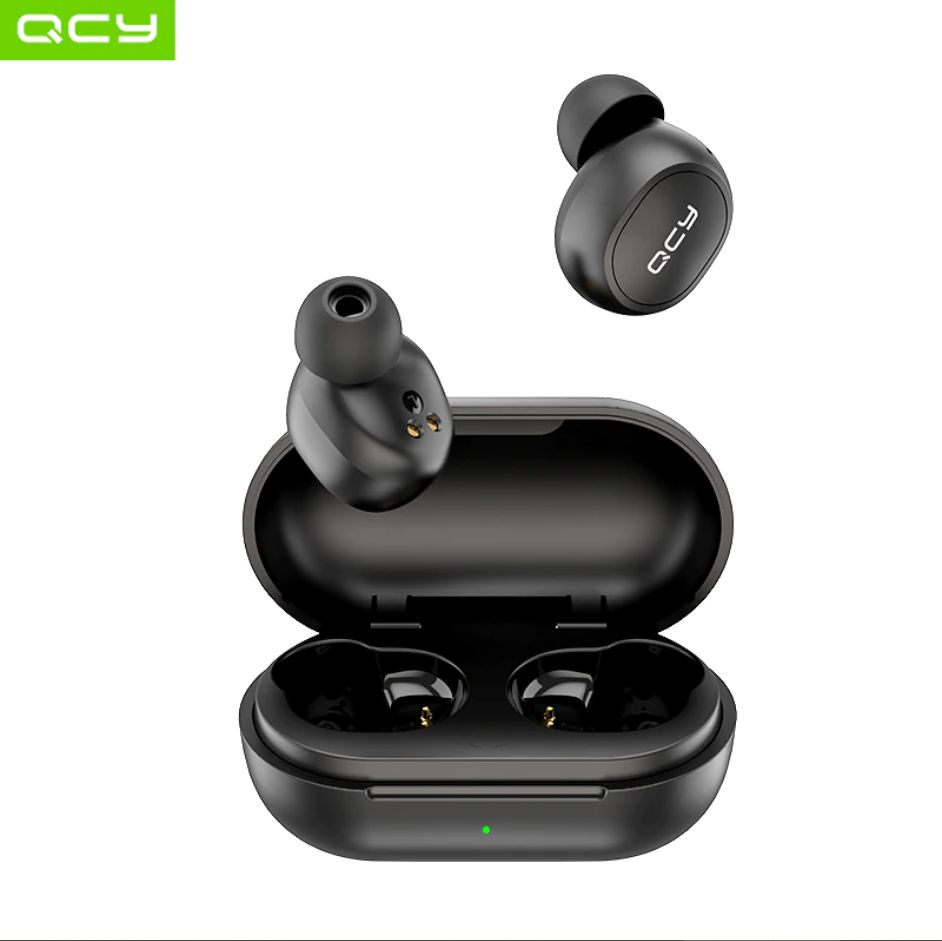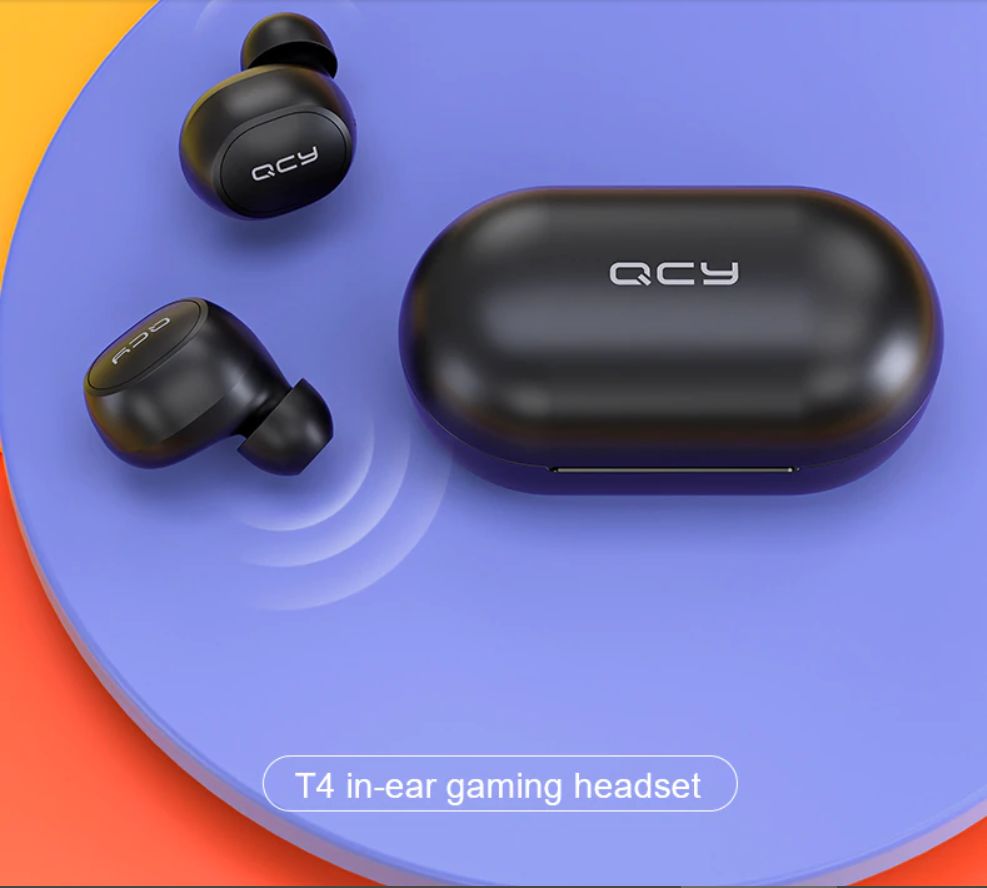 QCY T4 in-ear gaming headset
Free To Switch Between
Master And Slave Headphones
Binaural signal Synchronous transmission
Single and double ear Seamless switching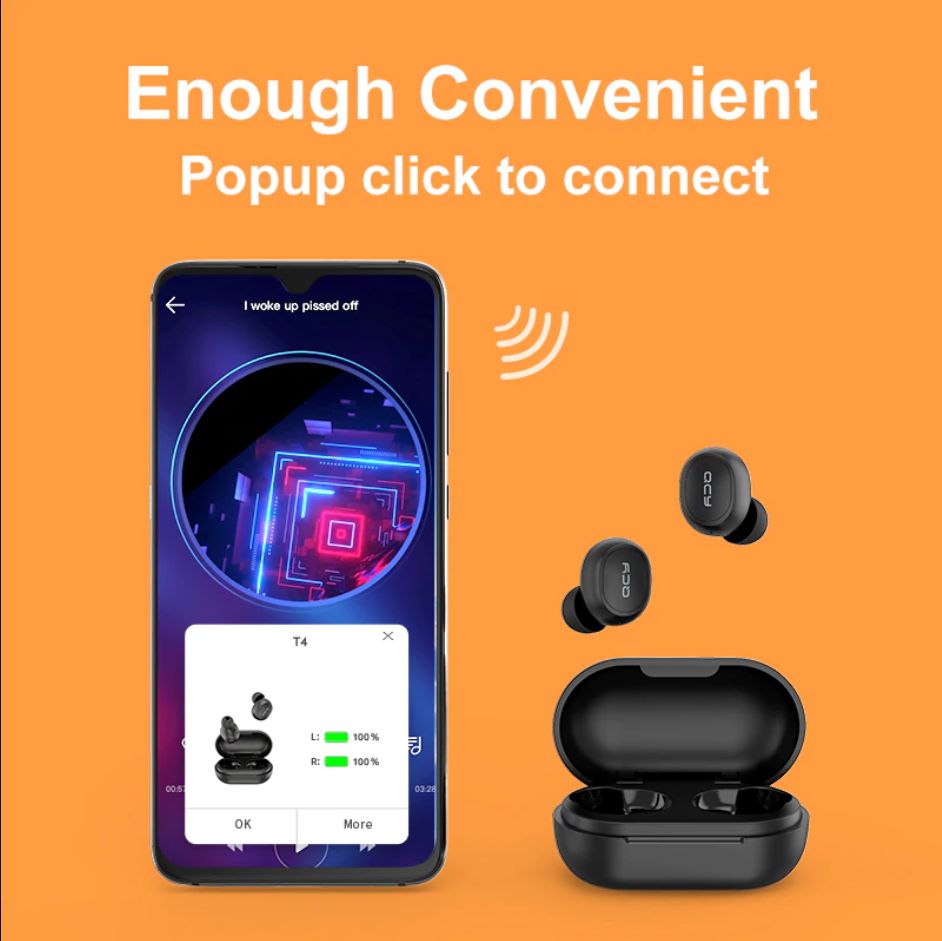 Enough Convenient
Popup click to connect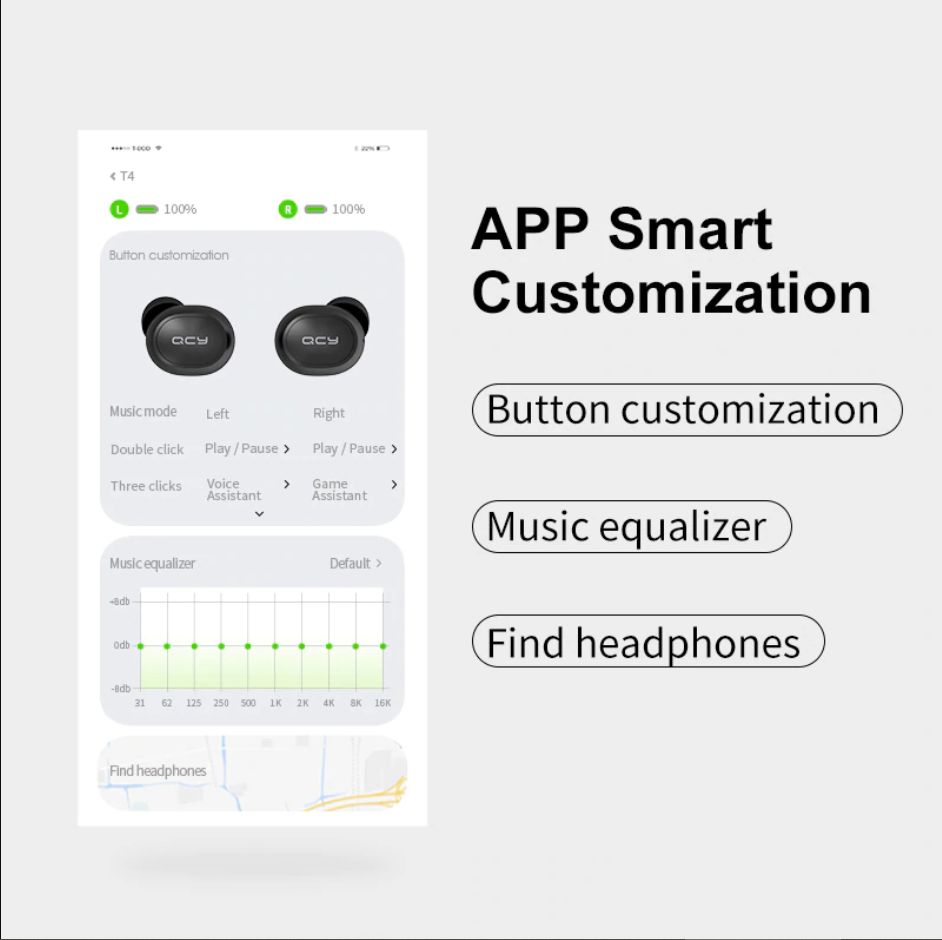 play/Pause
Three clicks voice
APP Smart Button customization
Music equalizer
Find headphones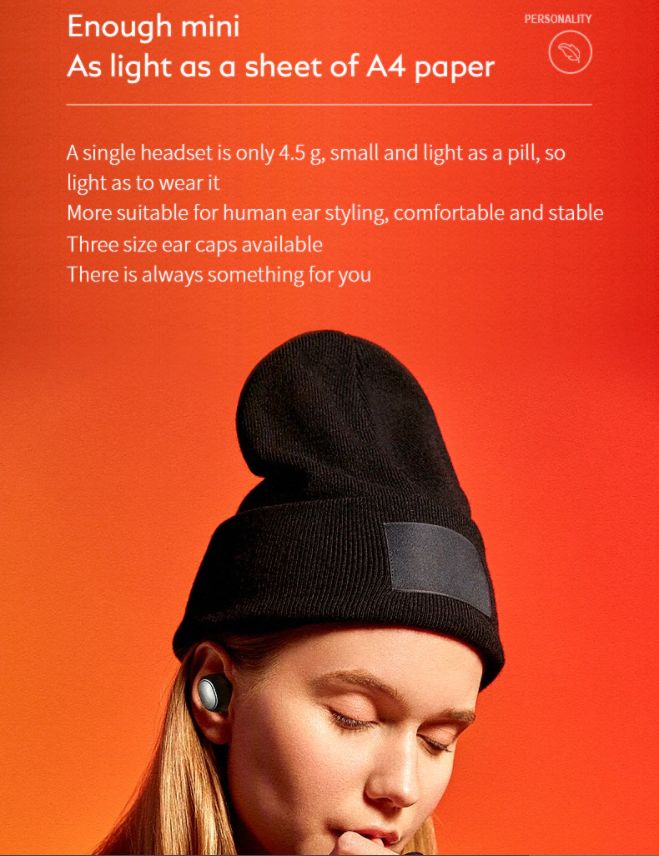 Enough mini
As light as a sheet of A4 paper
A single headset is only 4.5 g, small and light as a pill, so
light as to wear it
More suitable for human ear styling, comfortable and stable
Three size ear caps available
There is always something for you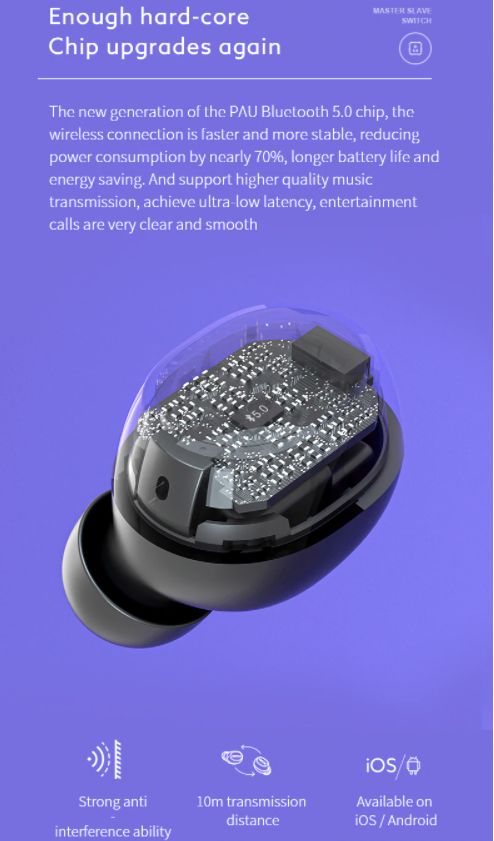 Enough hard-core
MASIER SLAVE
Chip upgrades again
The new generation of the PAU Bluctooth 5.0 chip, the
wireless connection is faster and more stable, reducing
power consumption by nearly 70%, longer battery life and
energy saving. And support higher quality music
transmission, achieve ultra-low latency, entertainment
calls are very clear and smooth
iOs/
Strong anti
10m transmission
Available on
distance
interference ability
iOS/Android
Enough Energetic
No delay in game mode
PAU Bluetooth 5.0 has powerful transmission efficiency,
and the latency in the game mode is as low as 65ms,
whether it is playing games or watching videos, it is as
smooth as clouds, and brings you a smooth entertainment
experience of audio and video synchronization.
acy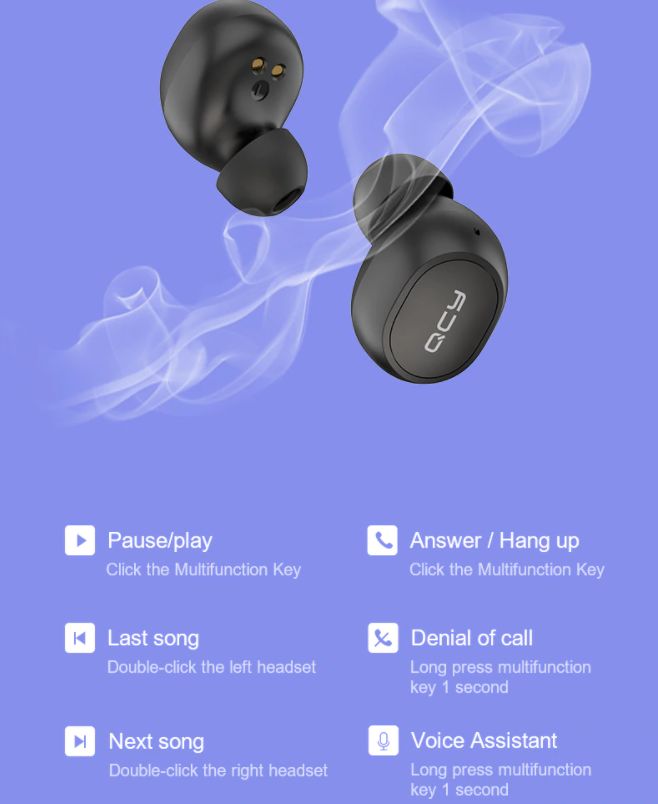 Pause/play: Click the Multifunction Key
Answer Hang up: Click the Multifunction Key


Last song: Double-click the left headset
Denial of call Long: press multifunction key 1 second
Next song: Double-click the right headset
Voice Assistant: Long press multifunction key 1 second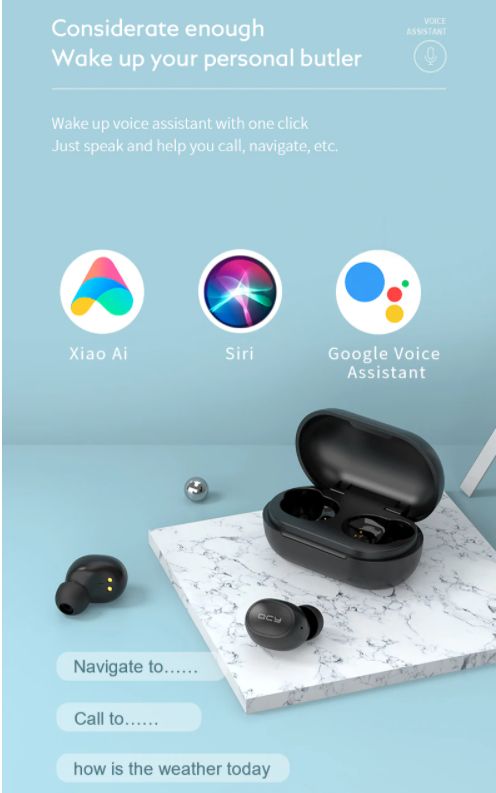 Considerate enough
Wake up your personal butler
Wake up voice assistant with one click
Just speak and help you call, navigate, etc
Xiao Ai
Siri
Google voice
Assistant
Navigate to……
Call to……
how is the weather today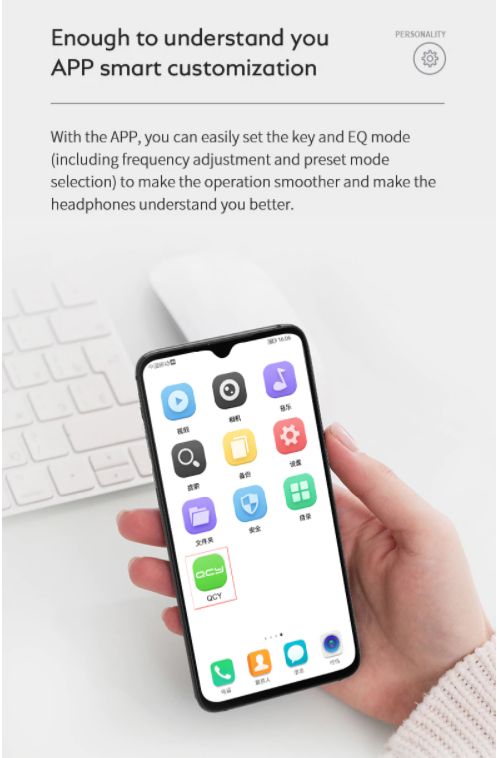 Enough to understand you
PERSONALITY
APP smart customization
With the APP, you can easily set the key and EQ mode
(including frequency adjustment and preset mode
selection)to make the operation smoother and make the
headphones understand you better.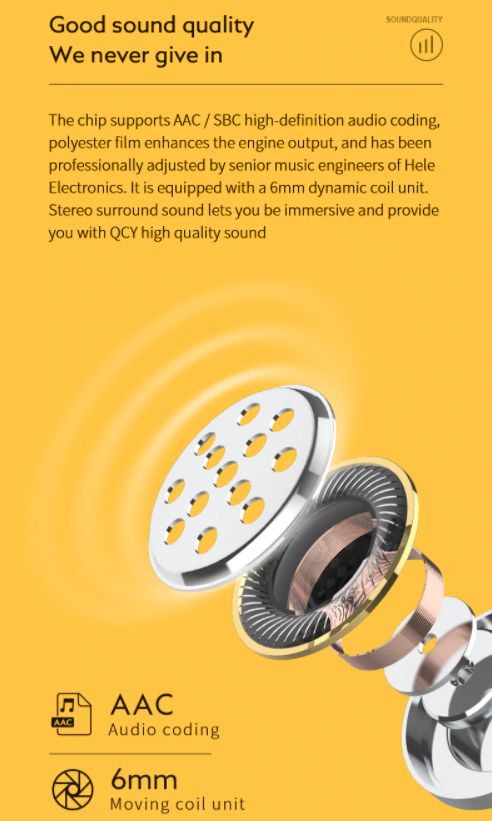 Good sound quality
SOUNDOUALITY
We never give in
The chip supports AAC /SBC high-definition audio coding
polyester film enhances the engine output, and has been
professionally adjusted by senior music engineers of Hele
Electronics. It is equipped with a 6mm dynamic coil unit.
Stereo surround sound lets you be immersive and provide
you with QCY high quality sound
Audio coding
6mm
Moving coil unit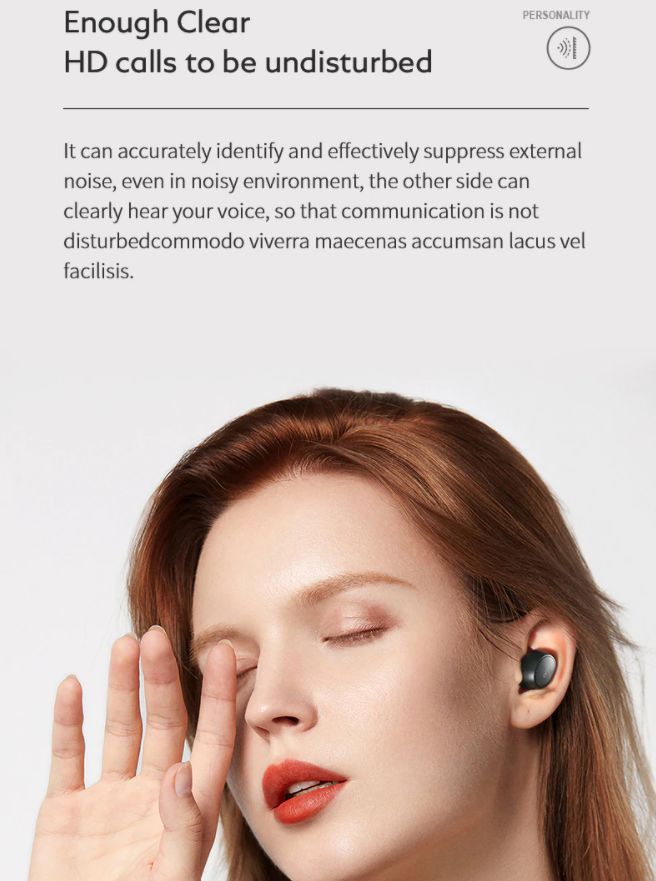 Enough Clear
PERSONALITY
HD calls to be undisturbed
It can accurately identify and effectively suppress external
noise, even in noisy environment, the other side can
clearly hear your voice, so that communication is not
disturbedcommodo viverra maecenas accumsan lacus vel
facilisis.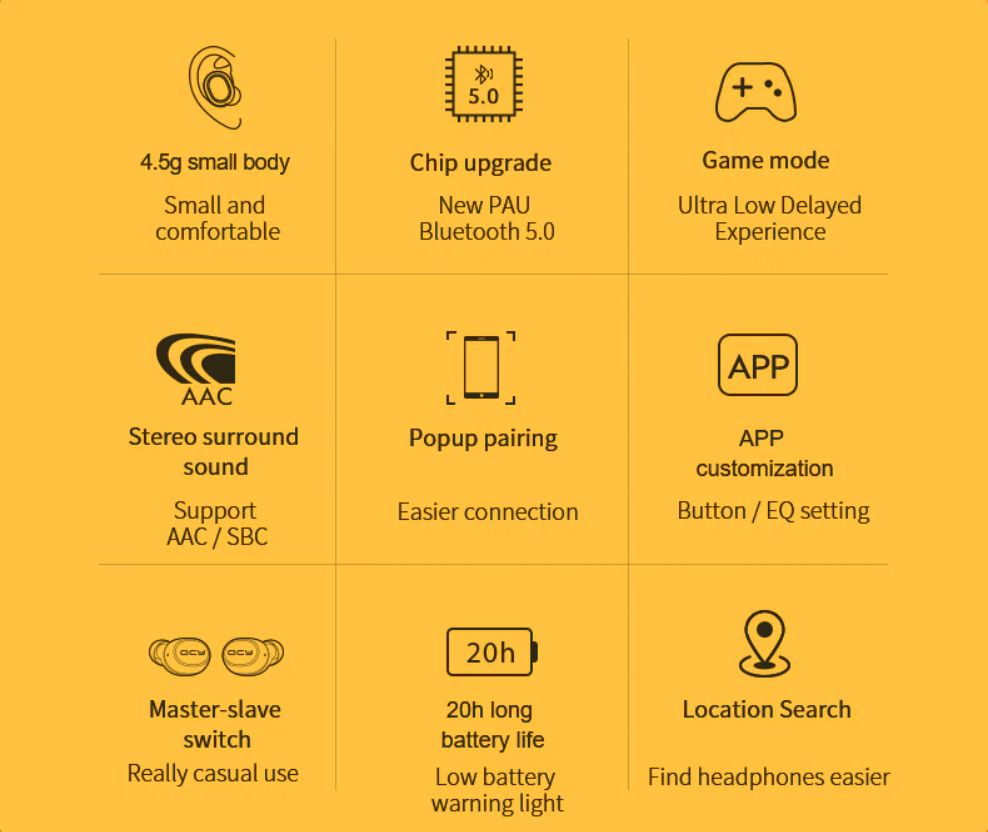 4.5g small body: Small and comfortable
Chip upgrade: New PAU Bluetooth 5.0
Game mode: Ultra Low Delayed Experience
Stereo sound surround: Support AAC/SBC
Popup pairing: Easier connection
APP customization: Button/ EQ setting
Master-slave switch : Really casual use
20h long battery life:Low battery warning light
Location Search: Find headphones easier
DSP noise reduction:Suppression of environmental noise
HD call:Other side listen more clearly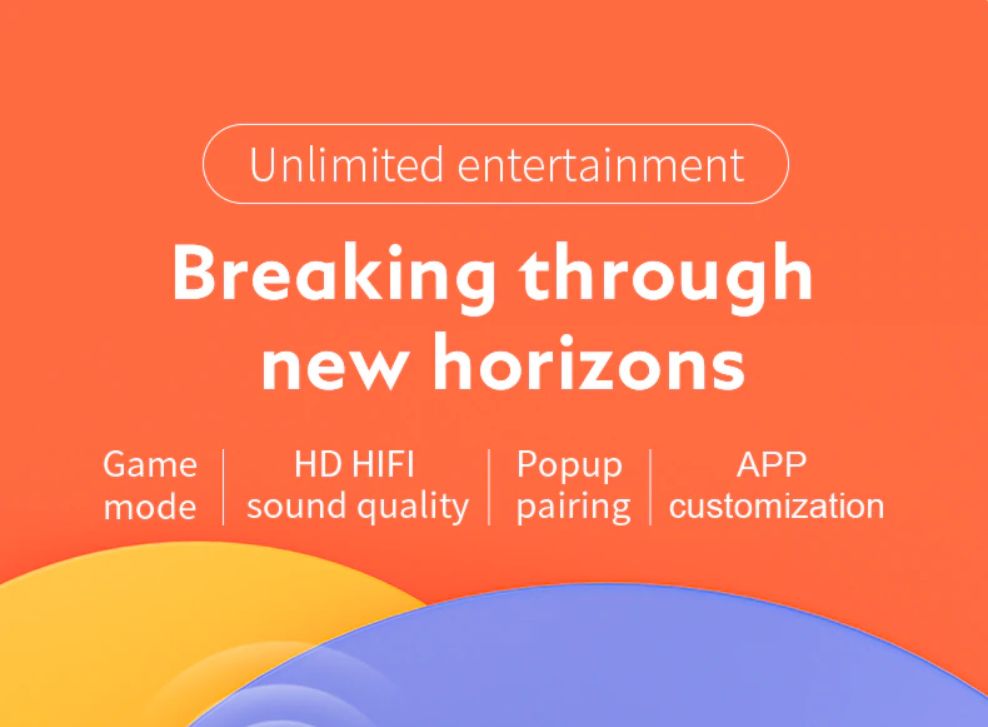 Unlimited entertainment
Breaking through
new horizons
Game |HD HIFI |Popup
APP
mode sound quality pairing customization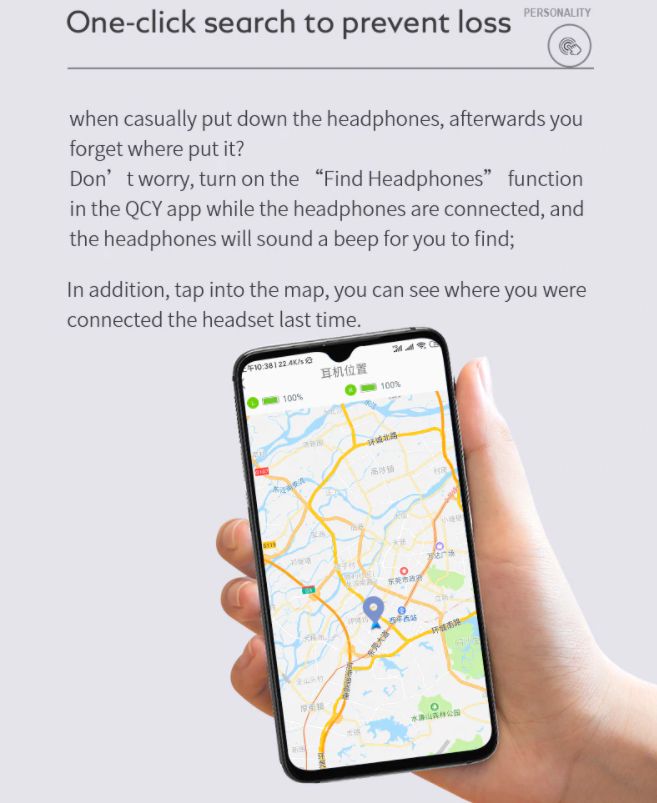 One-click search to prevent loss PERSONALTY
when casually put down the headphones, afterwards you
forget where put it?
Don' t worry, turn on the "Find Headphones" function
in the QCY app while the headphones are connected, and
the headphones will sound a beep for you to find;
In addition, tap into the map, you can see where you were
connected the headset last time.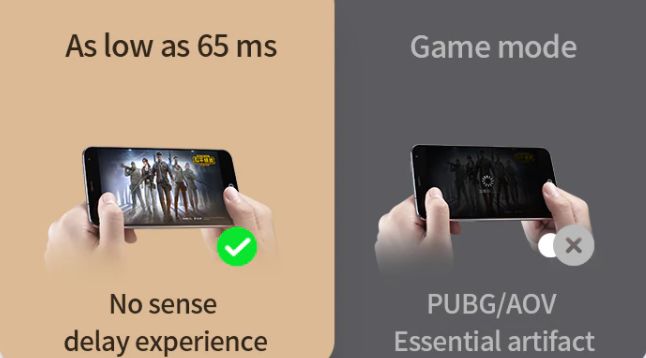 As low as 65 ms No sense delay experience
Game mode : PUBG/AOV Essential artifact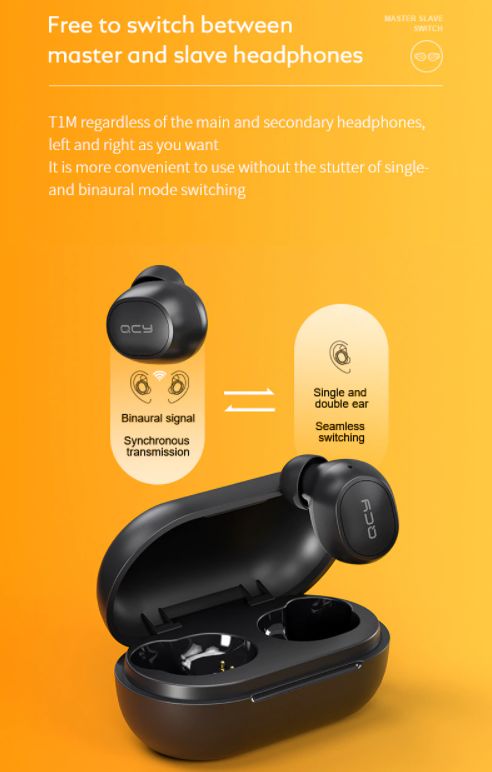 Free to switch between
master and slave headphones
TIM regardless of the main and secondary headphones
left and right as you want
It is more convenient to use without the stutter of single-
and binaural mode switching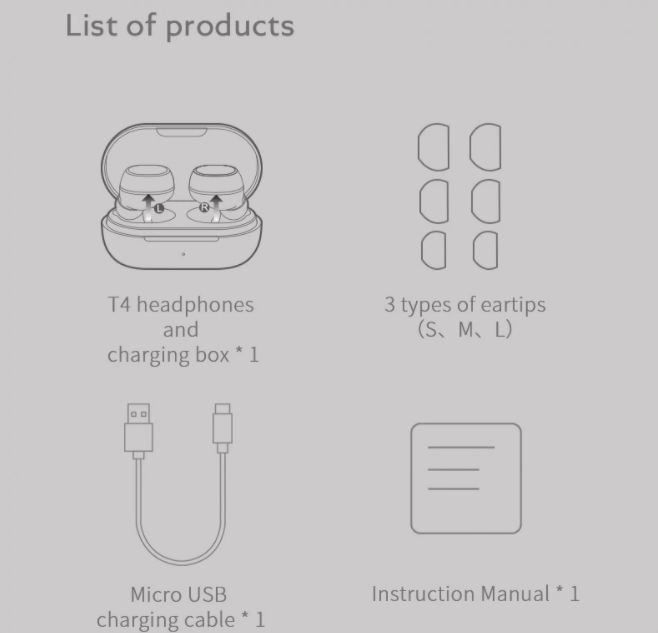 List of products
T4 headphones
3 types of eartips
(S、M、L)
charging box 1
Micro USB charging cable 1
Instruction Manual1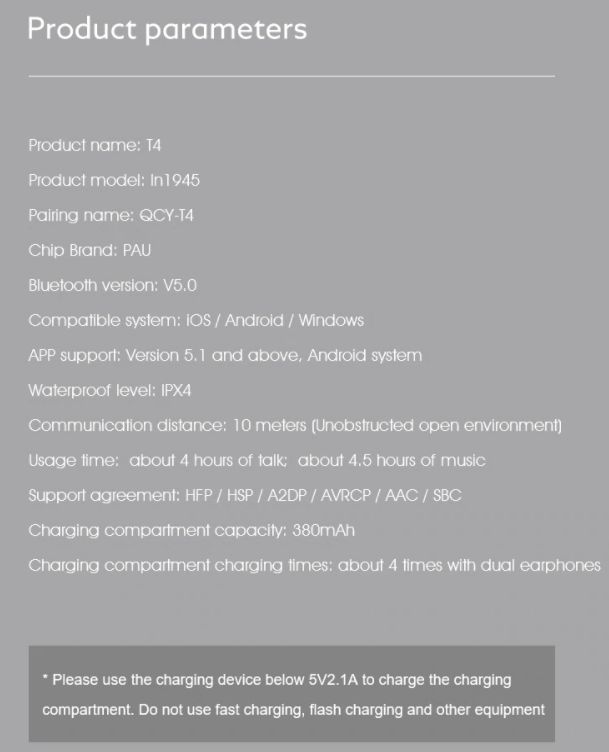 Product parameters
Product name: T4
Product model: In1945
Pairing name: QCY-T4
Chip Brand: PAU
Bluetooth version: V5.0
Compatible system: ios /Android/Windows
APP support: Version 5.1 and above, Android system
Waterproof level: IPX4
Communication distance: 10 meters (Unobstructed open environment)
Usage time: about 4 hours of talk about 4.5 hours of music
Support agreement: HFP/HSP/A2DP/AVRCP/AAC/ SBC
Charging compartment capacity: 380mAh
Charging compartment charging times: about 4 times with dual earphones
*Please use the charging device below 5V2.1A to charge the charging
compartment. Do not use fast charging, flash charging and other equipment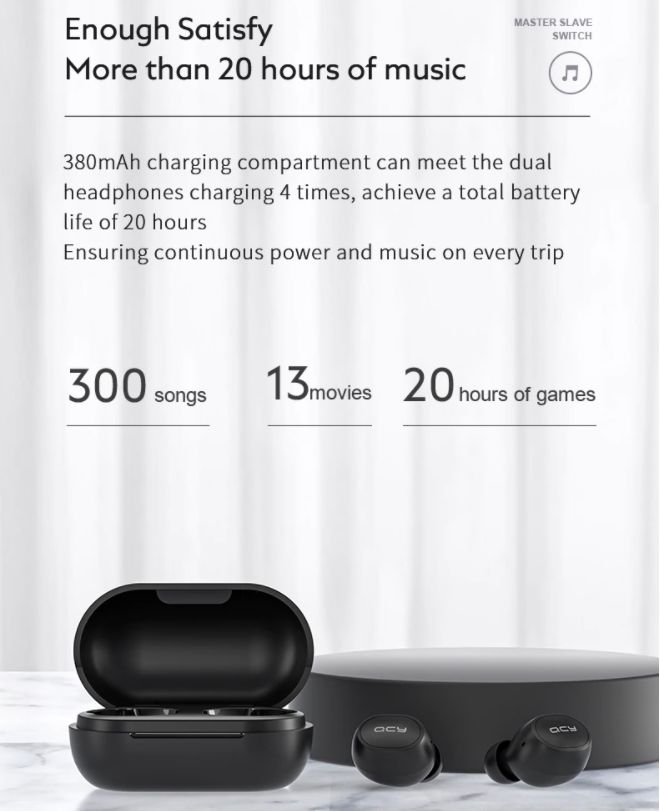 Enough Satisfy
More than 20 hours of music
380mAh charging compartment can meet the dual
headphones charging 4 times, achieve a total battery
life of 20 hours
Ensuring continuous power and music on every trip
300 songs
13 movies
20 hours of games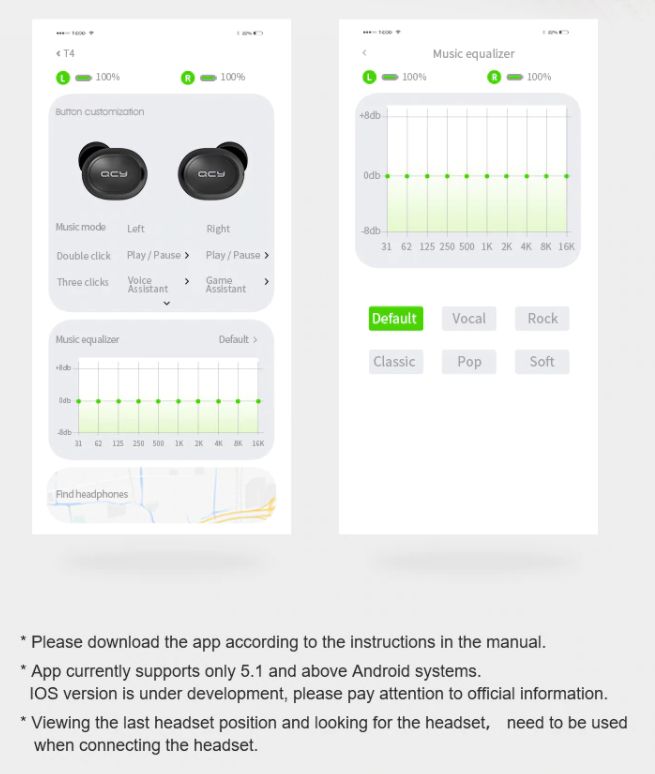 *Please download the app according to the instructions in the manual.
*App currently supports only 5.1 and above Android systems.
IOS version is under development, please pay attention to official information.
*Viewing the last headset position and looking for the headset, need to be used
when connecting the headset
QCY T4 Earbuds
Xiaomi QCY T4 TWS Wireless Earbuds Features:
Gaming Bluetooth V5.0 technology, the transmission speed is twice higher. The anti-interference performance is enhanced and the connection is more stable, avoid sound delays
.PAU Bluetooth 5.0 has powerful transmission efficiency,and the latency in the game mode is as low as 65ms,whether it is playing games or watching videos,it is as smooth as clouds and brings you a smooth entertainment experience of audio and video synchronization
. Small charging case built-in 380mAh for backup power
.Currently the pop-up function only supports android
QCY T4 True Wireless Earbuds come with its uniqueness is specificly designed for all music lovers and gamers alike. It comes with all the amazing features to give the best feeling of the state of mind and a great impression about sound. In this manner, the earphones can offer clear stable quality without any damages done to the ear.
Customized for Both Music Lovers and Gamers 
The QCY T4 Earphones with its uniqueness is specificly designed for all music lovers and gamers alike. It comes with all the amazing features to give the best feeling of the state of mind and a great impression about sound. In this manner, the earphones can offer clear stable quality without any damages done to the ear.
All things considered, the bass is carefully designed to aid quality vocals, or the highs are too ear-splitting to even consider turning up the volume. Subsequent to tuning in and recording the presentation, the QCY T4 is designed and tested to give good phenomenal sound quality.
Gaming Mode 
Gaming Mode is availble in QCY T4 as a solution to the latency issues (as low as 65ms) when playing games. All you have to do is to press one of the buds for 3 times to enter Gaming Mode. Also, repeat the same to get out of Gaming Mode. It's a breeze to use these buds!
DSP Noise Cancelling
DSP Noise Cancelling technololgy is appied to the QCY T4 to achieve a higher quality of music than the original input. By the end of the audio reconstruction, the QCY T4 earphones give balanced and flawless sound, which can be described as breathtaking.
Pop-up Pairing
Take out 2 headphones from the charging case, a window will pop up, click to connect, they will be connected automatically. The window displays earphones power . The QCY T4 wireless earbuds are made to be paired within 3 seconds through its Instant Pairing Technology.
True Wireless & Wireless Charging 
The QCY T4 earphones are structured cordlessly without even a wire to interface with your music gadget or to one another. And an interesting fact about the earbuds is that if you plug the two buds into your ears you won't discover any diverting wires. Moreover, the charging case can be charged with a wireless charger. Along these lines, the landing of the QCY T4 earphones makes the days that you attempted to loosen a bunch of boredom with a lot of exciting sounds.
QCY T4 APP Supporting
QCY T4 APP Control / QCY T4 APP Setting
QCY T4 Specs
QCY T4 Specification:
Brand : QCY
QCY Model: QCY T4
Style: In-Ear
Vocalism Principle: Hybrid technology
Control Button: Yes
Communication: Wireless
Sensitivity: 108dB
Wireless Type: Bluetooth
Support APP: Yes
Function: for Video Game,Common Headphone,Mobile Phone,Sport
Package List: QCY T4 Earbuds,User Manual,Charging case, Charging Cable
Impedance Range: up to 32 Ω
Connectors: None
Headphone Pads Material: SILICONE
Bluetooth Version: 5.0
Codecs: sbc
Support Memory Card: No
Driver Diameter: 6mm
Resistance: 16Ω
Waterproof: Yes
Frequency Response Range: 20 – 20000Hz
With Microphone: Yes
Features: Dual Connection
Charging Method: Charging case
Magnet Type: Other
Xiaomi QCY T4 TWS Earbuds Reviews Rating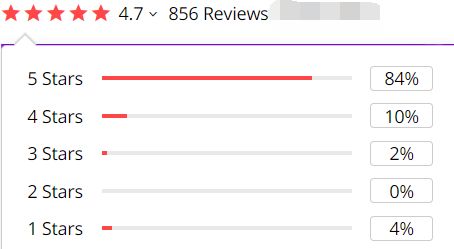 QCY T4 Price: $35.99
QCY T4 Earbuds Reviews from customer