QCY HT03 Earbuds Xiaomi QCY HT03 TWS True Wireless Earbuds
Bluetooth 5.1 ANC Fone Earphones Noise Canceling APP Control Earphones
Gaming Mode 24 Hours with Charging Case IPX4 Waterproof Headphone
With Microphone Handsfree EarBuds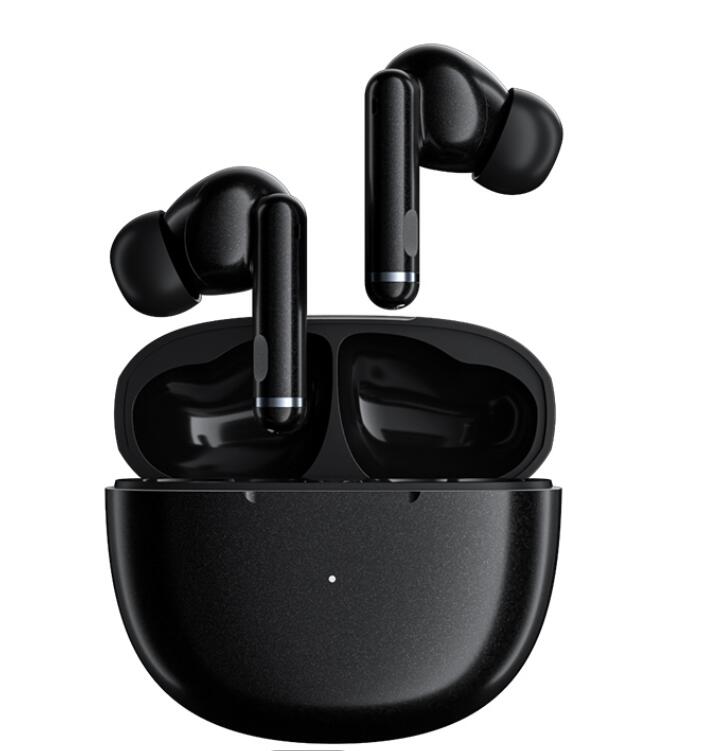 Just Touch to Keep Life Quiet
ANC – Hybrid noise canceling
Transparent mode – notice the world around you
Bluetooth V5.1 – Cutting-edge Bluetooth chip
Four microphones – for noise-canceling in calling
10mm driver / 24hr ultra-long battery life
Senseless latency – cool surf online
Pop up window – easy to connect
App Control – customizing earbuds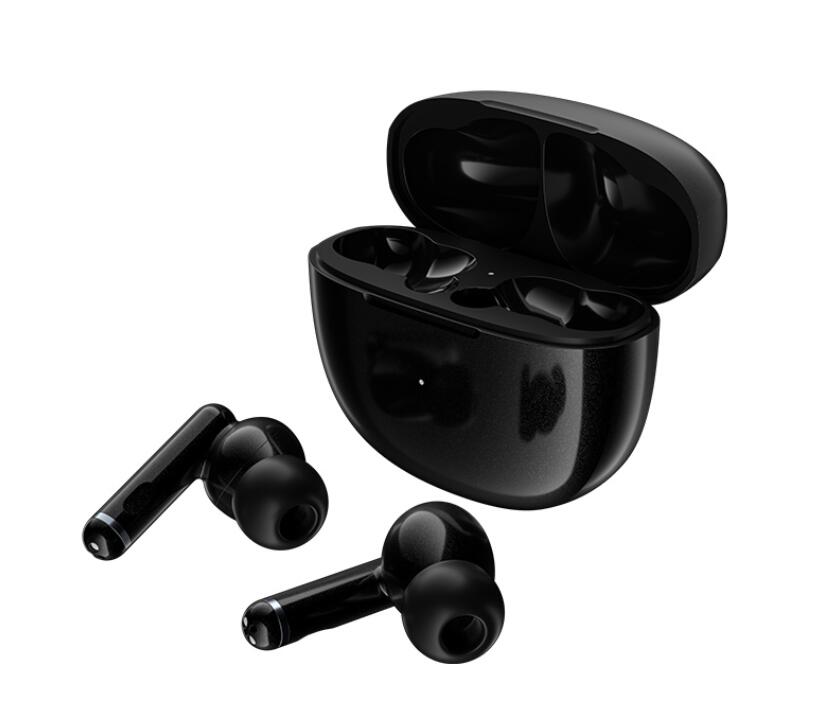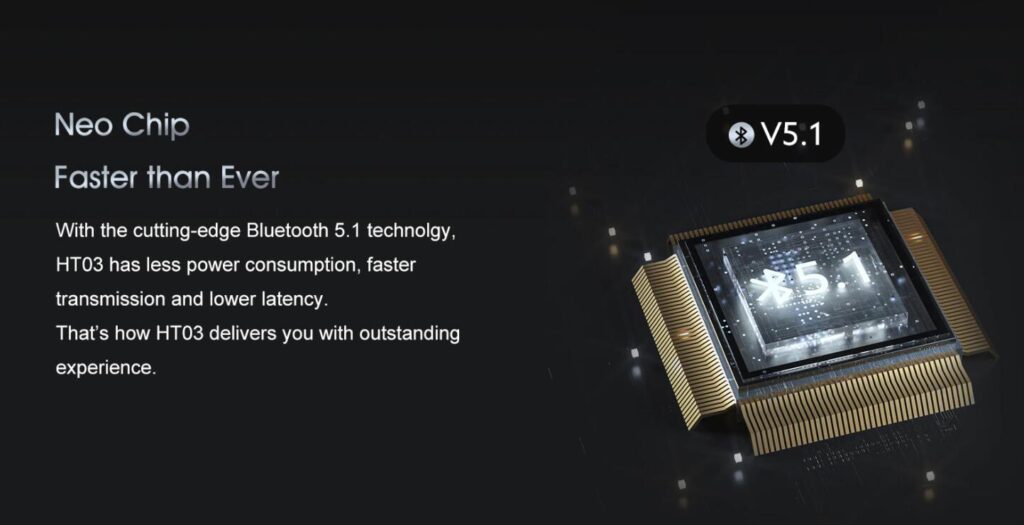 Neo Chip – Faster than ever
With the cutting-edge Bluetooth 5. 1 technology,
HT03 has less power consumption faster, transmission and lower latency.
That's how HTo3 delivers you with outstanding experience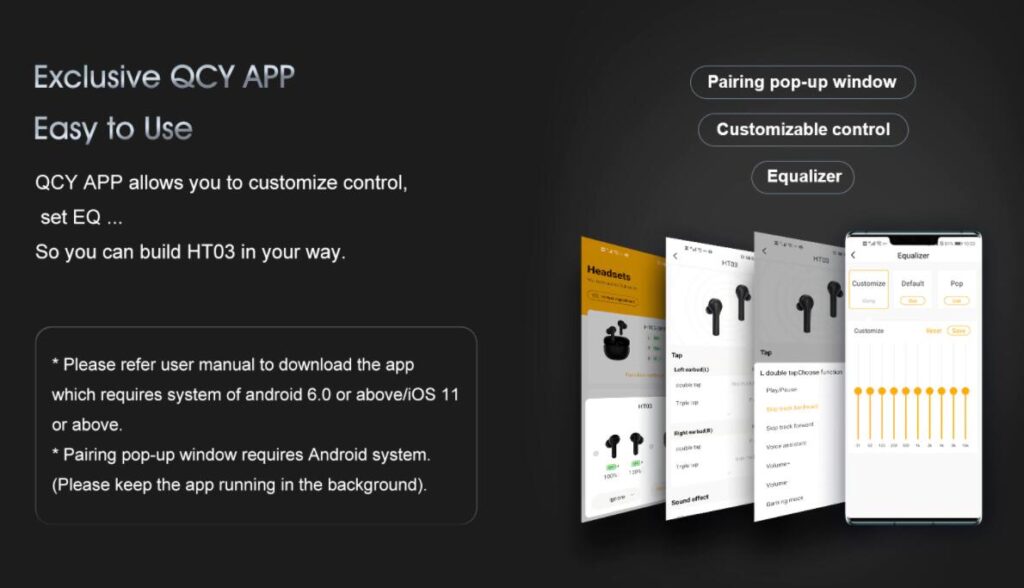 Exclusive QCY APP Easy to Use
QCY APP allows you to customize control set eo…. So you can build HT03 in your way

Pairing pop-up window
Customizable control
Equalizer
Please refer user manual to download the app
which requires system of android 6.0 or above/iOS 11 or above
Pairing pop-up window requires Android system
(Please keep the app running in the background)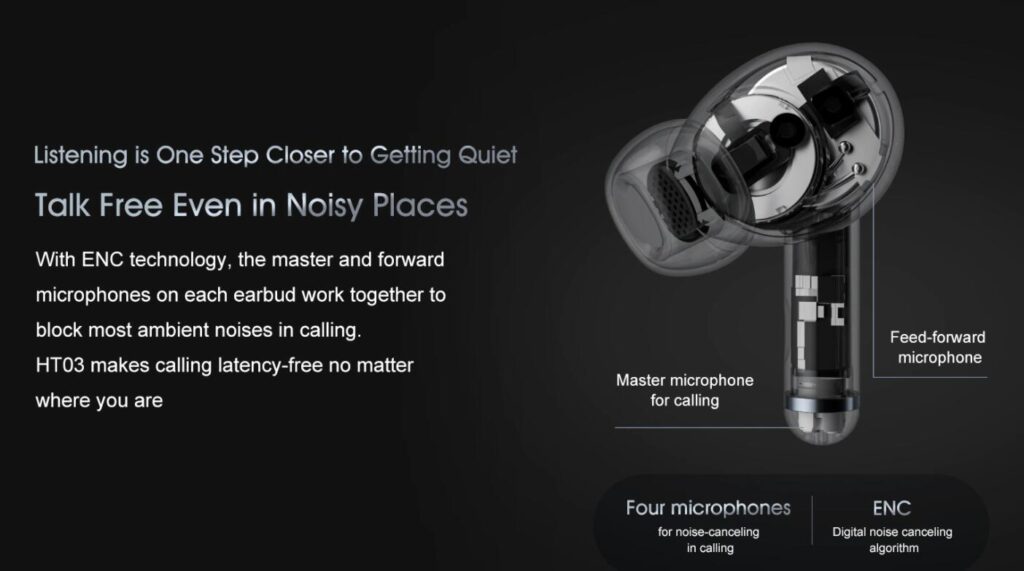 Listening is One Step Closer to Getting Quiet Talk Free Even in Noisy places
With ENC technology, the master and forward microphones on each earbud work together to block most ambient noises in calling
HTO3 makes calling latency-free no matter where you are
Feed-forward microphone
Master microphone for calling
Four microphones for noise-cancelling in calling
ENC Digital noise canceling algorithm
35dB Noise Canceling Offering a Quiet Environment
With hybrid-ANC technology, the embedded forward and backward microphones help collect noises from both environment and ear canal. Reverse sound wave will be soon generated to neutralize such noises.
Whenever you need a quiet world just touch the earbud.
please choose proper eartips for best noice canceling expence
ANC mode will be activated by default in stereo mode (ANC is not available in mono mode)
ANC will be auto turned off when you are calling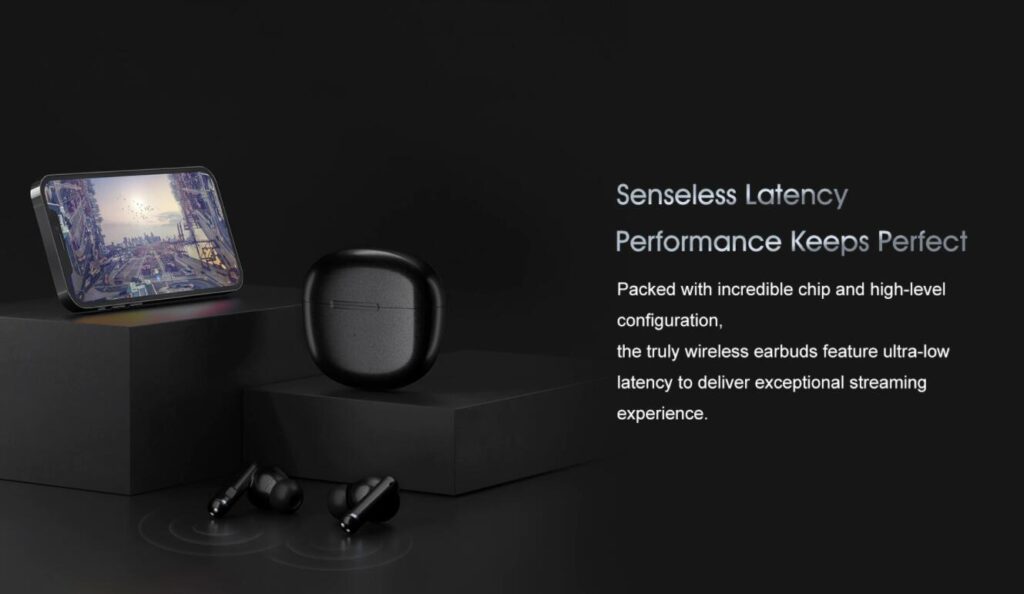 Senseless Latency Performance Keeps Perfect
Packed with incredible chip and high-level configuration
the truly wireless earbuds feature ultra-low latency to deliver exceptional streaming experience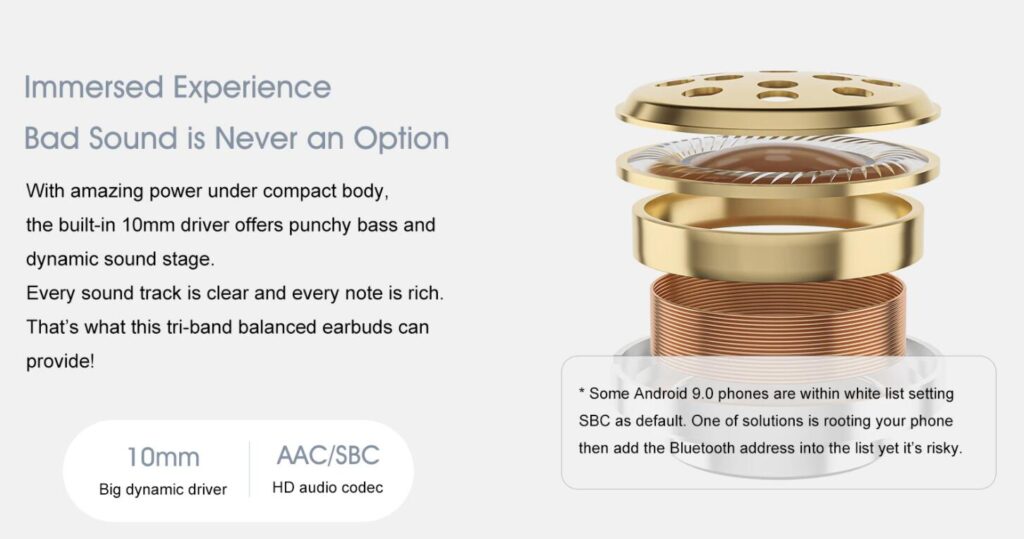 Immersed Experience Bad Sound is Never an Option
With amazing power under compact body the built-in 10mm driver offers punchy bass and dynamic sound stage
Every sound track is clear and every note is rich
That's what this tri-band balanced earbuds can provide!
Some Android 9.0 phones are within white list setting SBC as default. One of solutions is rooting your phone then add the Bluetooth address into the list yet it's risky
10mm Big dynamic driver
AAC/SBC HD audio codec
Heightening Your Hearing Get Everything Around You Noticed
Transparent mode enables you to notice ambient condition.
Safer for drivers;
Chat to friends without taking off earbuds; Keep noticing important information in places like airport.
Keep touching right earbud for 1. 5s to switch among normal, transparent and ANC modes, or you can switch via QCY APP
A whole-day Playback See Off Low Battery Warning
Turn off ANC and you get a 6-hour playback with no extra charge. With charging case,
HT03 can offer up to 24 hours of music time Music just cannot stop for a whole day!
24hr total battery life (ANC OFF)
6hr Single battery life (ANC OFF)
ANC ON: total battery life is 20hr while single charge provides 5hr of playback
5760 Short videos
360 Tracks
All the above data are measured by hele Electronic Lab at specific volume yet practical data may vary under different situation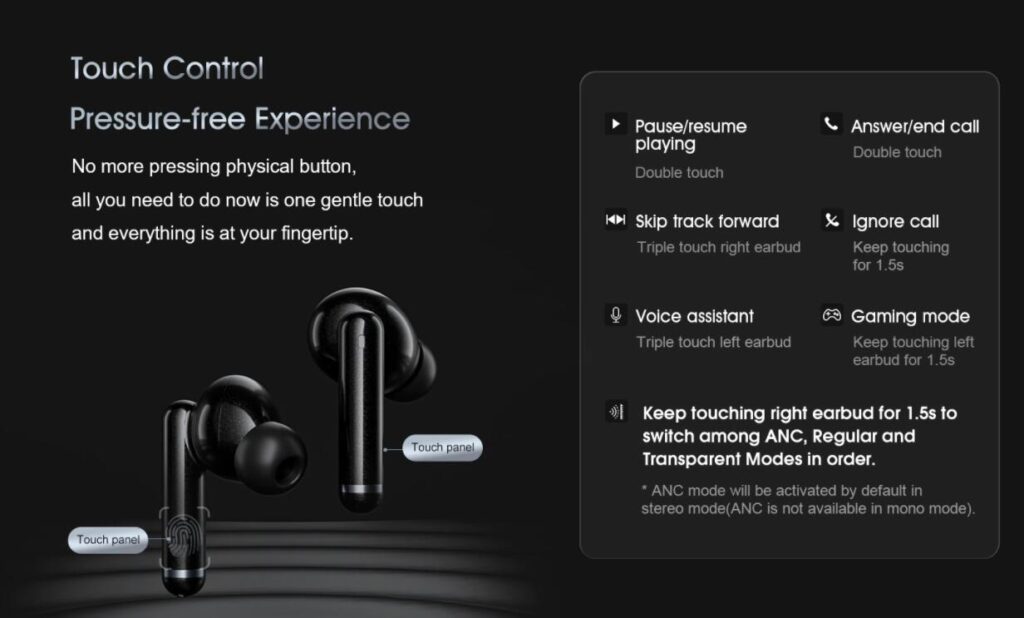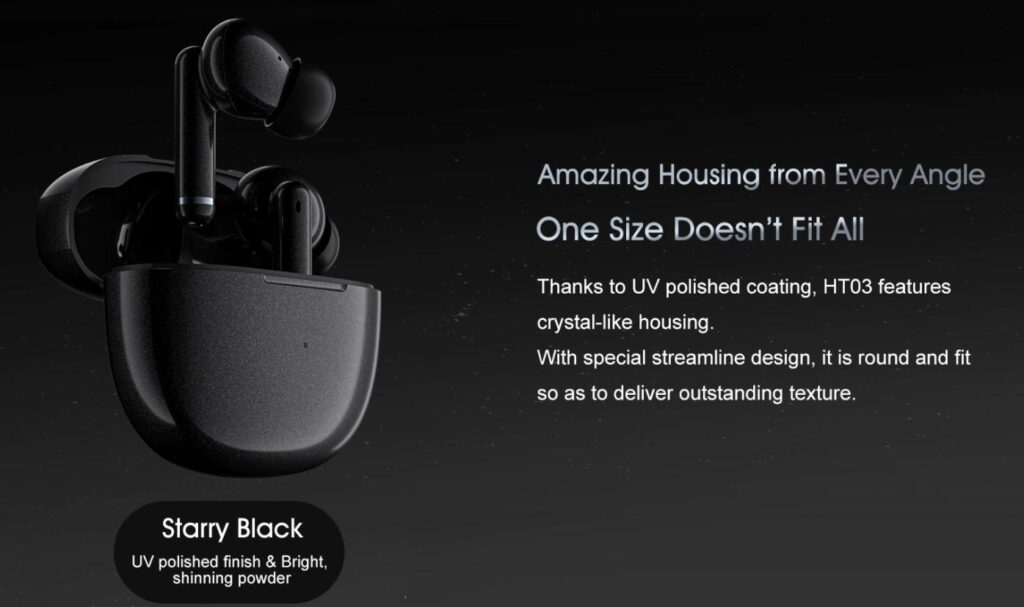 Amazing Housing from Every Angle One size Doesn't Fit all
Thanks to UV polished coating, HTO3 features crystal-like housing
With special streamline design, it is round and fit
so as to deliver outstanding texture
Starry black
UV polished finish Bright
shinning powder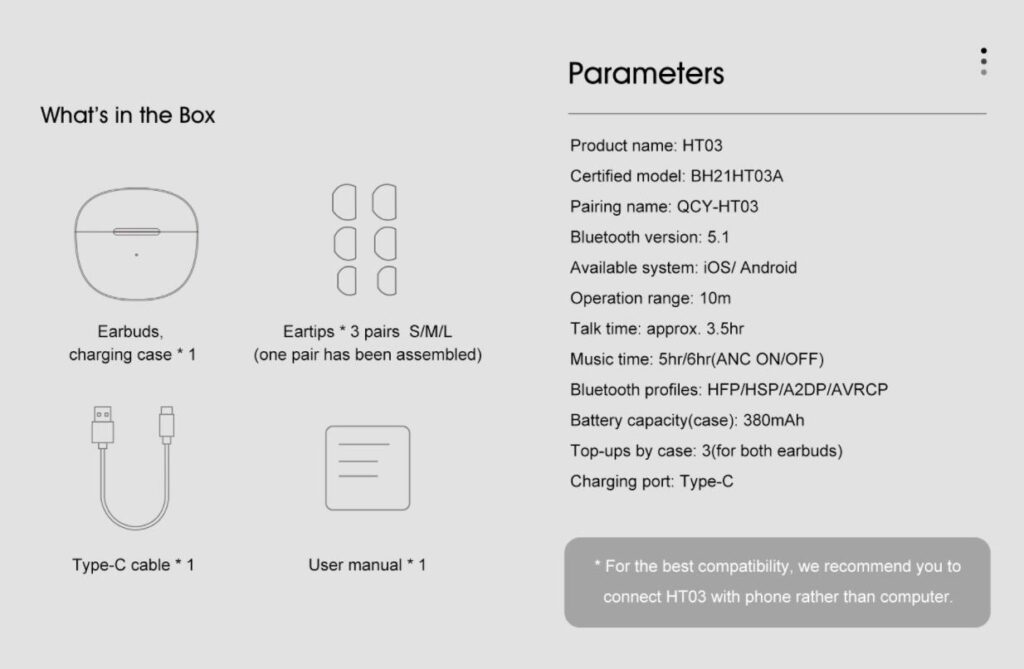 QCY HT03 Specs
QCY HT03 Specification
Product name:HT03
Certified model :BH21HT03A
Pairing name :QCY-HT03
Bluetooth version :5.1
Available system: iOS/Android
Operation range :10m
Talk time :approx.3.5hr
Music time :5hr/6hr (ANC ON/OFF)
Bluetooth profiles :HFP/HSP/A2DP/AVRCP
Battery capacity(case) :380mAh
Top-ups by case:3(for both earbuds)
Charging port: Type-C
*For the best compatiblity, we recommend you to connect HT03 with phone rather than computer.
QCY HT03 Earbuds Xiaomi QCY HT03 TWS True Wireless Earbuds Reviews Star Rating
QCY HT03 Earbuds Aliexpress
Price: $66.5
QCY HT03 Earbuds Xiaomi QCY HT03 TWS True Wireless Earbuds Reviews from customer