QCY QS2 Earbuds Xiaomi QCY QS2 TWS Bluetooth 5.0 Wireless Earbuds
3D Stereo Sports Battery Charging Case Wireless Earphones with Dual Microphone IPX4 Waterproof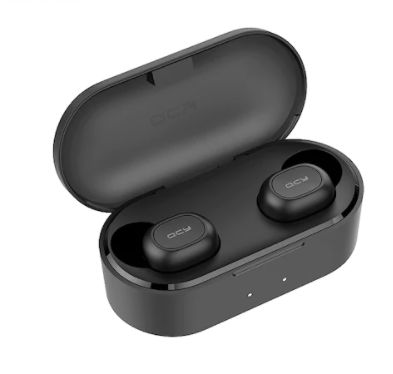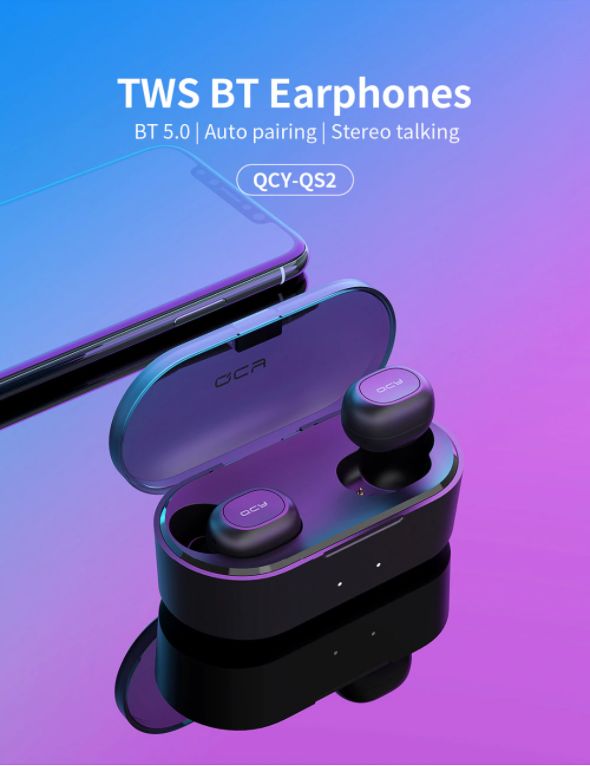 TWS BT Earphones
BT 5.0 Auto pairing| Stereo talking
QCY-QS2
Comfortable Fitting
In accordance with big data of cochlea, QS2 featuring
compact body fits your ears invisibly and stably even in
rough sports.
Ultra-light- design Mono & Stereo mode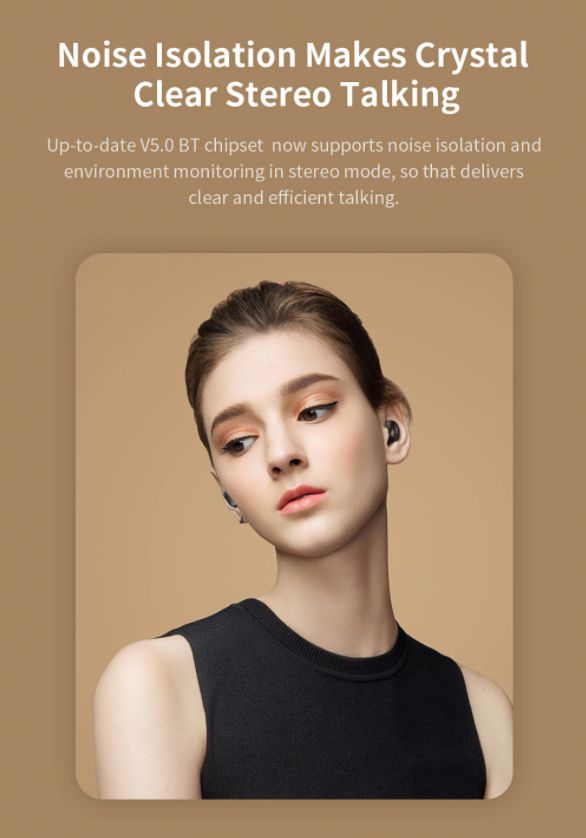 Noise Isolation Makes Crystal
Clear Stereo Talking
Up-to-date V5.0 BT chipset now supports noise isolation and
environment monitoring in stereo mode, so that delivers
clear and efficient talking.
QCY QS2 Earbuds QCY QS2 TWS Bluetooth 5.0 Wireless Earbuds Features: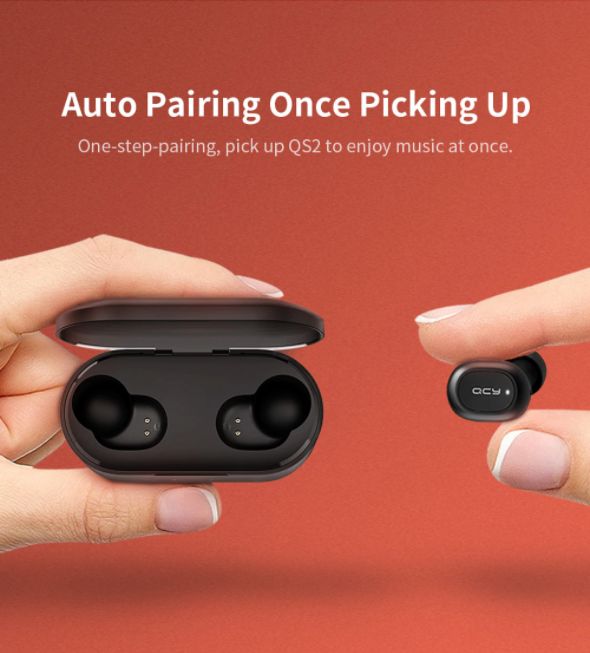 Auto Pairing Once Picking Up
One-step-pairing, pick up QS2 to enjoy music at once.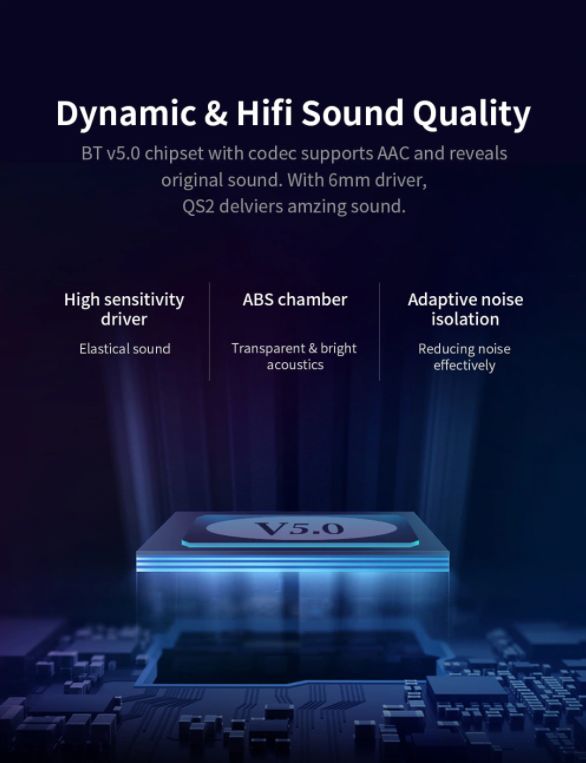 QCY QS2 Aptx
Dynamic Hifi Sound Quality
BT v5.0 chipset with codec supports AAC and reveals
original sound. With 6mm driver,
Qs2 delviers amzing sound.
High sensitivity Elastical sound Driver
ABS chamber Transparent bright acoustics
Adaptive noise isolation Reduce noise effectively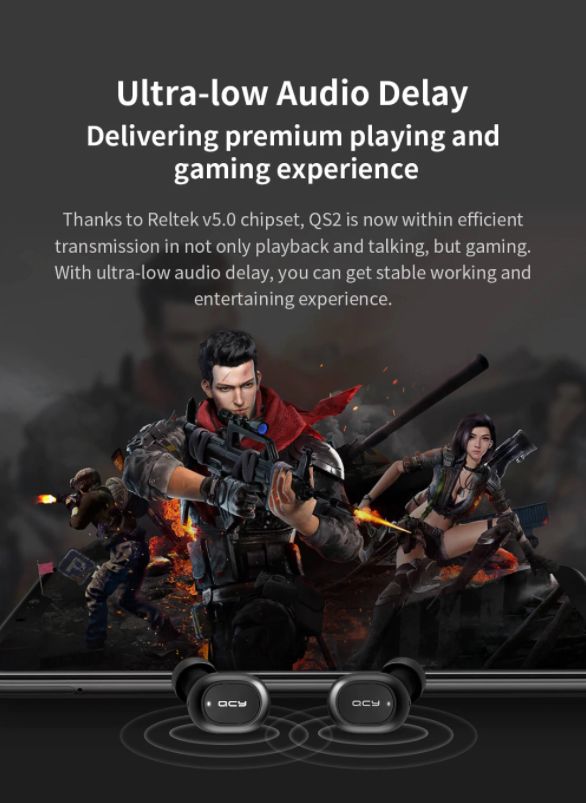 Ultra-low Audio Delay
Delivering premium playing and
gaming experience
Thanks to Reltek v5.0 chipset, QS2 is now within efficient
transmission in not only playback and talking, but gaming.
With ultra-low audio delay, you can get stable working and
entertaining experience.
Updated Large Battery Capacity
Extra 8top-ups & 32 hours of battery life
Large battery capacity, coupled with ultra-low power
consumption, makes great strides in battery life.
800mAh
32h
Battery capacity of charging case
Playback time
8top-ups For two EarBuds
16top-ups For single EarBud
Hey, Siri!
How is the weather in New York?
Call Jack
Find me a restaurant here
Siri
Google Assistant
QCY QS2 specs:
QCY QS2 Specification
Package Contents 2 x Mini Bluetooth Earpieces, 1 x USB Charging Cable, 2 x Ear Caps, 1 x User Manual
Standby time: 120H
Sound channel: T wo-channel (stereo)
Charging Time: 2H
Language: English
Talk time: 4H
Package Sizes: 150*120*40mm
Product Model: QS2 / T2C
Main Materials: Plastic,Abs
Driver type: Dynamic
Package Weights: 150g
Application: Scope Sport,Running Connectivity Wireless
Music Time: 3-4H
QCY QS2 battery
Battery capacity(earphones): 3.7V 43mAh
Battery capacity(charging case): 3.7V 800mAh
BT version: V5.0
Operation range: 10m
Charging time: 2H
Standby time: 120H
Playback time: 4H
Battery type: li-ion
BT prifiles: HFP/HSP/A2DP/AVRCP
QCY QS2 Earbuds Reviews Star Rating

QCY QS2 TWS Bluetooth Earbuds
QCY QS2 price
Price: $19.80
QCY QS2 TWS Bluetooth 5.0 Wireless Earbuds Reviews from customer
QCY QS2 Test