With QCY T2C spread all over the word, lots of QCY customer got their QCY T2C Earbuds. The more QCY T2C sold, the more customer have the problem with operating. As the QCY earbuds come with manual in package, there are many customer connect our customer service for some reason their manual lost or can't checking at that time! The Hight Frequency asking is QCY T2C Manual, QCY T2C Instruction, QCY T2C pairing, How to pairing QCY T2C, QCY T2C Reset, QCY T2C Factory Reset etc.
QCY made a decision to post the QCY T2C Manual user guide online for our customer checking anywhere anytime. Please read following: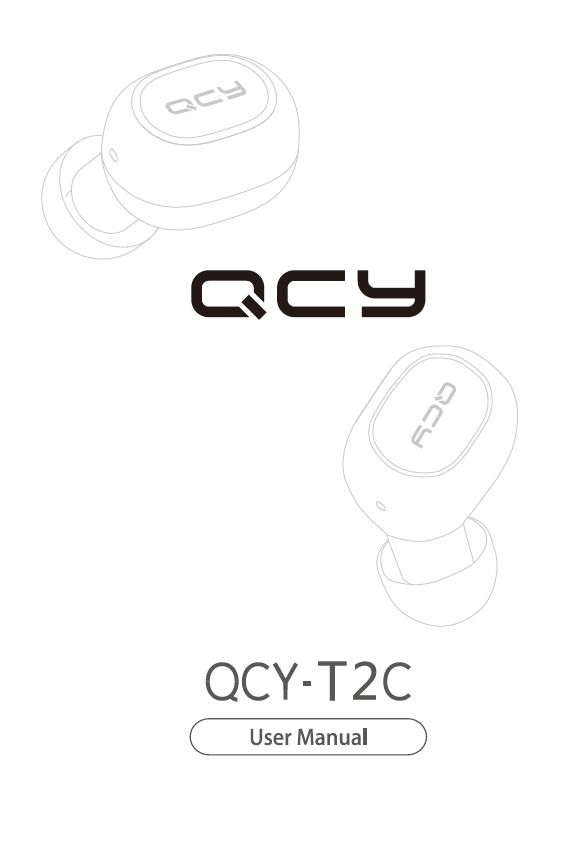 QCY-T2C User Manual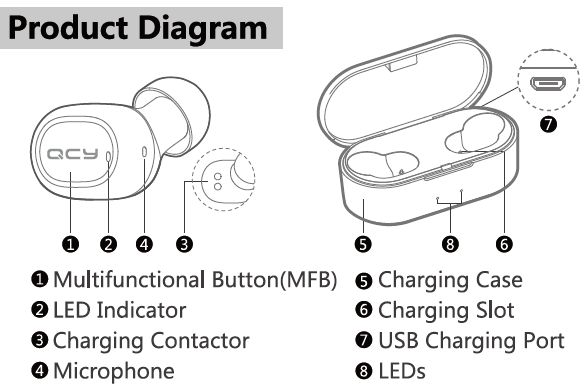 QCY-T2C Product Diagram
Multifunctional Button (MFB)
LED Indicator
Charging Contactor
Microphone
Charging Case
Charging Slot
USB Charging Port
LEDs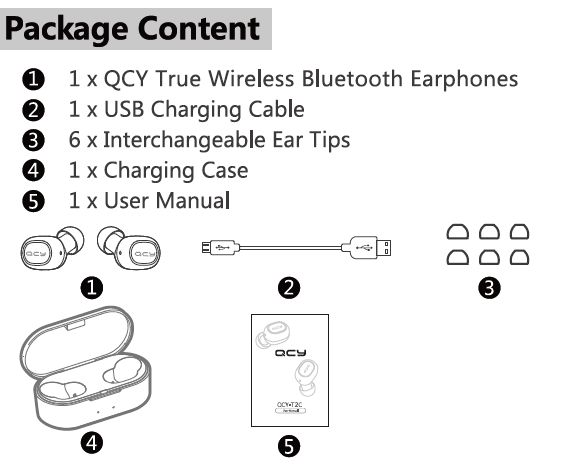 QCY T2C Package Content:
1. 1 x QCY T2C Ture Wireless Bluetooth Earphones
2. 1 x USB Charging Cable
3. 6 x Interchangeable Ear Tips
4. 1 x Charging Case
5. User Manual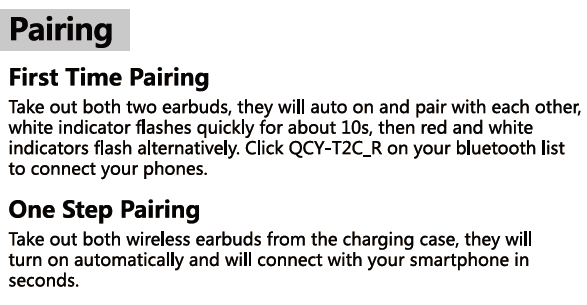 QCY T2C Pairing Instructions
QCY T2C How to use
First Time Pairing steps:
Take out both two QCY T2C earbuds, they will auto power on and auto pair with each other, white indicator flasher quickly for about 10s,then red and white indicators flash alternatively. Ready for pairing with device.
Open Bluetooth function on phone device, Click " QCY-T2C R " on your Bluetooth list to connect your phones.
If connecting success, QCY T2C Pairing complete!
Use Again – One Step Pairing
Take out both wireless earbuds from the charging case, they will turn on automatically and will connect with your smartphone in seconds.
( Please try the following steps, in case you fail to build connection.)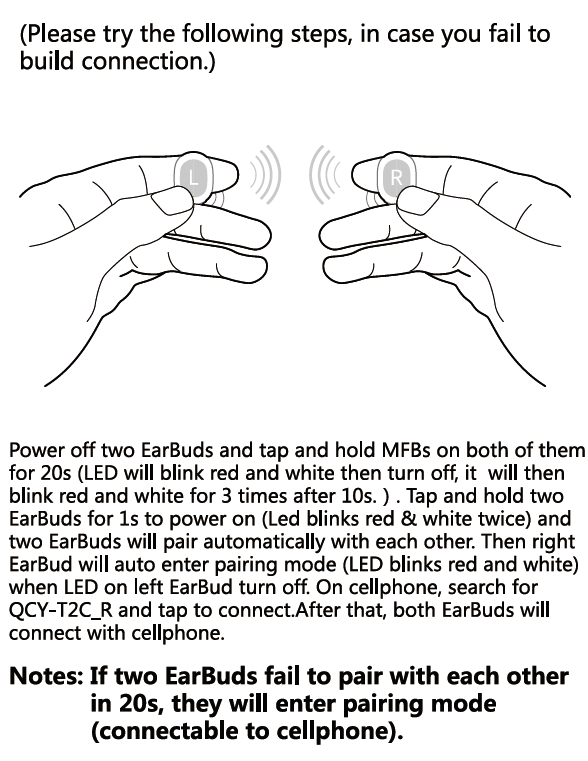 QCY T2C Factory reset
QCY T2C not Pairing Together
Power off two earbuds first before reset the QCY T2C earbuds
Tap and hold MFBs on both of them for 20s ( LED will blink red and white them turn off, it will then blink red and white for 3 times after 10s.)
Tap and hold two earbuds for 1s to power on ( Led blinks red $ white twice ) and two earbuds will pair automatically with each other. Then right earbuds will auto enter pairing mode (LED blinks red and whiter ) When LED on left earbud turn off.
On cellphone, search for QCY-T2C R and tap to connect. After that, both earbuds will connect with cellphone.
Note: If two earbuds fail to pair with each other in 20s,they will enter pairing mode ( connectable to cellphone )

QCY T2C Mono Mode
You can use any of the earbuds separately as you want. Notice: The Right earbuds is the main earbud. If you want to use the Right Earbuds alone, it will auto connect your phone when taken out of the charging case; but if you want to use the Left Earbud alone, it can not connect to your device automatically, you need to search the QCY-T2C L on your Bluetooth list and click it to connect your device.

QCY T2C Stereo Mode
Simple take both earbuds out of the charging case, the right earbuds will connect to your device automatically, the left earbud will pair the right earbud and connect to your device.
QCY T2C Share Mode
You can share one earbud to your friends or family. Notice: Please take out the left earbud first and connect to one device: then take out the right earbud to connect with the other device. ( cause the right earbud is the main earbud, if you connect right earbud first ,after you take out left earbud, they will auto pair with each other )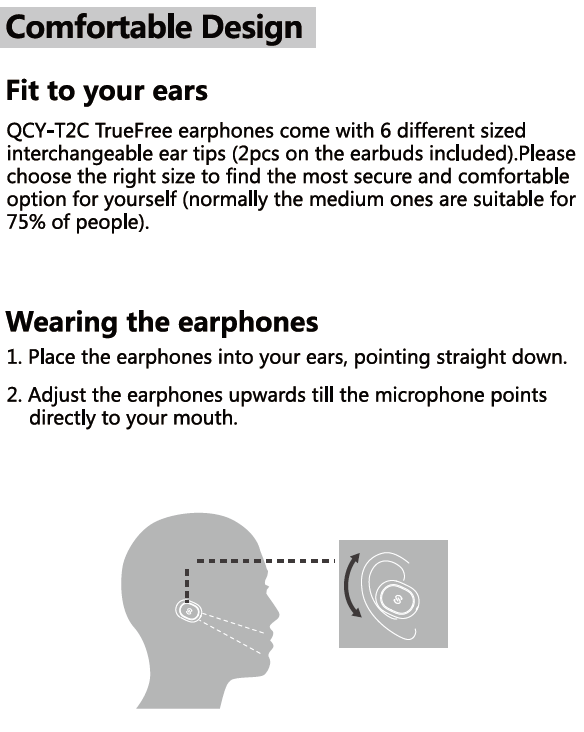 Comfortable Design
QCY T2C How to Wearing
Fit to your ears

QCY-T2C True Free earphones come with 6 different sized interchangeable ear tips ( 2 pcs on the earbuds included ). Please choose the right size to find the most secure and comfortable option for yourself ( normally the medium ones are suitable for 75% of people )

Wearing the earphones

1 Place the earphones into your ears, pointing straight down.
2 Adjust the earphones upwards till the microphone points directly to your mouth.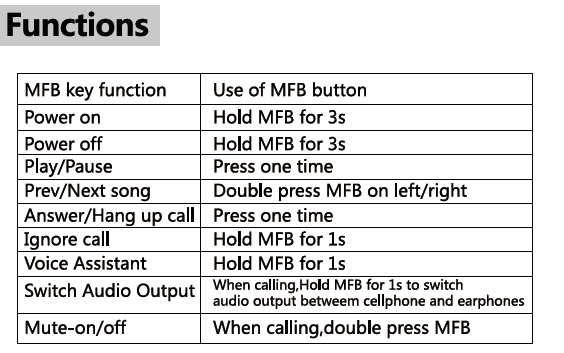 QCY T2C Control Functions
MFB key Function: Use of MFB button
QCY T2C Power on: Hold MFB for 3s
QCY T2C Power off: Hold MFB for 3s
QCY T2C Play / Pause: Press one time
QCY T2C Previous / Next Song: Double press MFB on Left / Right
QCY T2C Answer / Hang up call: Press one time
QCY T2C Ignore call: Hold MFB for 1s
QCY T2C Voice Assistant: Hold MFB for 1s
QCY T2C Switch Audio output: When Calling, Hold MFB for 1s to switch audio output between cellphone and earphones
QCY T2C Mute-on/off: When Calling, Double Press MFB
QCY T2C Volume Control
QCY T2C Earbud not designed with Volume Control function, You can control the volume by the using device.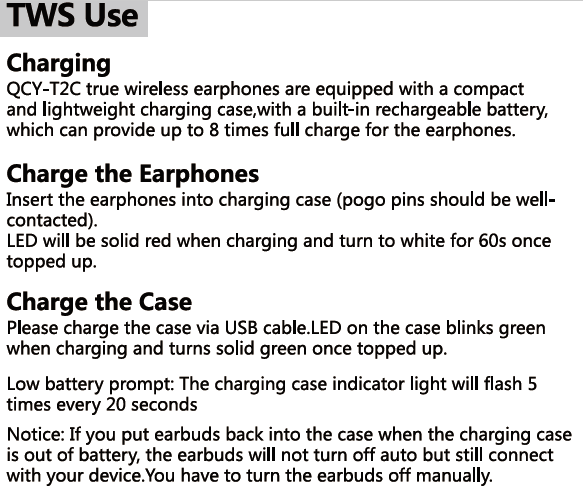 QCY T2C TWS Use:
QCY T2C Charging
QCY-T2C true wireless earphones are equipped with a compact and lightweight charging case, with a built-in rechargeable battery,which can provide up to 8 times full charge for the earphones.
QCY T2C Charging the Earphones
Insert the earphones into charging case (pogo pins should be well-contacted).
QCY T2C Charging the case
Please charge the case via USB cable. LED on the case blinks green when charging and turns solid green once topped up.
Low battery Prompt: The charging case indicator light will flash 5 times every 20 seconds
Notice: If you put earbuds back into the case when the charging case is out of battery, the earbuds will not turn off auto but still connect with your device. You have to turn off the earbuds manually.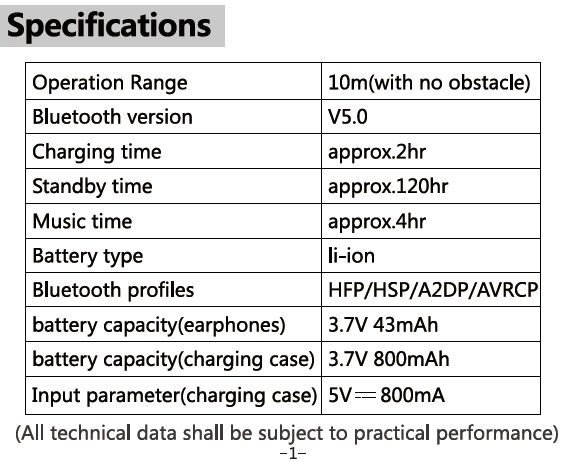 QCY T2C Specs:
Operation Range: 10m(with no obstacle)
Bluetooth version: V5.0
Charging Time: approx.2hr
Standby time: approx.120hr
Music time: approx.4hr
Battery Type: li-ion
Bluetooth Profiles: HFP/HSP/A2DP/AVRCP
Battery capacity(earphones): 3.7V 43mAh
Battery capacity(Charging Case): 3.7V 800mAh
Input parameter(Charging Case): 5V 800mAh
QCY T2C Battery life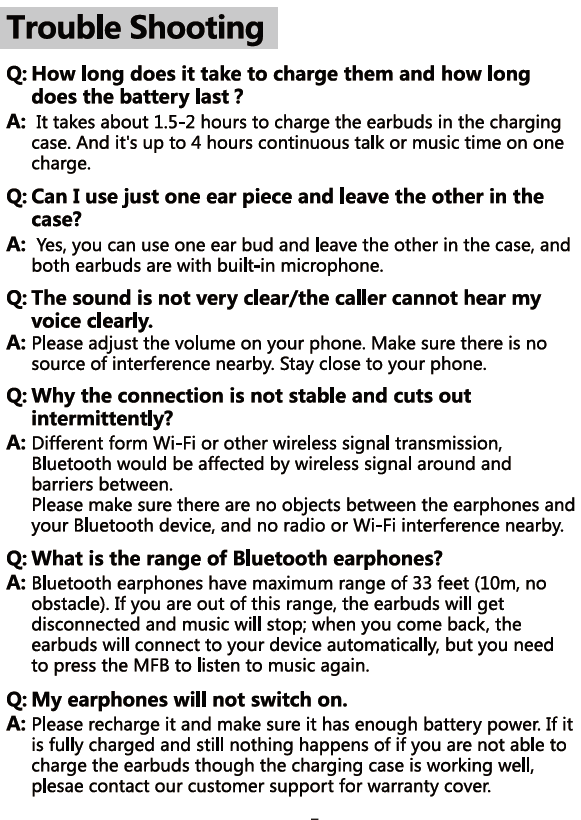 Troubleshooting
Q: How long does it take to charge them and how long does the battery last?
A It take about 1.5-2 hours to charge the earbuds in the charging case. And it's up to 4 hours continuous talk or music time on one charge.
Q: Can I use just one ear piece and leave the other in the case?
A: Yes, you can use one earbud and leave the other in the case,and both earbuds are with built-in microphone.
Q: The sound is not very clear / the caller cannot hear my voice clearly.
A: please adjust the volume on your phone. make sure there is no source of interference nearby. Stay close to your phone.
Q: Why the connection is not stable and cuts out intermittently?
A: Different form Wi-Fi or other wireless signal transmission, Bluetooth would be affected by wireless signal around and barriers between. Please make sure there are no objucts between the earphones and your Bluetooth device, and no radio or Wi-Fi interference nearby.
Q: What is the range of Bluetooth earphones?
A: Bluetooth earphones have maximum ranger of 33 feet(10m,no obstacle). If you are out of this range, the earbuds will get disconnected and music will stop; when your come back, the earbuds will connect to your device automatically, but you need to press the MFB to listen to music again.
Q: My earphones will not switch on.
A: Please recharge it and make sure it has enough battery power. If it is fully charged and still nothing happens of if you are not able to charge the earbuds though the charging case is working well, please connect our customer support for warranty cover.
QCY T2C Warranty and Support
30 days return guarantee and 12 months warranty after you purchase this item.
Free service:
If any defects caused by quality issues occur within the warrant period, please feel free to contact us by the email address below:
You can also click your order ID on Amazon and send us an email. If you have any questions with our products, we will response you as soon as we can.
Free exchanger service will not be accessed under following circumstanced:
1. Damaged caused unauthorized disassembly.
2.Defects or physical damages caused by leaking or dropping off.
3.Damaged by act of God.
If you item is within any damages or defects except the above circumstances, please contact us.
QCY T2C Tips
1.Before using the earbuds, please read the manual carefully and keep it for future references.
2. The earbuds need to be fully charged prior to first-time use.
3 If the earbuds is left unused for over two weeks, please recharge it periodically.
4. Please use the chargers made by qualified manufacturer.
5. If the earbuds can not be found by your phone, please check whether it is in pairing mode; if left unconnected for a long while, the earbuds will exit pairing mode, please re-enter the mode; if a procedure error of your phone occurs, reboot it; if a procedure error of the earbuds occurs, reboot or reset it.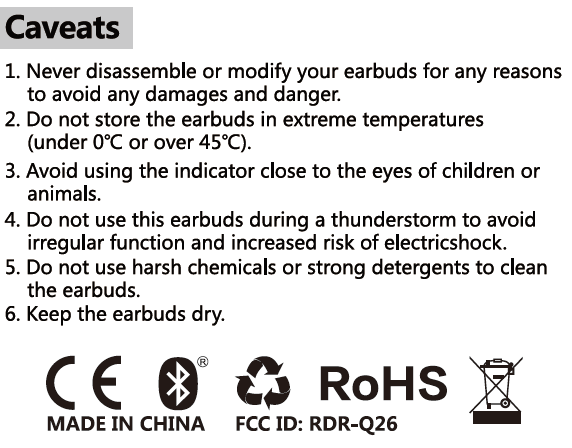 QCY T2C Caveats
1.Never disassemble or modify your earbuds for any reasons to avoid any damages and danger.
2. Do not store the earbuds in extreme temperatures ( under 0 degree to over 45 degree )
3. Avoid using the indicator close to the eyes of children or animals.
4. Do not use this earbuds during a thunderstorm to avoid irregular function and increase risk of electric shock.
5. Do not use harsh chemicals or strong detergents to clean the earbuds.
6. Keep the earbuds Dry.
CE / ROHS Certified
FCC ID : RDR-Q26