QCY T8 Earbuds Xiaomi QCY T8 TWS True Wireless Earbuds
Bluetooth 5.1 APP Control Setting
IPX4 Waterpoof Sport Semi-in-ear with Type-c Interface Headset Earphone
for iPhone iPad IOS Samsung Galaxy Android Huawei Xiaomi Honor OPPO Vivo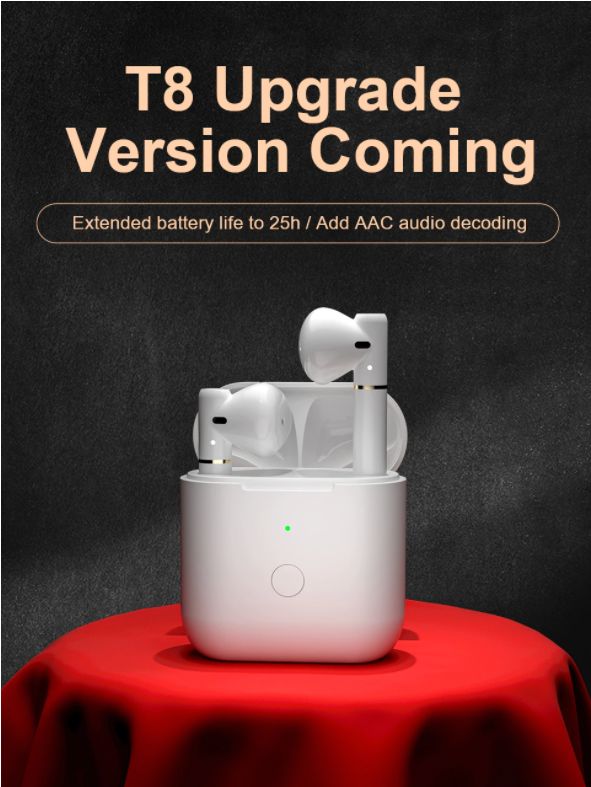 QCY T8 Upgrade Version Coming
Extended battery life to 25h/ Add AAC audio decoding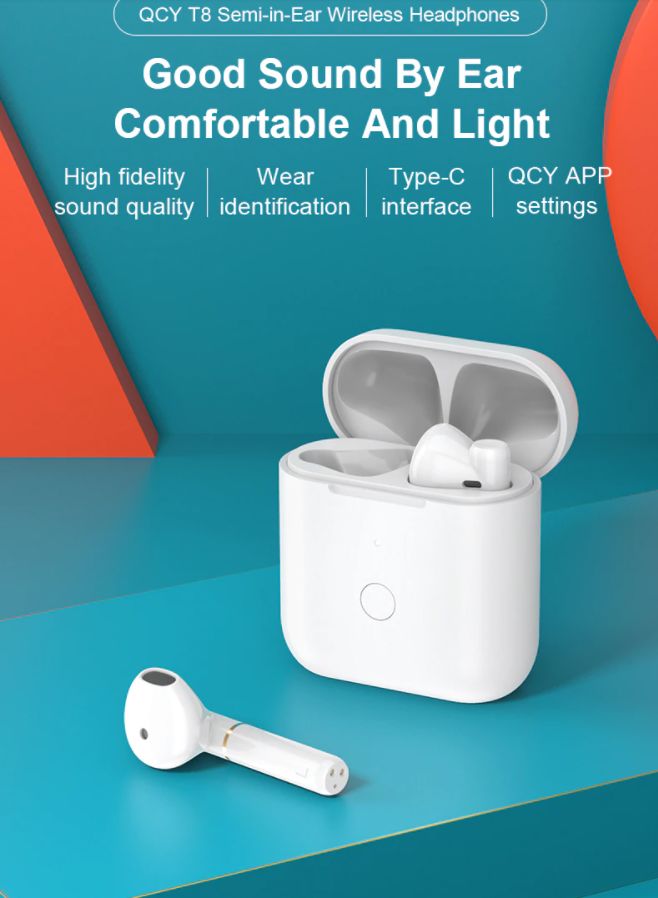 QCY T8 Semi-in-Ear Wireless Headphones
Good Sound By Ear
Comfortable And Light
High fidelity |Wear |Type-C |QCY APP
sound quality |identification |interface |settings
13mm dynamic driver AAC audio encoding
25H longer battery life
Open lid to connect Pick up to use
Type-C interface

Popup pairing Support Tap to connect
Support QCY APP Unlock more
Put on will play Take off will pause
functions
Low delay mode Enjoy videos wirelessly
Bluetooth 5.1 Faster/stabler connection
Touch control easy operation


Zero Feeling Light Stunning Appearance
After carefully conceived by Hele's senior designers, the T8 breaks the previous design limitations. The sleek streamlined shell of the charging
compartment, the glossy shiny material of the headphones, and the ergonomic semi-in-ear type all better fit your auricle and bring you more
comfortable and stable wearing experience.
Single earbud 4g
shape design Semi in-ear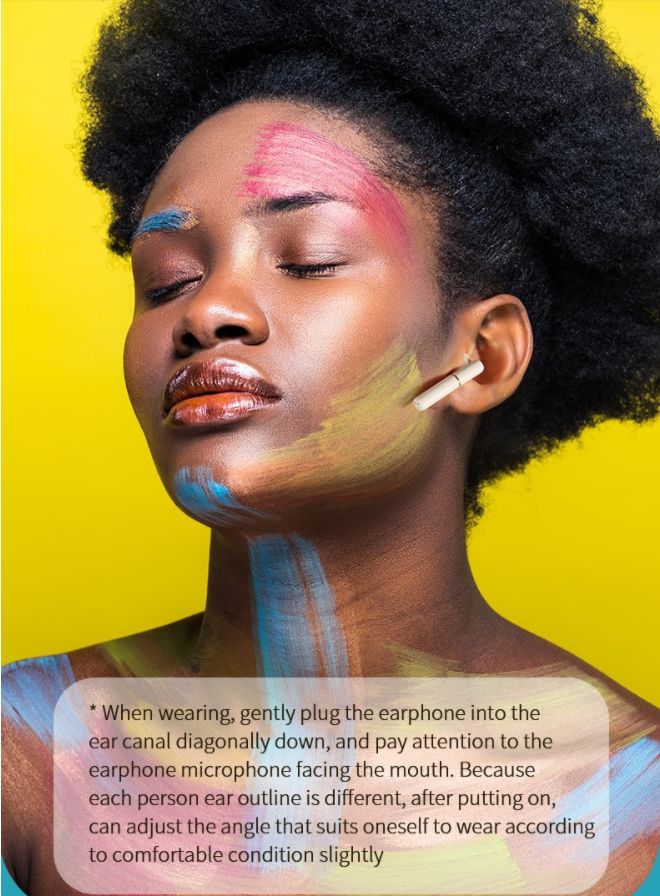 When wearing, gently plug the earphone into the ear canal diagonally down, and pay attention to the earphone microphone facing the mouth. Because each person ear outline is different, after putting on,
can adjust the angle that suits oneself to wear according to comfortable condition slightly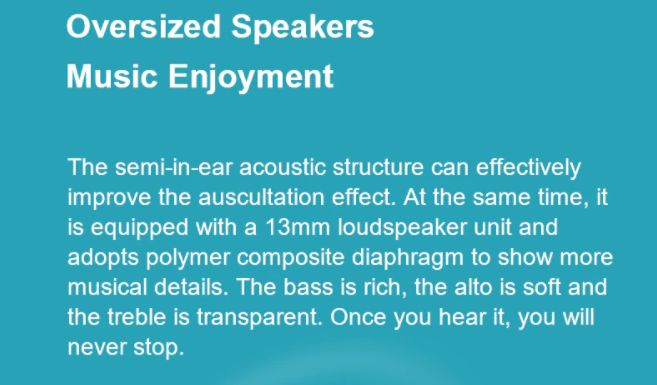 Oversized Speakers Music Enjoyment
The semi-in-ear acoustic structure can effectively improve the auscultation effect. At the same time, it is equipped with a 13mm loudspeaker unit and
adopts polymer composite diaphragm to show more musical details. The bass is rich, the alto is soft and the treble is transparent. Once you hear it, you will never stop.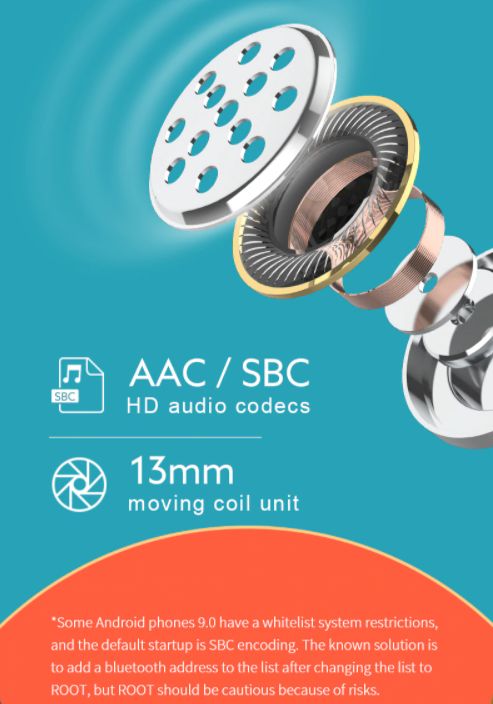 AAC/SBC
HD audio codecs
13mm
moving coil unit
"Some Android phones 9.0 have a whitelist system restrictions, and the default startup is SBC encoding The known solution is to add a bluetooth address to the list after changing the list to ROOT, but ROOT should be cautious because of risks.
*The two headsets must be in the charging compartment at the same time, and the battery capacity of the charging cabin will be displayed in the popover.
*Currently, the pop-up function only supports Android system.
Except for manual connection for the first time, just open the lid when connecting again (On the premise that the phone has a headset pairing record)
APP Settings
Experience Multiple Functions
Hele scientific research staff independently develops QCY exclusive APP, and constantly develops APP functions to optimize the experience according to user needs. You can easily set your own T8, customize button language, music EQ mode, OTA upgrade, etc., and various new functions are waiting for you To unlock!
*Please download the APP according to the instructions in the manual.
*APP supports Android system 5.1 and above iOS system 11 and above.
If you need to check the last location of the headset and find the headset, the premise is that the headset is connected.
*APP is constantly being optimized. If you encounter any problems
during use, please understand, and always welcome to leave your
valuable advice in official channels such as customer
service/public account.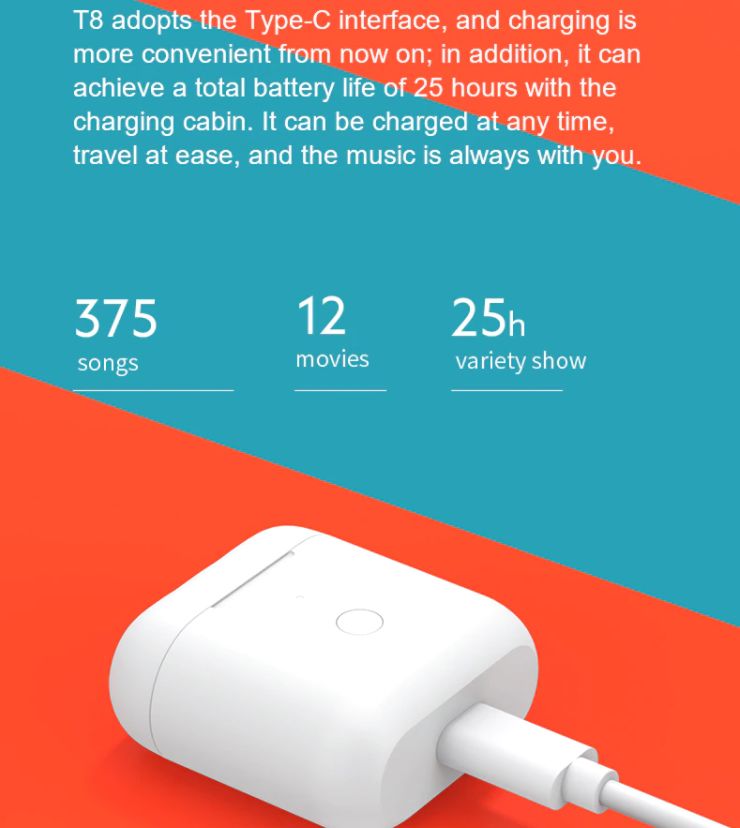 T8 adopts the Type-C interface, and charging is more convenient from now on; in addition, it can achieve a total battery life of 25 hours with the
charging cabin. It can be charged at any time, travel at ease, and the music is always with you.
Hardcore Chip New Upgrade Higher Performance Core
Breaking through again, it adopts a new generation of Bluetooth 5.1 chip, high-speed transmission, faster and more stable connection, and ultra-low
latency. It also supports high-definition audio encoding and clear binaural calls, giving you a new experience of the TWS headsets.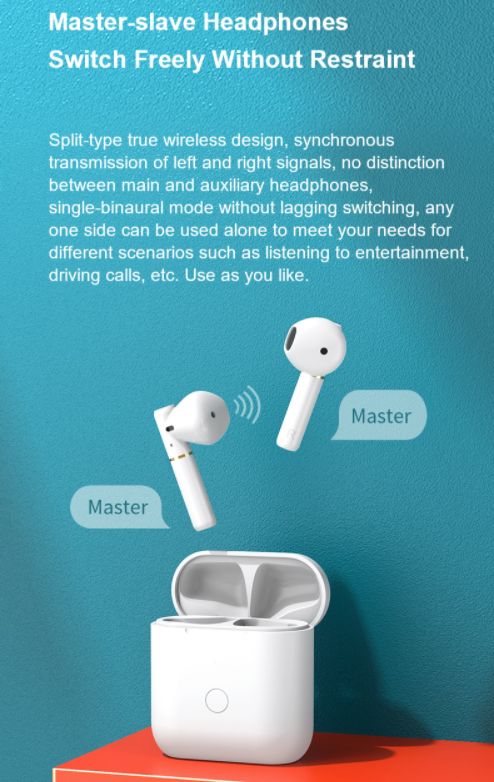 Master-slave Headphones
Switch Freely Without Restraint
Split-type true wireless design, synchronous transmission of left and right signals, no distinction between main and auxiliary headphones, single-binaural mode without lagging switching, any one side can be used alone to meet your needs for different scenarios such as listening to entertainment
driving calls, etc. Use as you like.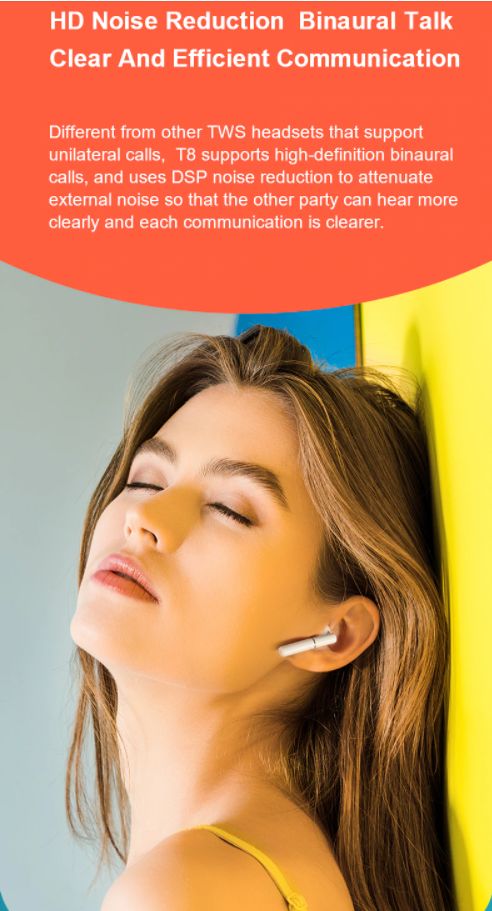 HD Noise Reduction Binaural Talk
Clear And Efficient Communication
Different from other Tws headsets that support unilateral calls, T8 supports high-definition binaural calls, and uses DSP noise reduction to attenuate
extemnal noise so that the other party can hear more clearly and each communication is clearer.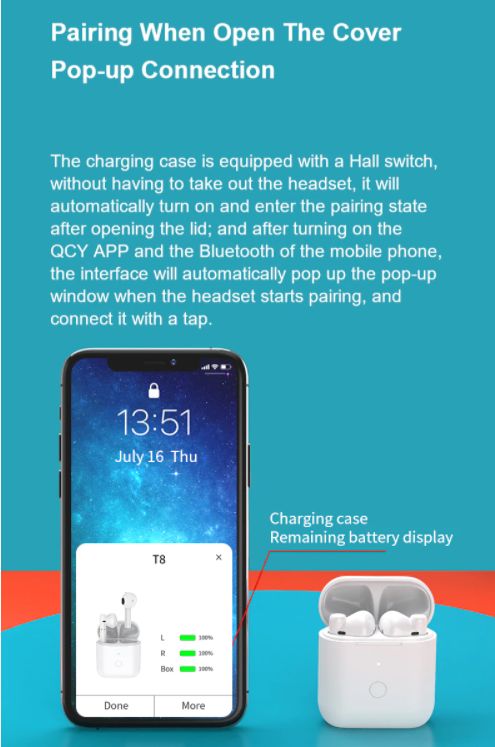 Pairing When Open The Cover
Pop-up Connection
The charging case is equipped with a Hall switch, without having to take out the headset, it will automatically turn on and enter the pairing state
after opening the lid; and after turning on the QCY APP and the Bluetooth of the mobile phone the interface will automatically pop up the pop-up
window when the headset starts pairing, and connect it with a tap.
Charging case
Remaining battery display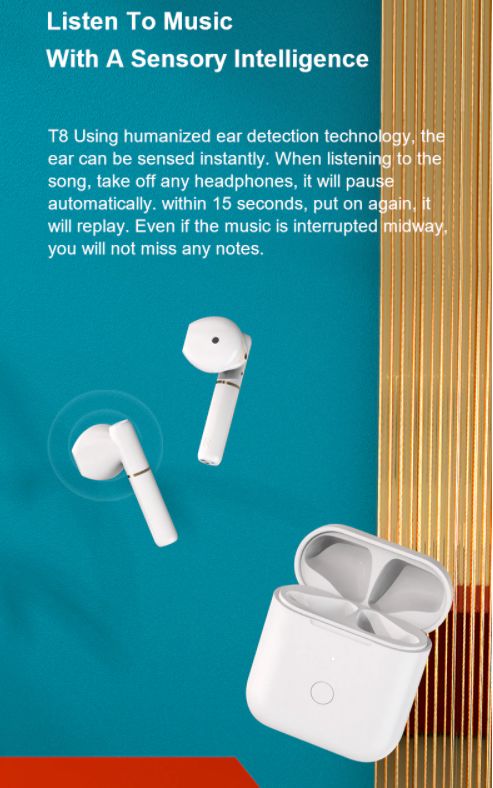 Listen To Music
With A Sensory Intelligence
T8 Using humanized ear detection technology, the ear can be sensed instantly. When listening to the song, take off any headphones, it will pause
automatically. within 15 seconds, put on again, it will replay. Even if the music is interrupted midway. you will not miss any notes.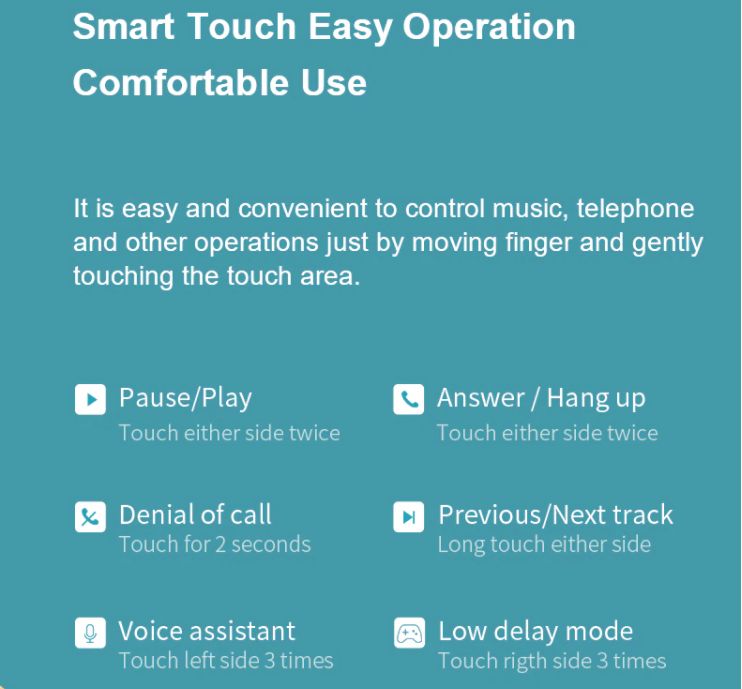 Smart Touch Easy Operation
Comfortable Use
It is easy and convenient to control music, telephone and other operations just by moving finger and gently touching the touch area.
Pause/Play
Answer /Hang up
Touch either side twice
Touch either side twice
Denial of call
MPrevious/Next track
Touch for 2 seconds
Long touch either side
Voice assistant
Low delay mode
Touch left side 3 times
Touch rigth side 3 times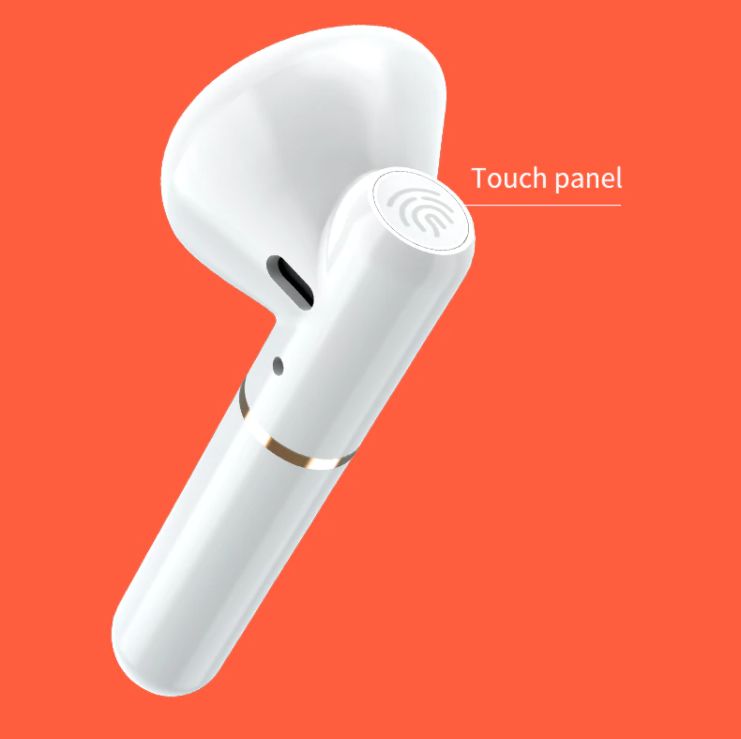 Touch panel
Personal Assistants Are On Call
Just need to touches three times on the touch area can wake up the personal assistant of the mobile phone, easily help you complete the navigation, call and other commands through the voice, allowing you to free your hands and be more focused when you are busy driving.
Xiao Ai
Siri
Alexa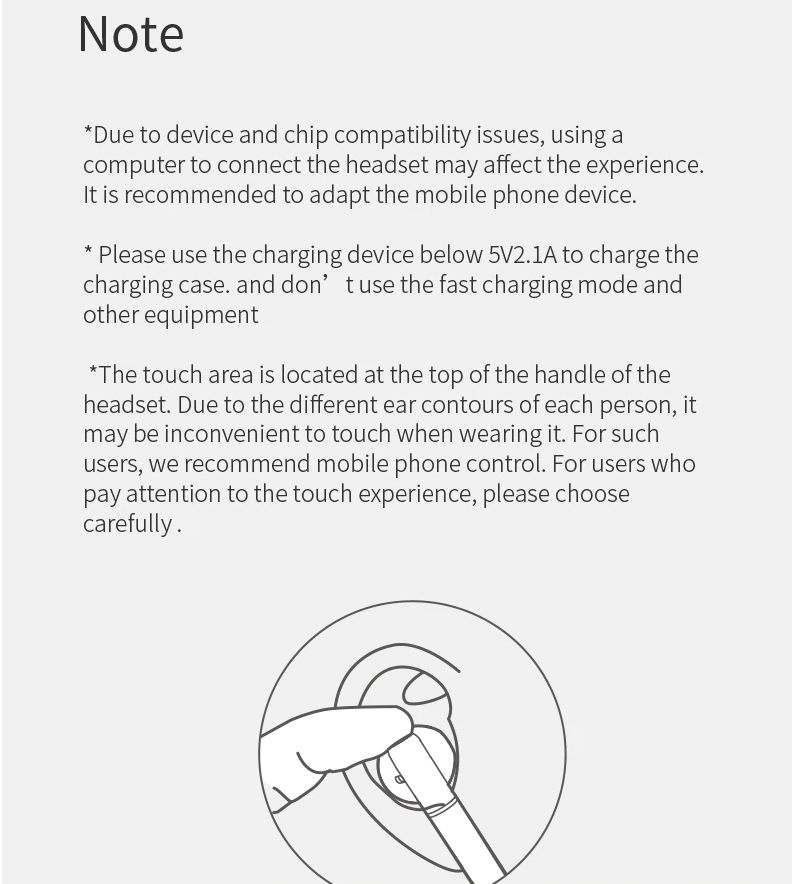 Note
*Due to device and chip compatibility issues, using a computer to connect the headset may affect the experience.
It is recommended to adapt the mobile phone device.
Please use the charging device below 5V2.1A to charge the charging case. and don't use the fast charging mode and other equipment
*The touch area is located at the top of the handle of the headset. Due to the different ear contours of each person, it may be inconvenient to touch when wearing it. For such users, we recommend mobile phone control. For users who pay attention to the touch experience, please choose
carefully.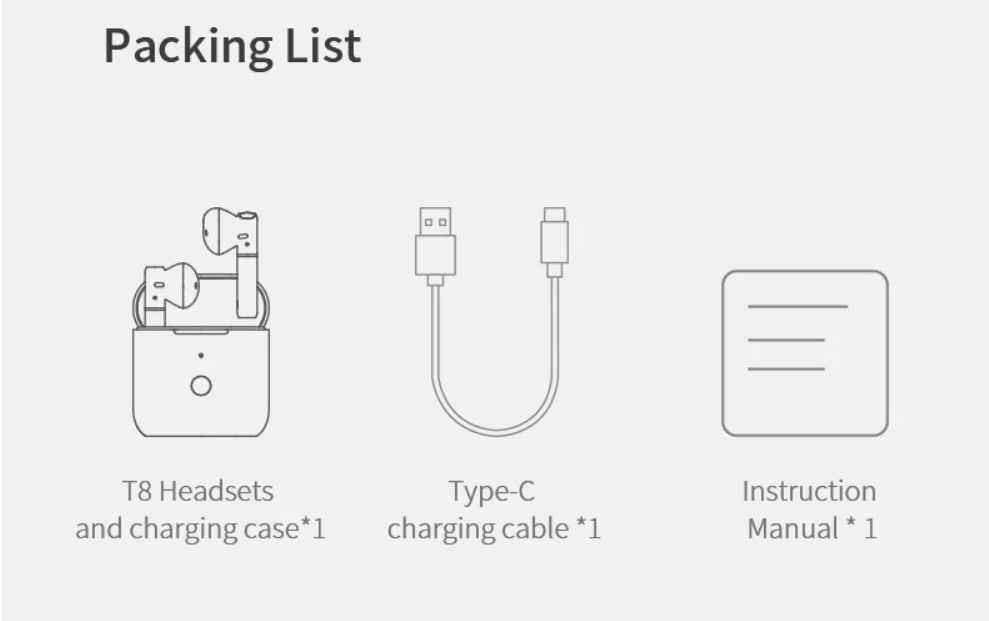 Packing List
T8 Headsets
Type-C
Instruction
and charging case*1 charging cable *1
Manual*1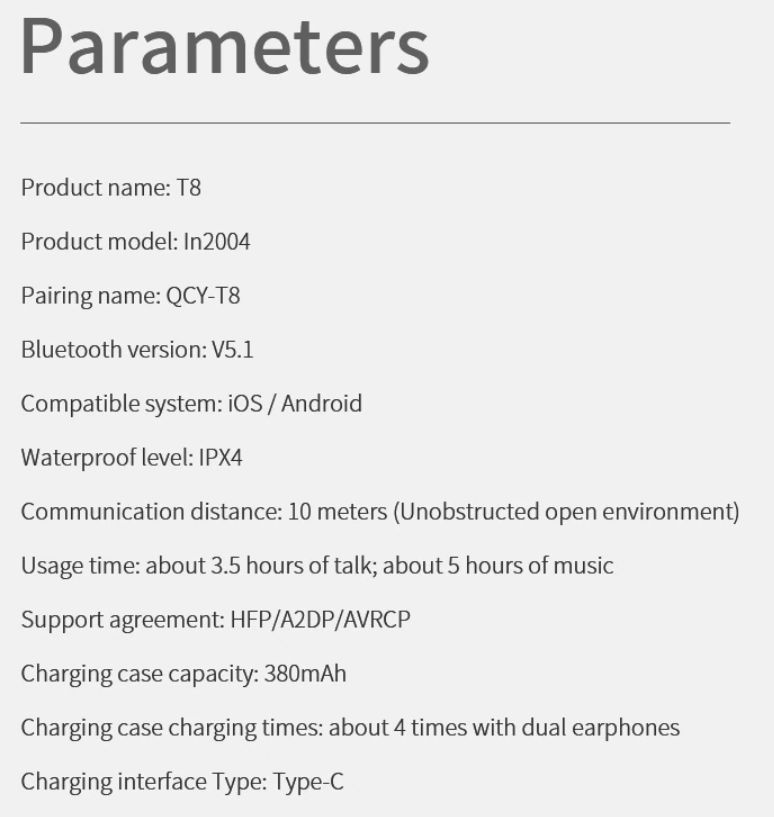 Parameters
Product name: T8
Product model: In2004
Pairing name: QCY-T8
Bluetooth version: V5.1
Compatible system: iOS/Android
Waterproof level: IPX4
Communication distance: 10 meters(Unobstructe open environment)
Usage time: about 3.5 hours of talk; about 5 hours of music
Support agreement: HFP/A2DP/AVRCP
Charging case capacity: 380mAh
Charging case charging times: about 4 times with dual earphones
Charging interface Type: Type-C
Xiaomi QCY T8 TWS Wireless Earbuds Features:
Newest Bluetooth 5.0 QCY T8 bluetooth earbuds adopt the most advanced Bluetooth 5.0 technology which provided more stable connection (connection distance up to 45ft), faster paring(just need 2 seconds ) and universal compatibility.
High Fidelity Sound True wireless earbuds with 13mm vibrating diaphragm and HD rendering technology produce incredible sound quality with crystal crisp treble. Enjoy your music everywhere even in a loud environment.
25 Hours Playtime Bluetooth headphones get 4-5 hour's playtime from a single charge and 20 extra hours in the mini portable charging case.
One Step Pairing Just pick up earbuds from the charging case,the last-paired device automatically connects. And only one step easily enter mobile phone bluetooth setting to pair the earbuds.
Stable & Comfortable Lighter(4g) and ergonomic design, own incredible comfort and seamless sound that sits effortlessly in your ears.
QCY T8 Ture Wireless Earbuds
Semi-in-ear Design: Designed ergonomically for your ears. The compact and lightweight make it more comfortable and relaxed even if worn for a long time
Hi-Fi Stereo Sound & Stable Connection: You can experience rich, high-fidelity audio and voice with the help of a 13mm large-size speaker driver. At the same time, advanced Bluetooth 5 provides faster pairing and efficient wireless connection
Magnetic Charging & Great Battery Life: QCY Bluetooth headphones use advanced magnet adsorption charging technology, and the USB-C interface charging case provides approximately 20 hours of total playtime
In-Ear Detection: These headphones use infrared in-ear detection technology to facilitate operation and save power. It will sense and automatically pause playback when the earphone is removed, and resume playback when putting it on back
Package Contents: QCY T8 True Wireless Earbuds with Charging Case, USB-A to C Cable, User Manual, Quick Start Guide
QCY T8 APP
QCY T8 APP Control / QCY T8 APP Setting
QCY T8 Specs
QCY T8 Specification
Brand : QCY
Style Type: In Ear
Vocalism Principle: Dynamic
Touch panel: Support
Noise-Cancellation: Yes
Communication: Wireless
Volume Control: No
Sensitivity: 114dB
Wireless Type: Bluetooth
QCY T8 Released date:July, 2020
Support APP: Yes
Application: Video Game,Common Headphone,Mobile Phone,HiFi Headphone,Sport
Plug Type: NONE
Package Include: User Manual,Charging Cable,Replaceable Pads Set
Impedance Range: up to 32 Ω
Connectors: None
Model Number: QCY T8
Earcups Type: Semi-open
Bluetooth Version: 5.1
Codecs: AA
CCodecs: sbc
Support Memory Card: No
Driver Diameter: 13mm
Resistance: 36Ω
Waterproof: Yes
Frequency Response Range: 20 – 2000Hz
Total Harmonic Distortion: 0.01%With Microphone: Yes
Features: With Microphone,Dual Connection
Charging Method: Charging case
Support codec: AAC/SBC
Bluetooth protocol: V5.1 – HFP / A2DP / AVRCP
Working distance: 33 feet (10m)
Compatible OS: iOS/ Android
Working Time: 2H talk time, about 2.5H music time
Charging case: 380mAh
| | |
| --- | --- |
| Battery Capacity | Earbud: 40mAh – Charging Box: 380mAh |
| | |
| --- | --- |
| Charging Time (h) | 1 Hour |
| Working Time (h) | Music Time :3.5h – Call Time: 2h |
| Standby Time (h) | 17.5H Long-Term Standby |
Magnet Type: Neodymium
| | |
| --- | --- |
| Package Size | 10.00 x 6.00 x 3.00 cm |
| Package weight | 120g |
Xiaomi QCY T8 TWS True Wireless Earbuds Reviews Rating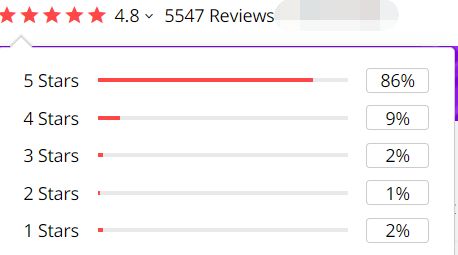 QCY T8 Price : $35.99
QCY T8 Earbuds Reviews from customer